This blog was birthed out of the dramatic people I encountered in the places that I had the opportunity to visit as a dive instructor, underwater photographer, travel photojournalist & a former travel editor with Malaysia's Tourism Ministry. It's a personal expression of what I do that takes me to different parts of the world, encountering different culture, people & experimenting different foods.
In my capacity as an instructor for the last 19 years, I have assisted in scientific researches around the region, had the opportunity to put all kinds of gadgets to test, learning & practicing scientific methods, teaching & training marine enthusiasts how to dive & logging issues & experience in the process, to bring you not just conventional travel news, stories and photos but stories from a very different perspective of a professional at play & photojournalist at work. Being commissioned to the ends of the earth in search of weird stuff and wildlife, I've been sent to track migratory birds in India, wobbegong sharks in Western Australia, Vietnamese Boat People back in time through historical trails, paid to traverse in earthquake-prone countryside in a recce of new travel spots, planned expeditions as a diving officer, stumbled in political rallies caught in between cross fires & dived in shark-infested waters days on end!
Today, I accept commissioning from tourism authorities, most notably, Tourism Western Australia, Tourism Indonesia, Tourism Gujarat, Sabah Tourism, Tourism Turkey & Tourism Malaysia with the latest being Korean Tourism Organisation when I won the Samsung NX Traveller contest as a photo expert. I take assignments from travel & dive magazines around the region on a regular basis too. I was appointed as Sony Mobile's Creative Ambassador utilising the Sony Xperia Z1's smartphone in 2013 & was also Samsung Malaysia's Digital Imaging Brand Ambassador in 2011. Detours USA's made me their bag ambassador for the bags that I use when I cycle. Folding Bike Trading is my preferred choice of a full service bike shop while Lafuma, Manfrotto & National Geographic Bags are my main equipment sponsors for my lifestyle.
If you think I can benefit your business in any way, drop me an email & we can talk. Blogging is just an extension of my life for the stories that can't be told in commissioned articles so talk to me if you want something creatively presented. I teach diving for a living and have been appointed as National Dive League's Instructor Training Promotion & Development Director recently. I accept advertisements and occasionally do sponsored blog entries just to spice things up.
I believe in professionalism in everything that I do. If I haven't published anything that you are expecting, it's either because an agreement has been violated or it has gone against my principles. I do not compromise my principles. For now, sit back & let your trackpad do all the browsing as I relate my amazing journey to you!
Below are features done by journalists from a few mainstream media over the years. Some people say I have had quite an eventful life. I'd say God is amazing to have orchestrated each of these experiences. Click on the thumbnail to expand the article into a more readable size!
Kwong Wah Yit Poh, 5 November 2012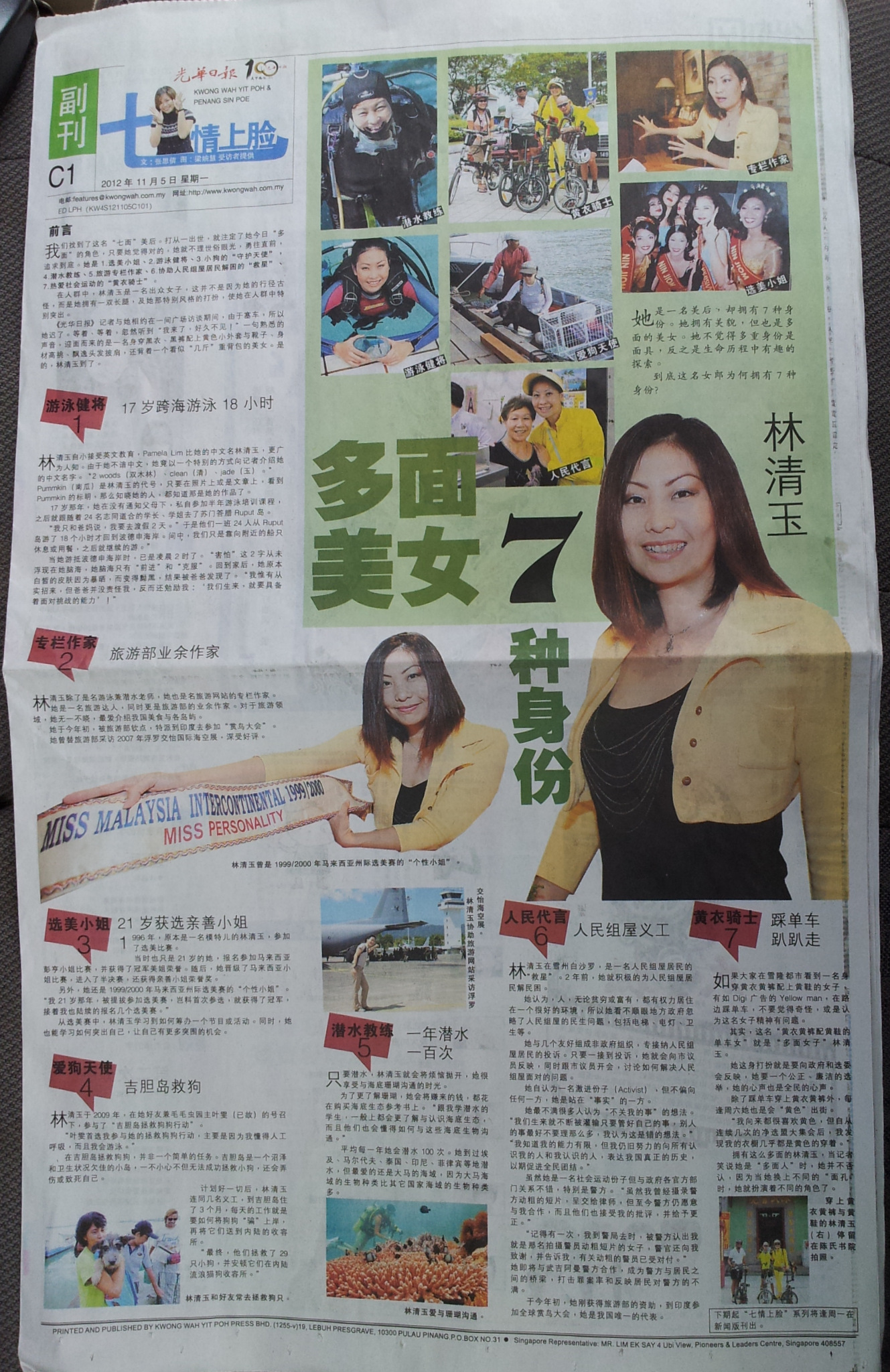 New Sunday Times, 7 October 2012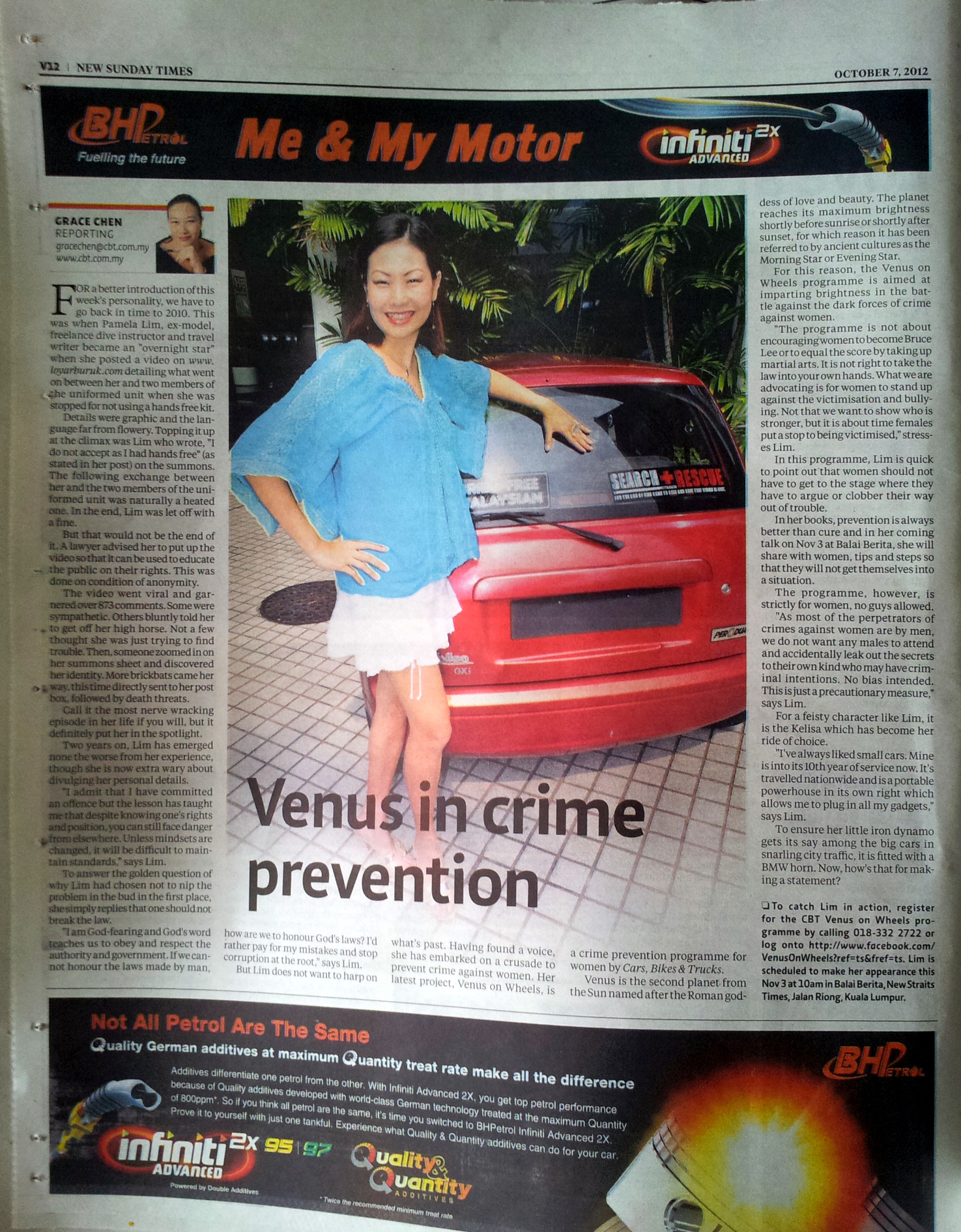 Guang Ming Daily, 25 August 2010
The Star Newspaper, StarTwo March 2010
The News Straits Times, Tech & U 2008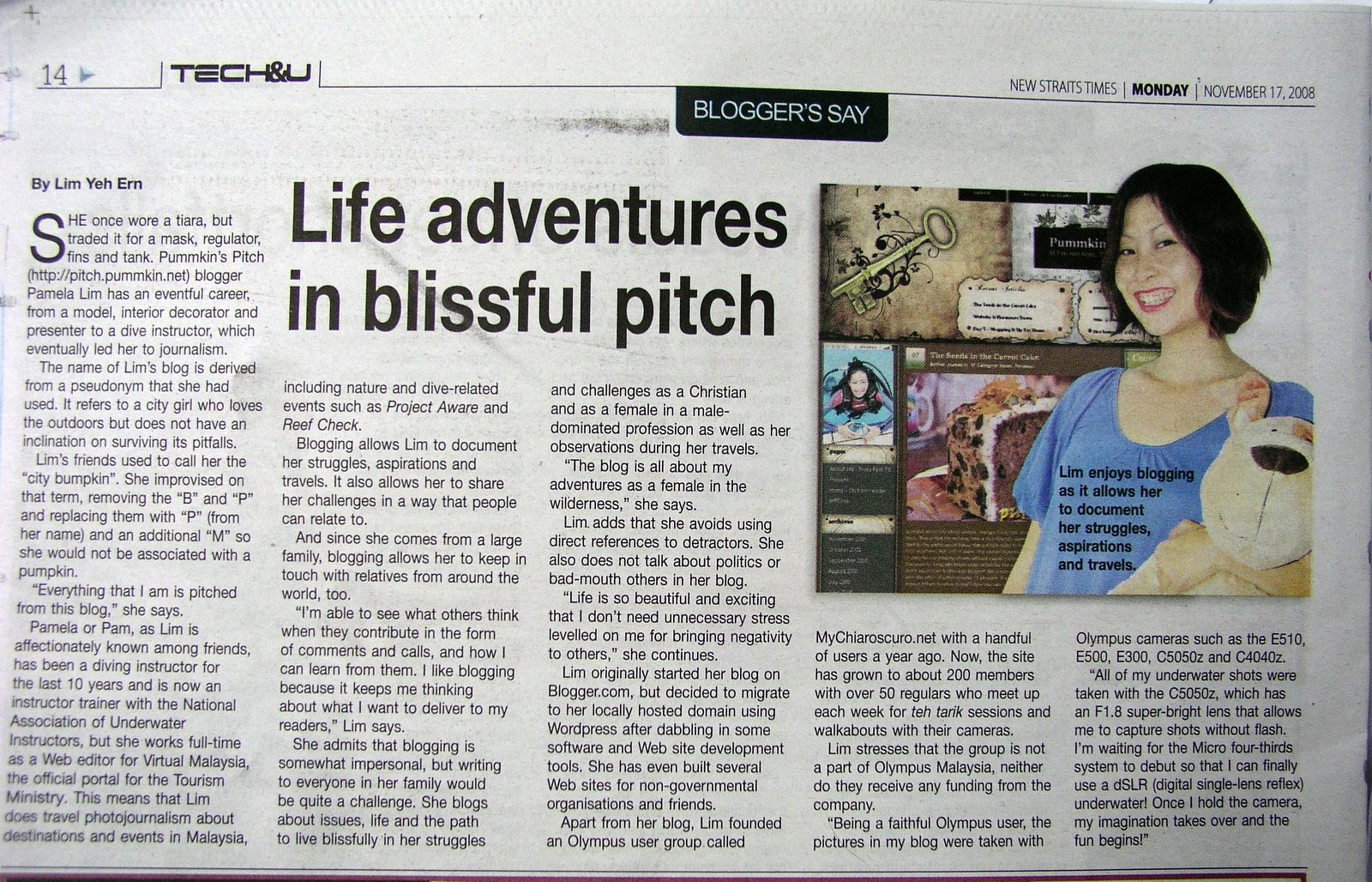 The Malaysian Women's Weekly Magazine 2005

Life & Times of New Straits Times 2004


Marine Talk at SMK Convent Teluk Intan

Mabul Brats 10th Anniversary 2003
Straits of Malacca Swim 1992

I'm still trying to locate news clippings from 1995 – 1997……