Hope was the first dog saved. Hope was plucked out soon after the photo was taken. Apart from Cleo who was sitting on the mangrove roots, there hasn't been another terrier-looking dog. I was at the farm yesterday morning with some volunteers, one of whom is a true, independent rescuer. From all the hate-mail, death threats & whatever harassment we have received, I will proceed to hide the identity of our supporters unless they choose to take on anything come-what-may.
So shall they fear the name of the Lord from the west, and his glory from the rising of the sun. When the enemy shall come in like a flood, the Spirit of the Lord shall lift up a standard against him. Isaiah 59:19.
We called out to Hope, who responded with an equal amount of enthusiasm. He wagged his tail and was just pleased to see Sabrina. (I think I fell in love there & then but I'm sure Rufus wouldn't take it too kindly being the alpha male in the house……well, sometimes!). We opened the cage door to let him out to play. Being so weak & only at 7 months old, we needed to let him rest as much as he could……but he was just so happy!!!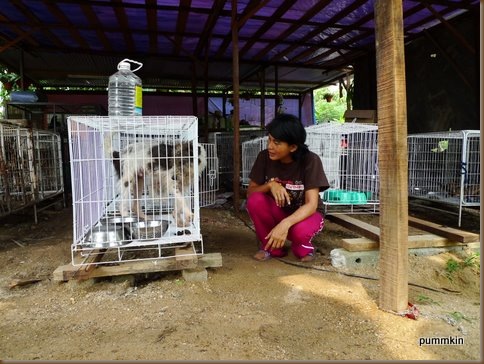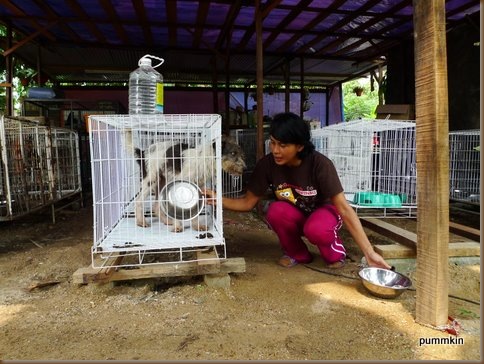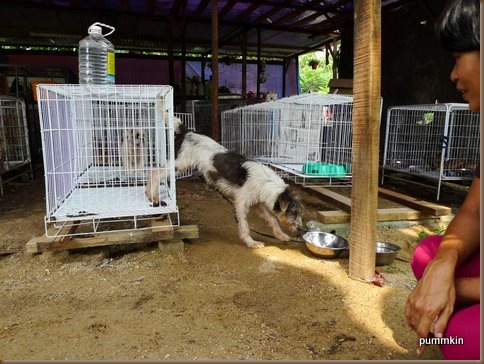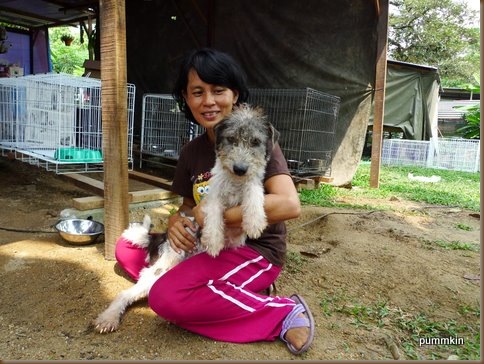 And into Sabrina's arms he hopped!!! (So cute!) He was still frail but you could see that he fought to live after being in the hospital for a week. Oh, his eyes….even Romeo is not his match.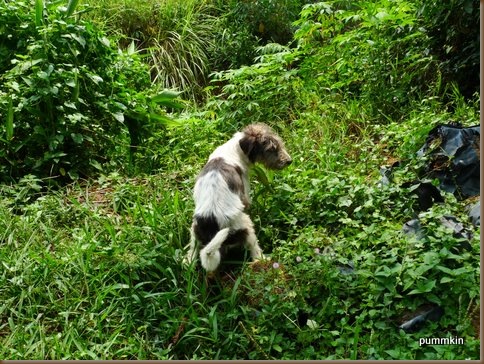 Hope doing his business in the bushes…..
Last week when we planted 50 nangka saplings, 4 mulberry trees, 2 avocado trees and whatever we could bring to bless the farm, we had the honorable assemblyman, YB Edward Lee & his entourage to come and physically plant them. It would take 2 years for them to grow high enough to provide shade for the dogs' afternoon siesta. We would have planted more as the farm is really spacious but we are reserving space for other things…..
It's so good to run around the land without any restrictions whenever the mutts want to play catching with you…..errr…..yeah, I do play a lot when I'm not on out in the mangroves.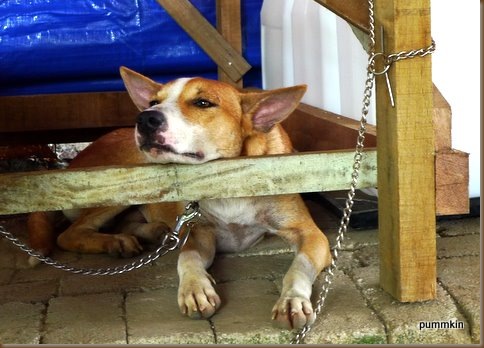 When he's had enough, this fella will occupy his spot beneath the table to snooze. He has to be chained periodically as he opens gates and let himself out of the farm when no one is watching! He doesn't mind since he gets busted anyway. Haha!
Here he is!!! Snoozing!!!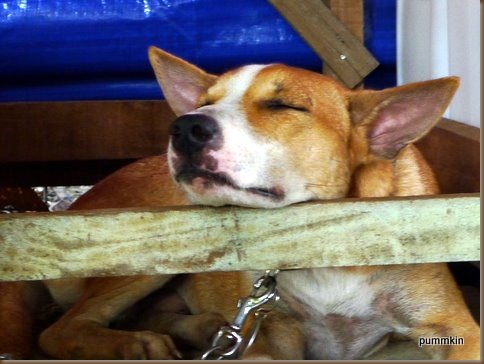 And another one who dug himself a little hole he calls his crib…..note his feeding & water bowls. He returns to this spot all the time. Now we know why the hole gets dug up after we patch it!!!