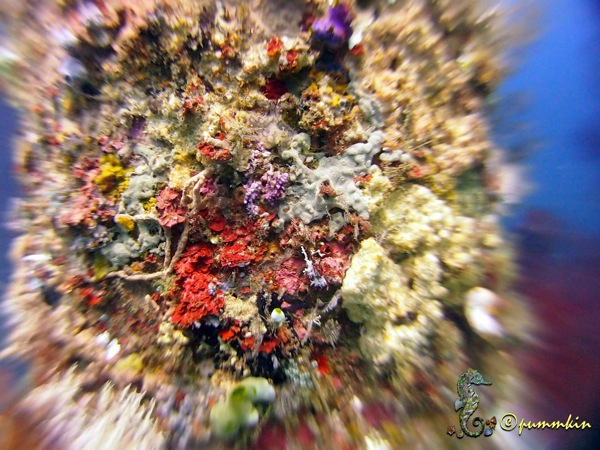 It takes an amazing mix of divers with a love of the ocean to traverse across continents to get to Bali and embark on a glorious 10 days of diving. The idea of crossing treacherous seas to dive pristine sites usually out of reach to common folks, MV Ombak Biru or known as Komodo Dancer, was built to be like a Dutch Schooner. Sailing off Tanjung Benoa Port in Bali with her crew of 16, the same number of divers from Switzerland, Austria, Russia, Canada, USA, China & Malaysia went aboard to experience 5 star diving.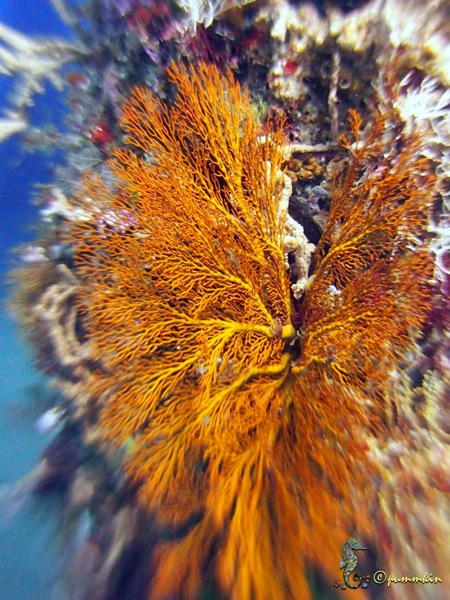 Our Cruise Director, Lea Jorg, the head of dive operations on board, prepared us with a comprehensive dive briefing detailing the zones where we were to assemble, gear up & stow away our personal dive gear after each dive. With the aid of a very experienced team of Divemasters & boat crew, dive sites were plotted with near accuracy, giving divers concise plans to move along even if the snail-paced photographers like me lose sight of the group. The sites map were drawn daily by Gedeh, a local DM with 6 years of experience onboard Komodo Dancer. His knowledge of the dive sites astounded me when the creatures & critters mentioned during dive briefing were actually seen on each of the dives at almost any turn of the corner!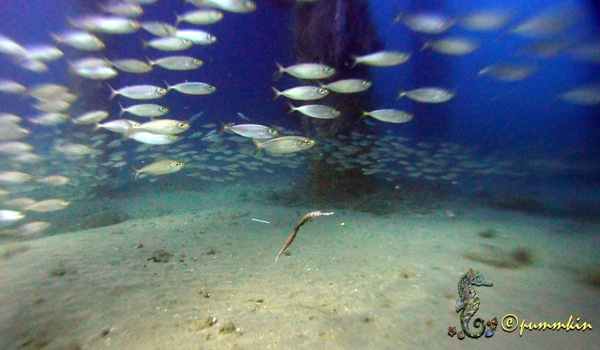 Expecting something spectacular in the midst of a waning gibbous (transition of a full moon to half moon), our maiden dive was done at Padang Bai, East Bali, under the jetty lined with annoyed anglers sending out invisible daggers at us as we descended with our GoPros, Nauticams, wondercams & whatnots. Being told that it was a muck dive, a few divers who were kitted with macro lenses were surprised to see prolific growth on the structural pillars of the jetty, teeming with sponges, soft corals, tunicates & Gorgonian seafans. The colours that greeted us was such a sight to behold, left me in awe as I scanned every centimetre of the encrusted walls for nudibranchs & invertebrates. Gedeh hijacked us to show us a huge Lacy Rhinopias that he had found, a lifer to many who hadn't seen the clumsy-looking brightly coloured weedy specie of scorpionfish before. Swirling schools of Fusiliers, suspended Sweetlips & basking devilfish on the sand made the jetty somewhat of an exciting fish underpass for divers! The hazard is, of course, getting hooked by any of the anglers above, which one of the Canadians discovered when she felt the hook tug on her ponytail!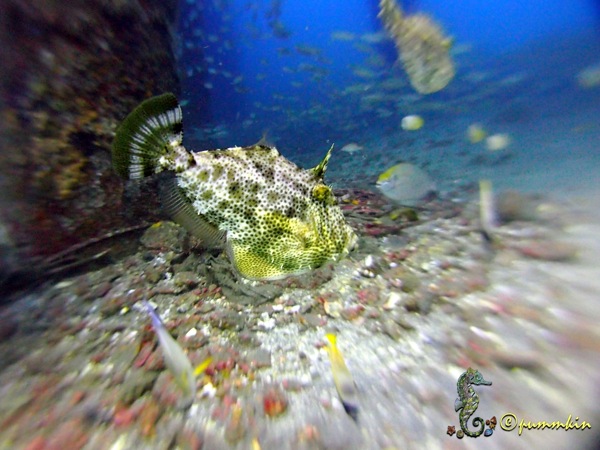 We redescended after a hot breakfast served ala carte when we couldn't get enough of this peculiar marine refuge equipped with glass domes on our ports to get our fill. The Captain sailed as soon as everyone returned to a spread of tropical fruits & Indonesian buffet lunch!