Panorama of Benzilan
Hit by an earthquake measuring 5.8 on the Richter Scale, Benzilan in Yunnan, China had temporary make-shift tents as accommodation for the people which lined the street outside our hotel. We got there at night & it was the start of a series of cold nights thereafter. And the hotel doesn't have any lifts! I felt sorry for the guys who brought unbreakable chunky luggages. Walking up the stairs with such load is enough to bring on back pain. My room that I shared with Miss Lai was on the first floor, not that bad considering that I had brought a convertible Eminent trolley bag which I hauled up like a backpack.

My camera backpack, the Lowepro Photo Sport 200AW was filled with 80% essentials (survival equipment) & 20% photographic gear. On the first 2 days, people on the trip got a little surprised as to why I had a relatively big pack but only carried a Samsung NX200 wherever I went. I began to whip out things…….Lifestraw™……Lifeventure Shelter 2 Bothy Bag……Gerber multitool…….Sealskinz gloves…..survival kit…….Fenix PD32 light…hiking pole…..travel pillow….thermal blanket……spork…….power bars…..soup packs……purifying tabs……Platypus drinking bag……..alcohol wipes……first aid kit…..Garmin 76CSX…..batteries….. I explained to them that survival was my priority when going out into the wilderness for my adventures. Photos are secondary.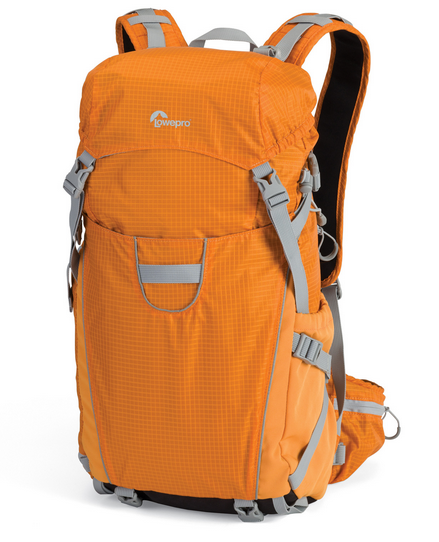 Nice bag, no?
If I was going to travel for an indefinite period through the cold, mountainous region, I wasn't going to leave my safety to chance or the tour guide. If we had gotten stranded for whatever reason, at least we would have purified & filtered water to drink. I've never been to China before & didn't know what to expect except that the people look very similar to me. 😀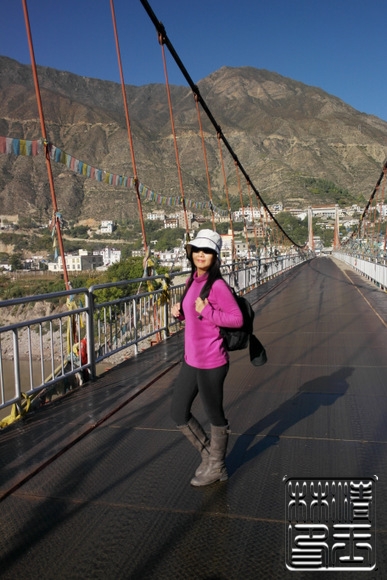 Angela posing.
Sandwiched between the demure Angela & the excitable Leong, their antics drove me to the toilet. I have never laughed this much, all 12 days mind you, at two contrasting individuals trying to take pictures & get along. Leong's model-opportunisticism, both as the photographer & the one being photographed, was worthy of commend. He took very flattering shots of Angela but Angela felt that he did better with aunties & housewives making them look like stars. So the hammering begun. Leong was untameable. He went after cows, goats, yaks, whatever that moved……even other tourists, to get his portraits. He even managed to herd a bull back across the bridge over a torrential river! In witnessing such charismatic flaunts, I decided to document him. I don't remember much about Benzilan or the journey thereafter except that I was always in stitches as the taunts & threats were continually thrown at Leong by Angela, should he not succeed at taking flattering shots of her again. Leong took his task seriously & clicked furiously to get that right shot afterwards!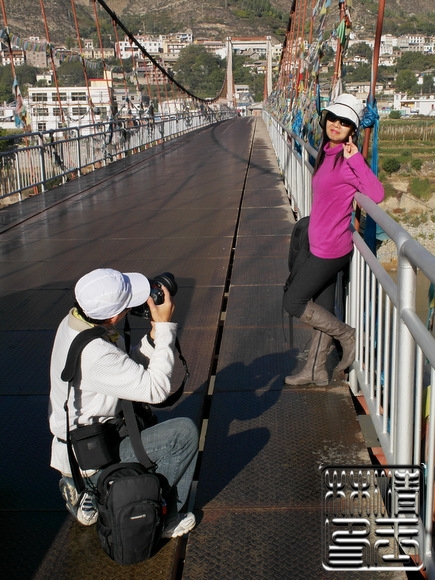 Feeling the pressure…..Leong has to perform, or else…..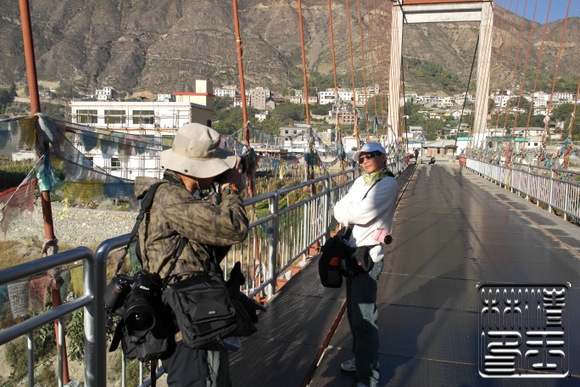 Leong succeeded to ask Alex to photograph him. Alex is a hotshot photographer!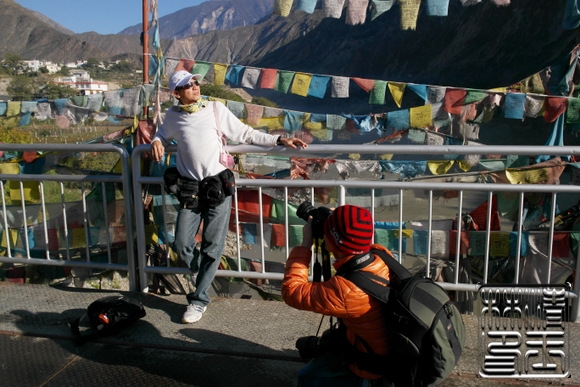 He got Uncle Nigel to take a shot of him too! How does he do it??? 😀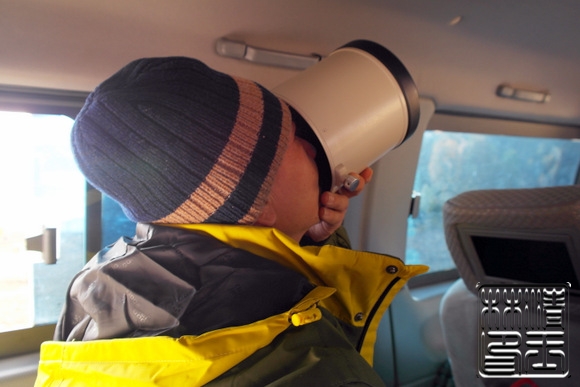 He would make sounds through the lens hood….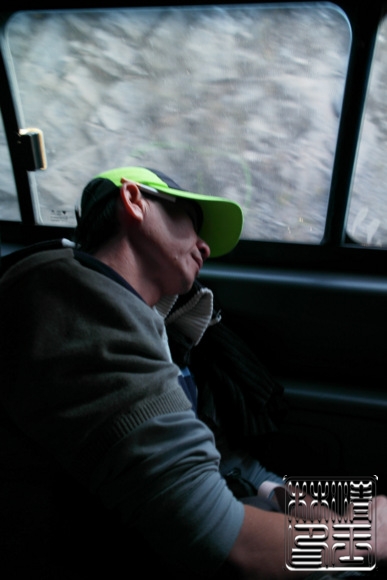 And the only time we stopped laughing was when he was deep in slumber…..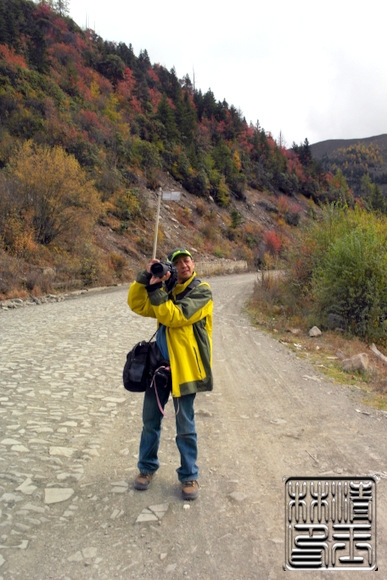 I took him taking me.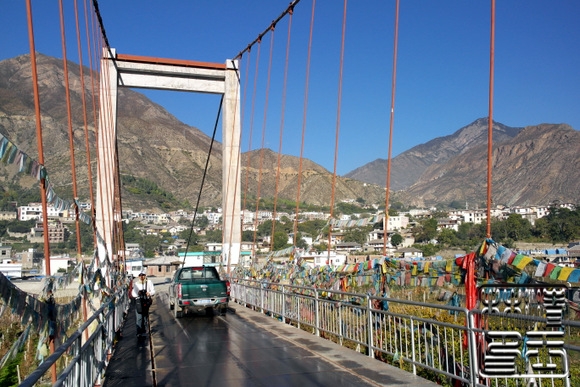 Benzilan was beautiful but I can only remember how much those two amigos made me laugh.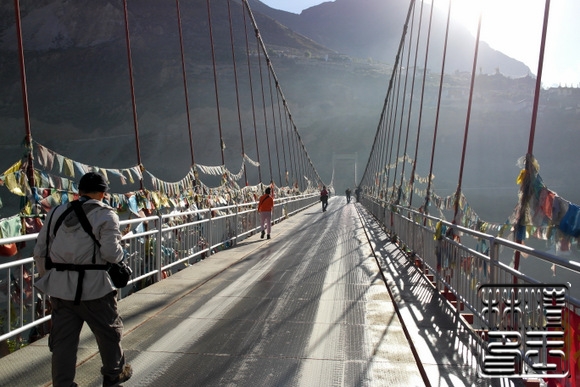 Walking across the suspended bridge.