Samsung has outdone itself again by introducing the next in line to the flagship of Galaxy "˜super phones' after the incredible success of Galaxy S2 & the magnificent Galaxy Note, both having their own class of cult following. Getting my hands on this sleek & slim beauty during the launch at One World Hotel, the Galaxy S3 comes moulded with super smooth Corning Gorilla Glass, that sticking a screen protector would not do justice to it. The seamless screen seems to blend into the frame of the phone. Noticeably, the Super AMOLED 4.8" screen gives an eye-catching real estate with the 16 million colours that it emanates.  It causes the icons to virtually pop out. Dazzling & life-like photo display.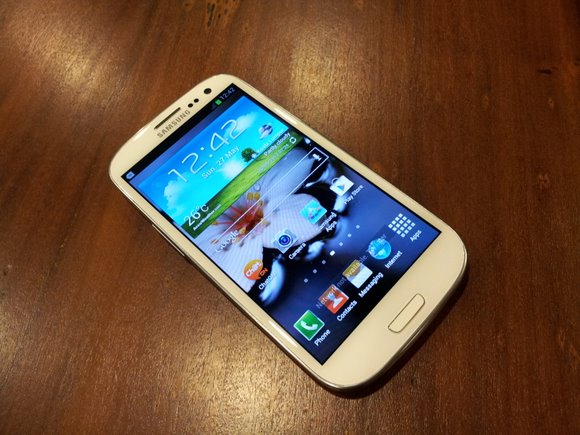 Who are the movers & shakers of the world, you think? Mothers, photojournalists, bloggers, movie-makers, scientists, captains of merchant ships, CEOs of banks & think tanks, ministry officials, rulers & leaders, of course! Not to mention those engineers who service aeroplanes & pilots who fly them. And professional builders & architects responsible for drawing up the city & beautifying landscapes! Yes, you are whom I'm writing for today & I hope it would assist your field as much as the phone has assisted mine.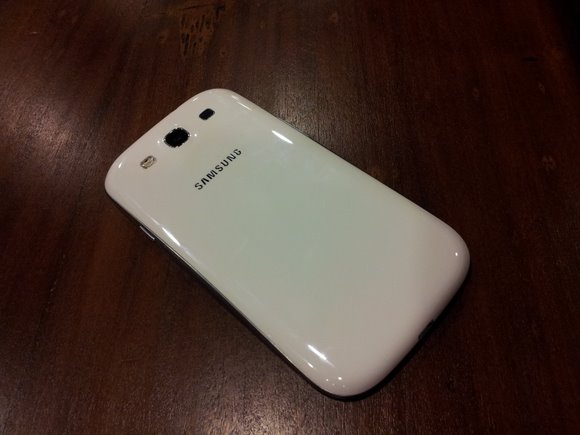 The moment I powered up the phone, the Android intelligence prompted me to key in my Google credentials & before long, all the apps that I have ever owned in my current devices came flooding in without me having to fuss over the reinstallation of apps that I'm so used to on my current Android devices. The 1.4 GHz quad-core Cortex-A9 processor excelled the operation of any app including the most important function for me, which is the Camera. Virtually no shutter lag. Great for mothers wanting to snapshot fidgety kids at their most active moments or travellers who want to take mementoes of street performers on their tours without worrying if the camera's settings are appropriate or designers wanting a snapshot of their work for reference to share with friends on Google+ & Facebook. The possibilities with the inbuilt camera are endless. You can be as trigger-happy as you want. With the industry's standard of 1GB of RAM, the S3 runs on Ice Cream Sandwich version 4.0.3.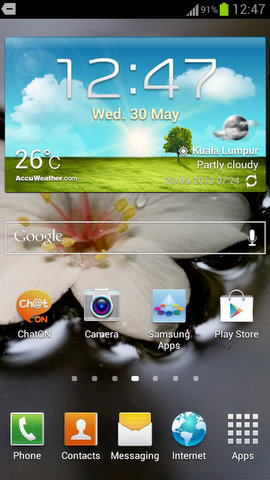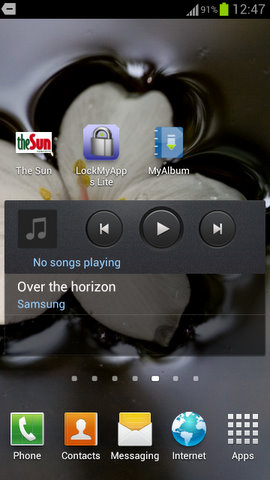 With the inception of S-Voice, you can use natural language commands and dictation to instruct the phone to wake up, effect a sentence & direct it to purpose a call or start an app or send a message to any one of your social media networking apps such as Twitter, Facebook, LinkedIn & so on. First, you have to train the app to recognise your voice & your diction. You can choose to start S-Voice with "˜Hi Galaxy' or any other phrase you think is appropriate.  Use it to start any app or Google Navigation (when you are outside of Malaysia) by saying, "˜Navigate to – <your destination>' and a notice would pop up to turn GPS fix on followed by another saying that Google Navigation is not available in your country. Upon selecting "˜start Google Maps,' you will be presented with a list of plausible locations that match your chosen destination. Selecting on one will prompt it to give visual & written turn by turn directions from where you are to the place of your choice. Apart from this, there's a very good reason for you to get to know this feature well & perfect it for self-protection. With the increase of crime towards women, rampant abduction & robbery, it would be good for you to command the phone to call an emergency number for help in the event you get into such situations. Program the phrase to something less likely to be suspicious, like "˜I'm hungry' in replacement of "˜Hi Galaxy' & "˜Call for what?' to dial an emergency number of a friend. If you ever get tied up & phone is in your pocket or handbag, this would be the situation to use it. What is technology for? This is truly a smartphone! Get one for yourself, your wife/girlfriend, your sister & your teenage daughter. You can send the women to me for classes on how to use the phone later.
Exploring further, the S-Suggest app does what is says, suggests apps for any kind of task. Here are the screenshots of suggestions given. I liked it for the Angry Birds Space that it suggested. How smart. It knows I'm a fan.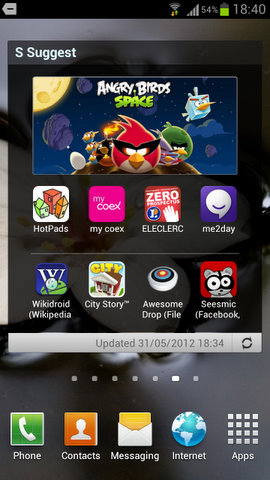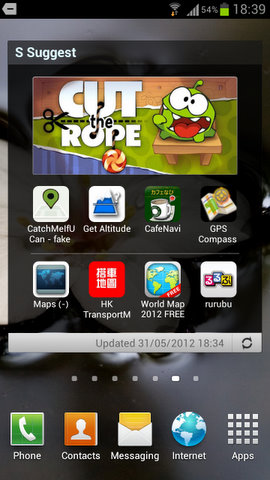 It took me awhile before I found out how to do a screenshot on the S3. By clenching your hand into a fist, use the base of the fist to run it along the screen to capture the screen, doing away with the previous method of pressing the power button & home button simultaneously on the S2. Taking videos & photos can be stored onto an external card in the MicroSD slot, memory can be expanded to 64Gb. Again, having a super fast processor cause everything to run with ease. Watching a HD movie is a breeze! You can even multitask to check your web browser or answer an incoming SMS without having to leave the movie! It supports playback for these formats:- MP4, DivX, XviD, WMV, H.264 & H.263. Playing music goes without saying. Standard fare for MP3, WAV, eAAC+, AC3 & FLAC for as long as you have enough juice to power your journey.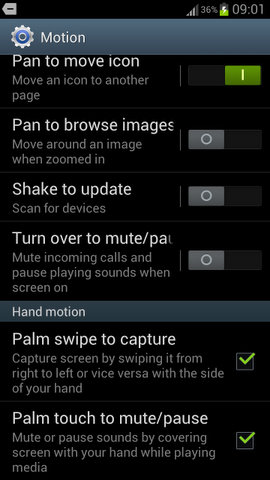 The virtual keyboard though small, is very responsive once you touch & type. The intelligent typing auto-corrects your spelling mistakes & lets you select the right word. Always check though. You wouldn't want to be caught typing something else that's not intended while communicating with your client as I have done in the past. With the removable 2,100mAH battery, you can spares or get a powerbank to charge your phone after a heavy day's usage. The battery life is quite standard, with my apps running in the background such as 4 email accounts, Plume for Twitter, My Data Manager, News Republic & Facebook, a day's work include updates to these apps & reply of emails on top of what the phone is designed for, accumulating to about 14 hours of life. As battery ages & have shorter life span, consider getting one spare & one powerbank.
I downloaded My Story from Samsung Apps & had fun writing stuff to send to friends with pictures appended to the "˜letter-like' note. For those who are expressive, this app is for you.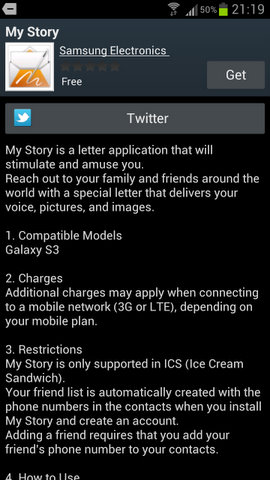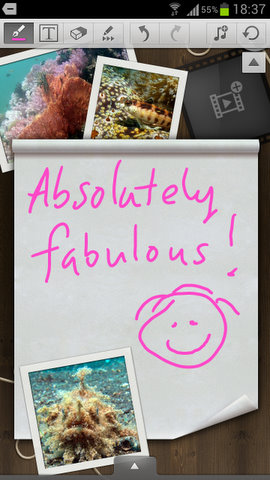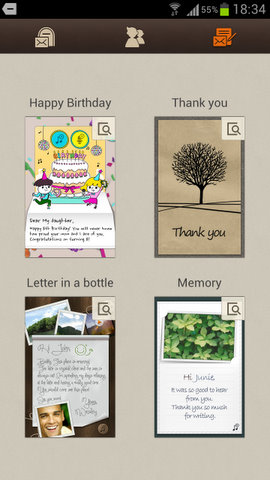 With Wifi Direct, you can transfer files wirelessly between devices with the same feature. I use it to beam pictures to my Asus Transformer 3G tablet or Macbook Pro for backup & if you have an On-The-Go USB cable, you can plug in a flash drive to transfer your files directly. Especially large video files. Here's a sample that's uploaded in high definition when I watched Alfred Ho in action. A blind singer, his immense talent in unparalleled & he's available for engagement at dinners & corporate functions. You can reach him at +6016-6359800 & alfredho.music@gmail.com.
The downside is that it uses a micro SIM card which require you to cut your current SIM & keep an adapter handy should you wish to swap cards/phones. I'm skipping all technical jargon because it means very little to movers & shakers like yourselves as I prefer to bring your attention to what the phone is capable of. You can read through other bloggers' reviews if you wish to get to know the technical bits of the Samsung Galaxy S3 a little bit more but I'd suggest you go to your favourite dealer & swipe that credit card of yours now to personalise what it can do for you. Happy gadgeting!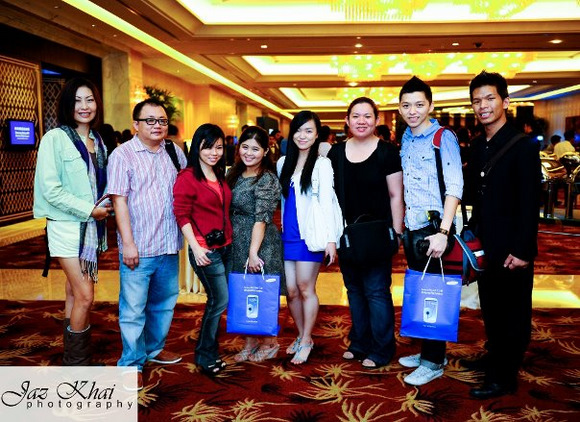 Photo taken by Jaz Khai at the launch of the Samsung Galaxy S3 on 24 May 2012.