A panoramic view of the meeting in progress with chairman, Anthony Thanasayan.
It's a monumental effort for CAT (Canine Advisory Team) to convene with the predominantly Muslim councillors from each district in Selangor to come to an agreement on executing plans pertaining to stray dogs management. Muslims being the majority in the country, we appreciate the efforts by them to find a fairground on dog issues & agree to disagree on certain issues. What was discussed on the panel was the dog park with each council giving their support for it to be set up, though in areas occupied by mainly Malays, they have had no request to have a dog park. Those in Shah Alam, Sepang & Selayang haven't received any request whereas different rules apply in the municipality of Klang, Subang Jaya & Petaling Jaya. In Klang, dogs are allowed on leash to follow their owners everywhere even though they have no dog parks.


Dr. Zainol of DBKL on the left.
The guest of honour we've had the pleasure of convening with, was Dr. Zainol of DBKL (City Hall). His input in matters concerning the pounds in Setapak & the recent collaboration with MIAR (Malaysian Independent Animal Rescue) was much sought after especially when there are quarters undermining their efforts of getting the pound dogs adopted. Previously, one organisation headed by a psychopathic reporter who's task is to demonise any efforts by town councils or city hall to address the stray dog issue, had been trying to browbeat DBKL & MBPJ by portraying them as animal-catching fiends. This of course, had set off a string of gullible believers of incredulous claims, who then set on a rampage to verbally hammer the authorities without facts.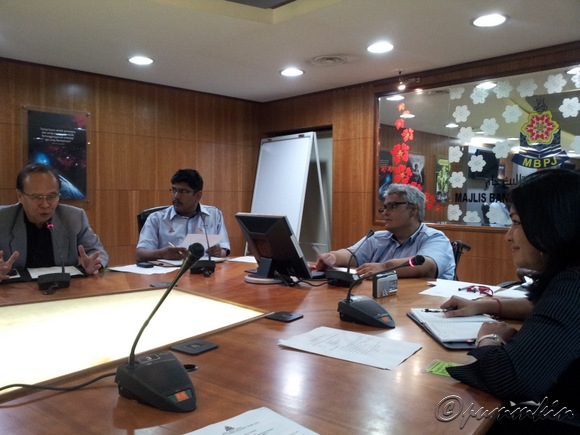 Meeting in progress.
Wising up to their ways, the councils have come to predict what this organisation is all about. It's become passé & this has caused them to lose credibility, not that they have any in the first place, and caused all councils in Selangor to boycott this ONE organisation. They are not even registered as a society. When you have someone at the top who makes squalid attempts to slander individuals with libel, associating with them can cause you your reputation too. Very soon, you will be the NEXT target. A person who has so much hatred cannot be tasked with nation-building. Dr. Zainol told me about a letter written to them alleging atrocious keeping of dogs at their pound. I told Dr. Zainol that if it was true, he wouldn't be working with MIAR & the public now. Appointing MIAR, a registered NGO, headed by Puspa Rani & Shalinee Fernandez who's a lawyer, they can't go wrong. Puspa may be ranting off her frustrations publicly on her page but her love & dedication for strays is genuine & true. Shalinee, being a lawyer, has a great scale of legal knowledge & ability to vocalise change for the betterment of the management of dogs in the country. Putting Shalinee on the board of CAT together with other NGOs on the panel is a boon to the team! Too bad the organisations she had helped before didn't recognise her ability but rather, they sought to discredit her by their same modus operandi used on anyone with good ideas.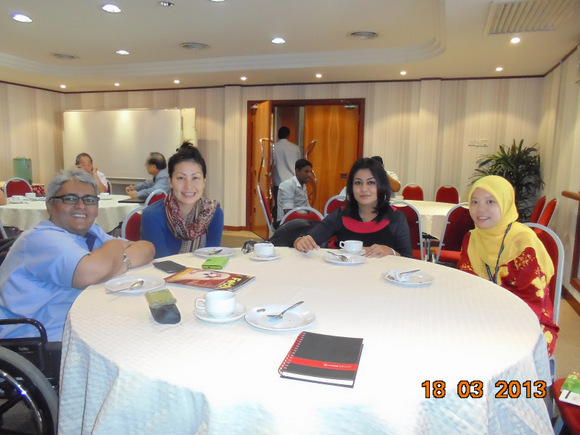 Having breakfast with Anthony, Shalinee & Yani of Klang Town Council.
Dr. Zainol briefed that since the bylaws had been updated in 2011, the restriction of having domestic pets above the ground floor of apartments has been lifted, thus, permitting dwellers in apartments to KEEP a dog as a pet but must be mindful to NOT let it be an annoyance to neighbours. Dog owners in apartments can finally REJOICE!!!!
Finally, we addressed the issue of the service dogs being put to sleep by the Fire & Rescue Department. Why is it not surprising that the same group of people (comprising of wanimo-sapiens – a genus called Wanii & the species of Waniipets, who hail from the same genus but camouflaged as another being) would launch a rampage to discredit the Department for a task that dignified the passing of their service dogs? I want to say thank you to the trainers who have dedicated their time & effort to train a dog to save a life in a fire or a hazard raid. And that they know it's not right to give them up for adoption when they are so sick. Please read the letter by Anthony Thanasayan after he had met with the Fire & Rescue Department authorities at Putrajaya on Wednesday & published in The Star newspapers today. I want to thank the Fire & Rescue Department for having such good practices in putting the welfare of the dog first, even if it means to put them to rest after many months of deliberation. I would like to ask you readers to not entertain claims by wanimo-sapiens who take pride in tearing nations down with gutter-reporting & baseless accusations. As a journalist, I must have facts before I write & anything that I dish out, must be credible & accountable. Unfortunately, wanimo-sapiens do not practice that so what you get is basically waniarrhoea.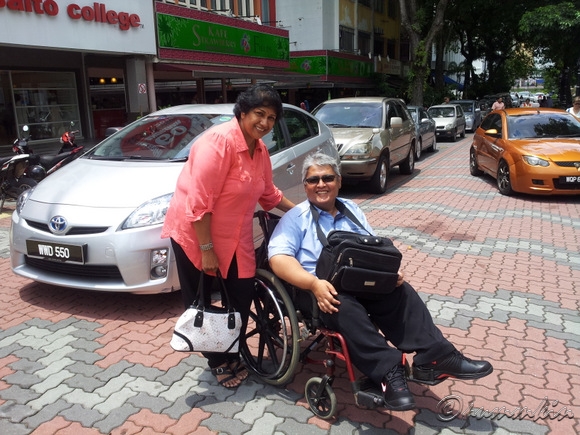 A well-wisher came to congratulate Anthony on our way back from lunch after the CAT meeting.
Note:- I've been besieged with assignments that has left me exhausted & unable to blog for awhile. I believe in taking care of priorities & my friends who share burdens with me. Wait for my next blogpost addressing disaster packs!