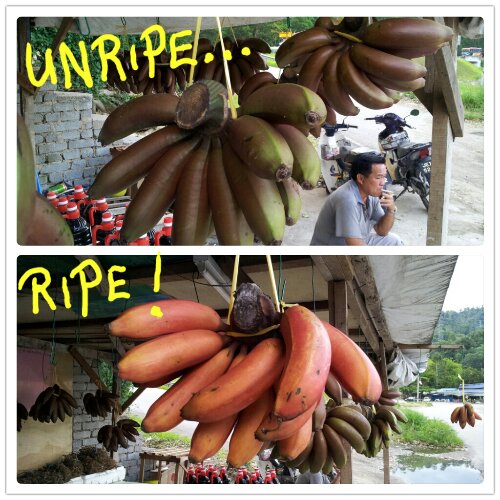 Pink Bananas may sound odd from its recent emergence into the market but I have had them since 2008. Absolutely delicious, the creamy banana is sweet & has a milky taste to it, making it my favourite of all banana species. Found in Bukit Tinggi, Pahang, about an hour's drive from Kuala Lumpur, these dusky rose coloured bananas look strangely coloured and may not appeal to banana lovers at first sight but definitely will at first bite.
Posting a picture of it on my Facebook timeline generated much contention with many insisting that I shared my loot while a few harassed me into getting some back for them. I came home with 10kg worth in bags for distribution to my banana-frantic friends. When it's raw, it has a pinky rose coloured skin with greenish tinge but once ripe, the green turns yellow & the rose will turn red. I still like to call them Pink!
Go have some today. It's alright to go bananas & turn pink!