Under the invitation of Travel Malaysia & Tourism Malaysia in Singapore, I attended the Bird Race two weekends ago in the company of avid birders & photographers comprising of 38 teams in a quest to spot & name the most number of species in the 1 & 1/2 day race up in Fraser's Hill, Pahang. The event was celebrated with the presence of officials & councillors amidst vendors adding to the festivity with sale of bird identification books, embroidered patches, shirts, binoculars, digiscopes & headgear. I met someone whom I had been communicating with for the passed 4 years in the forums & later joined his group for the race that soon floored me.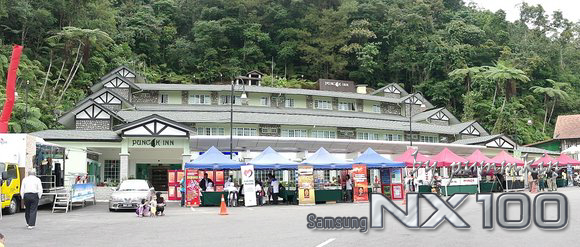 Panoramic shot using the inbuilt function on the Samsung NX100. Vendors at The International Bird Race 2011
The race started at noon & we proceeded to the usual birding spots to count the species & also procure "˜photographic evidence.' Jason, Andrew, Ron & Alven were using digiscopes, short name for digital camera-mounted-spotting scopes. They hail from the land below the wind, Sabah, our neighbouring state in Borneo, and they were bent on locating the Silver Breasted Broadbill, the Orange Breasted Trogon & Silver Eared Mesia, which are non-existent or scarce in their terrain. Playing the good host, I brought them to midway between Hemmant Trail & Bishop Trail, when I got plagued with a broken clamp on my tripod, a non-functioning Aperture Priority on my Olympus E1, slow buffering rates & tripod giving way. Upon Andrew's suggestion, I shortened the third section of my tripod to make it two sections for all three legs, rendering a shorter tripod, a bent back & a craned neck. I was subjected to sitting on my birding chair & crossing the tripod legs over mine in order to get a better balance & stability to shoot any birds that land ahead of me. The picture below depicts how camouflage & proper equipment can make a big difference in the success of bird photography. Unfortunately, I haven't got any NX lenses for birding. I am contemplating on getting an adapter to affix my current lens onto the NX100 but will be limited to manual focus only.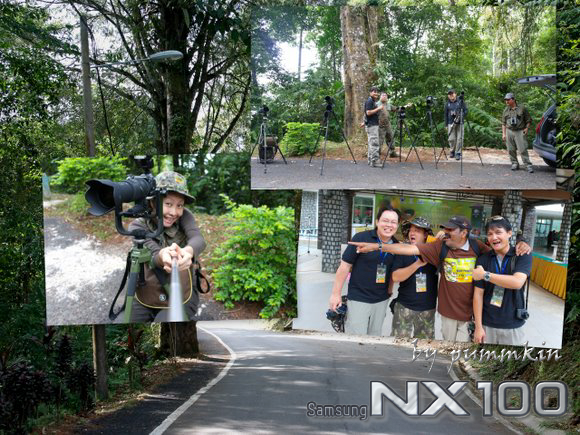 The Sabahan birder team & the armchair birder!

Spotted the Female Large Niltava giving me her sexy pose near her place of residence. The Male came out while I was fiddling with my camera, hopped onto a milestone & stared squarely at me about 2 metres away. Before I could direct the lens at him, he fled. Sigh. Presenting you, his partner……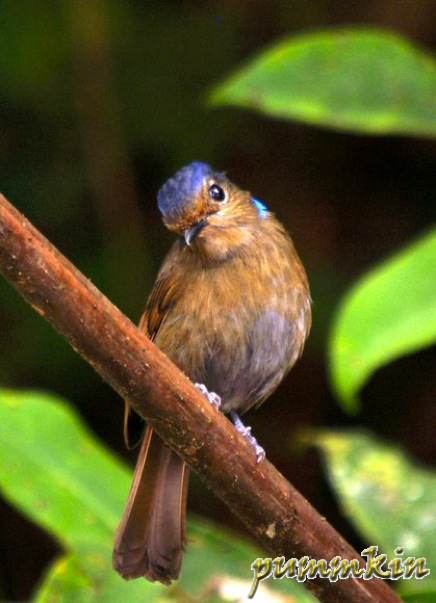 Female Niltava.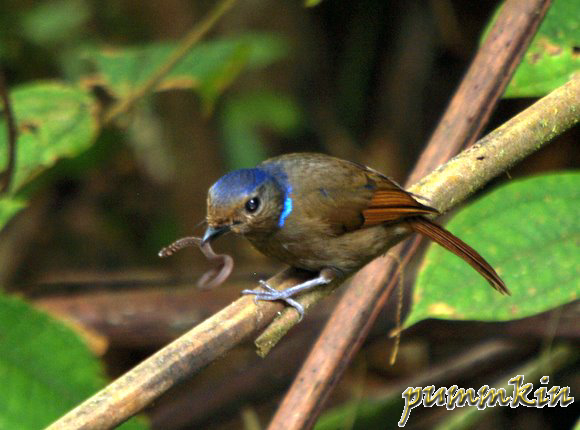 Niltava feeding on a worm.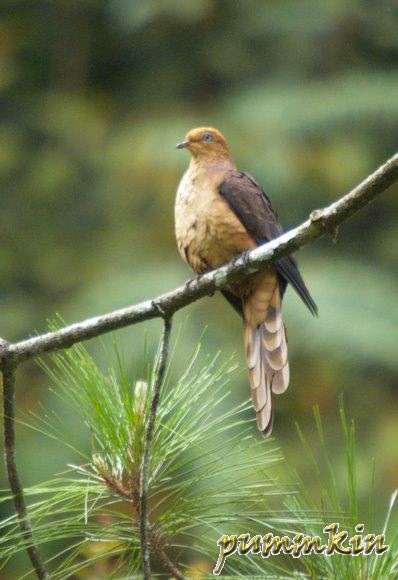 Cuckoo Dove perched after feeding!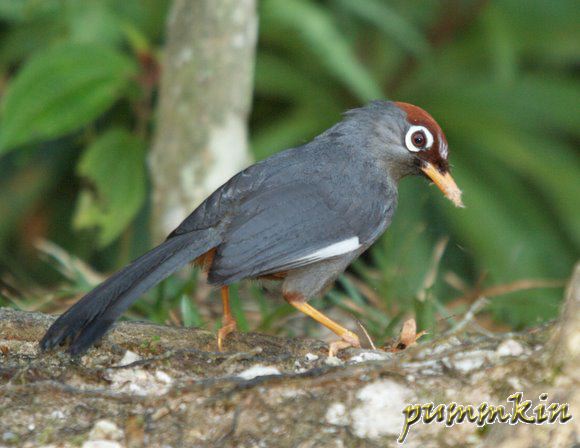 Chestnut Capped Laughing Thrush feeding on moth.
Nesting sites & nests are almost a highly prized commodity worthy of secrecy & protection. Alven & I ventured to the spot where a Silver Breasted Broadbill's nest was spotted & we virtually parked ourselves about 7 metres away from it. This specie is very clever, weaving & building a hanging nest from a suspended branch over a ravine where no humans could get to, nor wild animals apart from snakes. At 15 minute intervals, the parents would return singularly to feed the chicks in the nest. Each time people ventured to where we were, I swung into a pose & Alven had to pretend that he was shooting me instead to detract them from sighting the nest. Here, I managed to catch a glimpse of the chick but only see it properly in the pictures.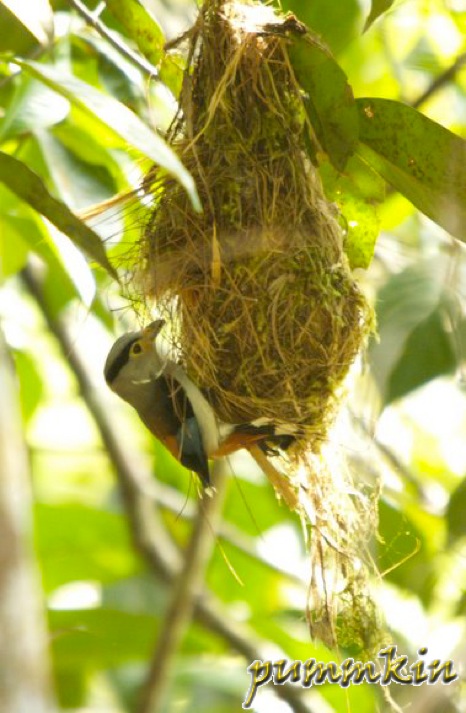 The mummy (female) returning to feed chicks. Note the "˜necklace' she's wearing.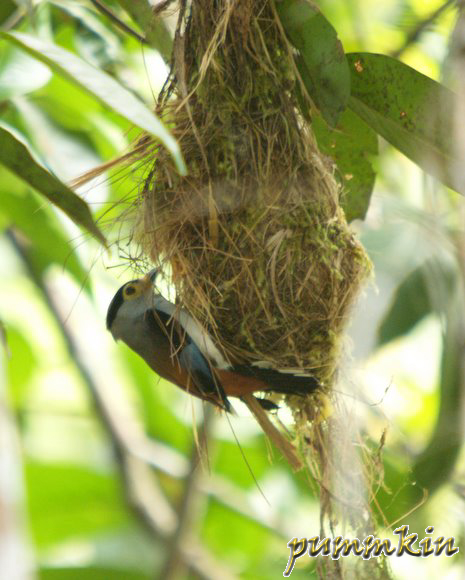 And the slightly larger male's turn to feed chicks.
To get a proper shot of them, we had to stay put for over 2 hours. Even with my camera troubles, these record sightings of them are worth it. I can't wait to get my hands on an NX lens for birding. With newer technology, I am sure to have the chance to improve on my shots. The Sabahans came out as 3rd Runner-Up in the pro category & received books & hamper plus cash vouchers & I got to take home a piece of my work, not in bird photography but in an expression of colours on fabric!
The batik painting that I completed in about 4 hours in between meals & shooting nature, sparked off a new hobby & reignited my passion for painting since I laid my brushes to rest after school.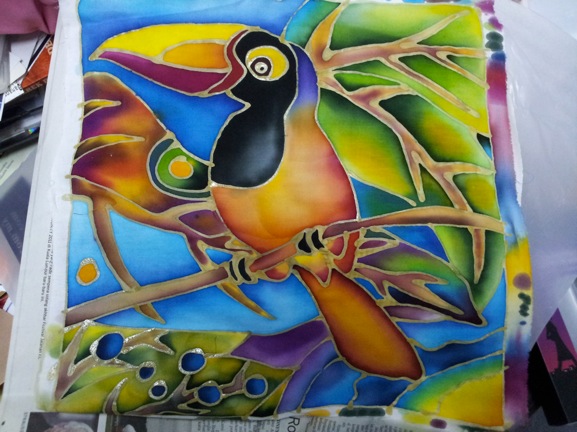 My next purchase would have to be a sturdier, carbon fibre tripod to support my equipment. The never-ending buying of gears is part & parcel of a lifelong pursuit of nice pictures. Until then, I'd have to be happy with being under-my-tripod-on-a-chair to track birds that fleet over with no fear of the camo-clad, clandestine meets with the feathered-kind.