Retiring to a comfortable room when you are travelling, makes all the difference in your stay. My room had twin beds, which I share with Olyvia, a software engineer from Jakarta. The bathroom was spacious & had all the amenities you'd find in a five star resort & the soap was what I loved most. Soaps with a higher content of glycerin makes it super luxurious on your skin & did I enjoy my bath time in the bath tub! The room even had its own steam iron & ironing board, not every hotel equips the room with such & it enabled me to iron my dress in the quickest time possible without having to wait for the delivery by the housekeeping department if it was the conventional way.
The thermostat of the air conditioning can be turned down to 10?C should you wish to fully utilise the efficacy of the comforter provided but we set it at a comfortable 22?C.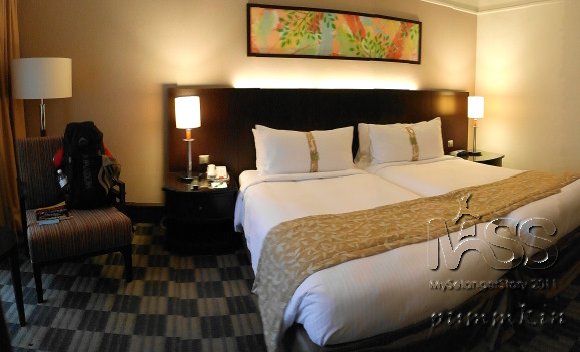 Our bedroom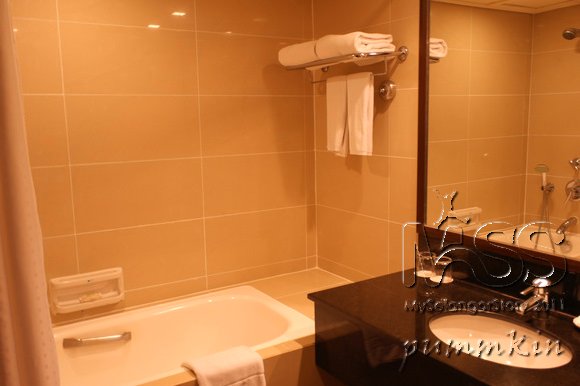 The bathroom!
As this was our final day of the tour, we made our farewells & vowed to keep in touch to journey with each other through our blogs. I would like to express my sincere gratitude to the sponsors & organiser of My Selangor Story 2011 for making this possible. My stay with each one of the resorts has opened my eyes to many possibilities within my profession to promote Selangor when I go overseas as an ambassador for ISO Standards in Diving Services for Malaysia. I thank you for making me feel important as a guest & may the contest be a platform for me to pitch my skills as a writer & producer for the assignments that I will embark on hereon!

This best sums up the 5-day journey of mine.
I would be so grateful if you could vote for this entry HERE. <—- There are links at the bottom of each post that require a click on the many hearts that you see! Thank you!
Here are our sponsors who made our 5-day tour splendid!