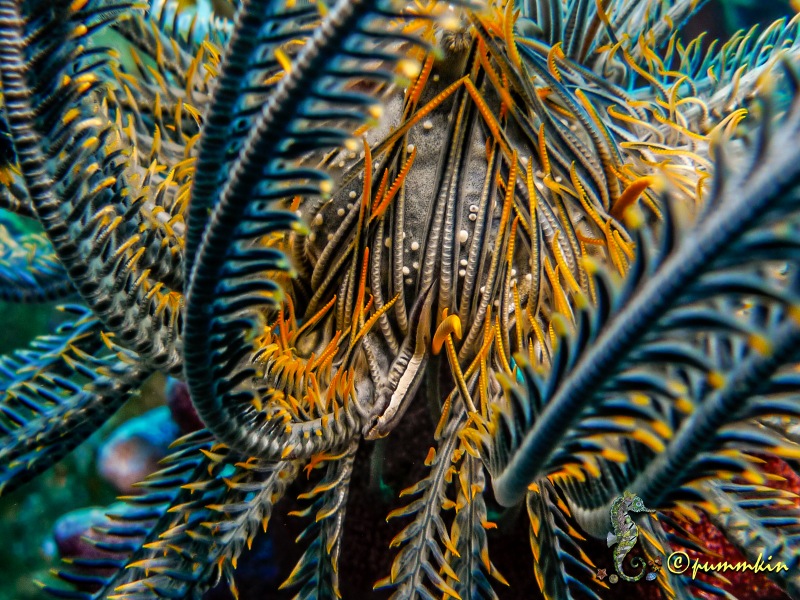 See the Clingfish and its pattern?
Crinoids are what divers know as Feather Stars, sporting feathery arms that sway back and forth towards the centre of the body. One of the easiest subjects to photograph, crinoids are prehistoric animals in the class of echinoderms with male and female species found clinging onto coral reef cliffs often asleep in the day or actively feeding at night. The challenge is to photograph the tenants that the Crinoid itself hosts. It's important to note that no photograph is worth abusing the animal for so please handle your subjects with care as you would a live animal on land. Crinoids are somewhat sticky and brittle. You wouldn't want to break any of their arms off in your quest to shoot the shrimp within so keep your buoyancy neutral and coax the star to do a grand opening for you. I will teach you how.
After witnessing so many dive guides using their swizzle sticks to roughly 'part the arms' of the Crinoid to show divers what it holds within, I felt compelled to write this article to educate the many of you who might follow the bad habit of disturbing nature for your pictures. I practice a minimal disturbance to no disturbances in all my shots. They are never manipulated, nor had my subjects tossed in mid water to get them flaring, fearful or angry and I implore all of you to nurture good habits. The ability to boast of your shots is in the way you photograph them, not how the shot was obtained with manipulation. When you understand marine animal behaviour, you will get your incredible shots. Having spent the last 17 years teaching and 12 years of photographing underwater, I am moving towards educating the diver of the habits that you should possess to encounter your subjects.
What you need in your gear:-
1) Dive equipment of course.
2) Carabiners/loops/holsters to streamline your dangling hoses (SPG/Octopus/reels/SMBs)
3) LED torch
4) Dive computer to record depth and time you see the animal to relocate it next time.
5) No gloves unless you are diving in 15? waters
6) Hood to keep your hair tucked away from curious octopuses
7) Any camera housed in respective cases
8) Marine life guide books
Pre-dive preparation:-
1) Clean your hands after you use sunblock
2) Secure all gadgets with lanyard in your pockets.
3) Identify the subject you want to shoot.
4) Decide with buddy how much time you want to spend on each subject and if you find your target, be considerate to allow your buddy to take shots as well.
It's not what camera you have but your knowledge of marine life that would get you nearer to the animal. By knowing what your subject lives on and feeds on, you have already increased your chances of finding it. By knowing your reef, you would have access to the inhabitants if you know what feeds on what and when.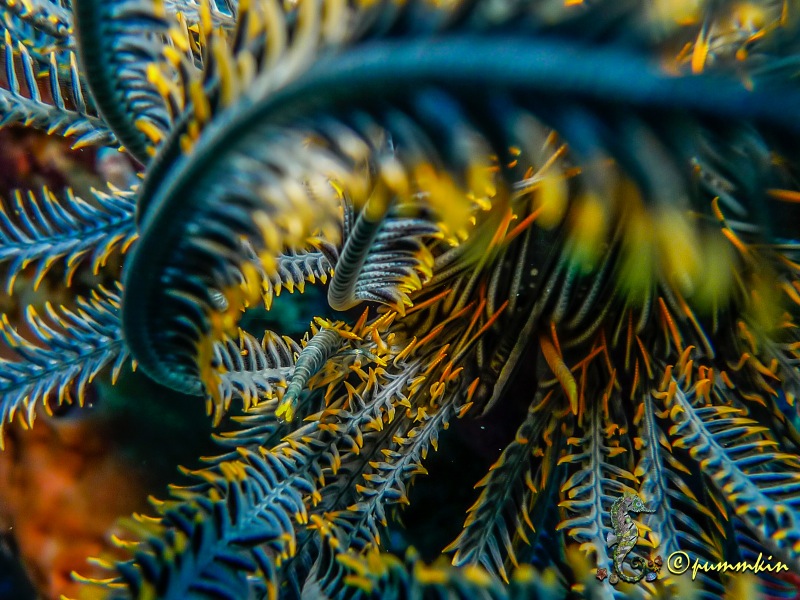 The Shrimp also took on the colours and pattern of this Crinoid, Oxycomanthus Bennetti.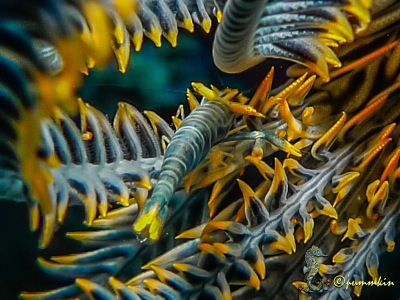 Close-up crop of the shrimp.

The basis of not touching anything in your dive education has been the point of contention in dive circles as we see dive guides competing with one another to find elusive critters with their sticks/pointers and completely lifting the animal out of the sand even though it's meant to be camouflaged. I found it deeply offensive and I usually stop following the guide to find my own interaction with critters when I am not the one guiding the trip. When marine scientists collect specimens for research, they can't avoid touching. We are not scientists neither are we collecting any specimens but we want to document them and there would be some degree of touching (hence rule number 1 in pre-dive preparation is to have clean hands) but not to the point of harassing the animal.
Not all crinoids have critters within. There are several species that host them. One of my favourites is the Oxycomanthus bennetti. 9 out 10 animals that I find have 'tenants' within them! On this particular one, I found 3 different types of critters! They all form a symbiotic relationship with the host and even adapt to its colours and patterns. Two Clingfish, a shrimp and a crab (not displayed) were darting about as I got closer.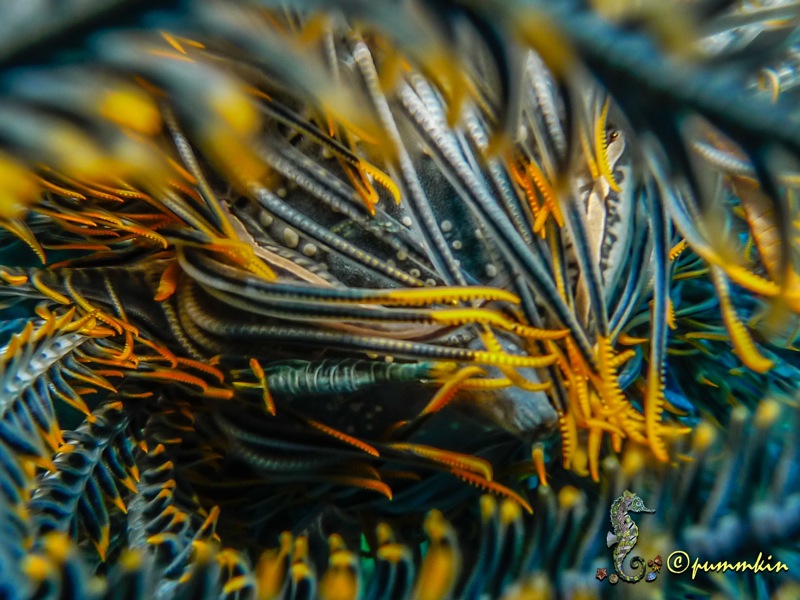 There are 2 Clingfish in the picture and a shrimp. Can you spot them?

How do you get a Feather Star to open up its multiple arms for you? You only need to tap the spine of the arms gently & softly. As you begin tapping, be mindful that your neoprene suit doesn't touch any of the brittle feathers or you might end up ripping the poor little thing apart. By tapping with your finger pads softly, it will begin to spread out. Your camera settings would have to be ready for the shot as you might only get one or two shots of the critters within. Set your focusing to Spot and metering to Centre-weighted. Crinoid will stay 'open' for you if it feels tickled in all its arms as long as you avoid touching the cilia (feathers). I use a drink stirrer with a ball tip to coax the critter (shrimp/crab/clingfish) into view from the opposite side carefully without touching the Crinoid. Once I get about 4 or 5 shots or a video if the subject is actively moving, mission is accomplished & I move on to other subjects on the reef. Minimal touching and absolutely no disturbance to the Crinoid. It will soon curl up to get back to sleep when it senses no threat.
For more on marine life and nature documentation, follow Pummkinography on Facebook or follow Pummkin on her trips!