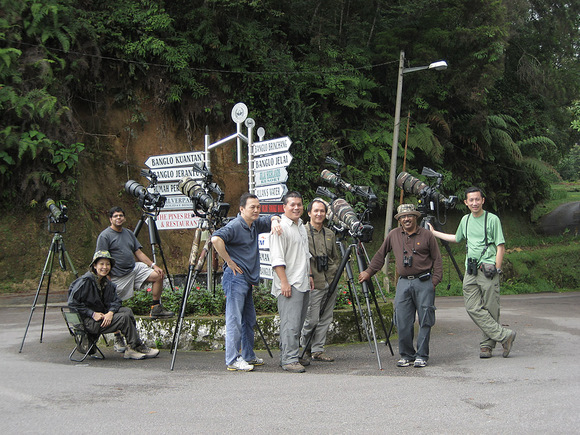 From L to R:- Me, Sree, Adrian, the late Chien, Kam Su, Alagan & Philip.
It comes a time when amateur photographers or those aspiring to go pro, make a decision to get a tripod to complement their setup. You may have asked yourself the same question everyone of us asked before acquiring our first, "Why do I need a tripod in the first place," and "Why do I have to spend money getting a premium tripod when there are lots of tripods that are a fraction of the cost???" Let's address these questions as we run through what, when, how, where & why you need one.
Why You Need A Tripod:-
You can't take steady shots no matter how you hold your breath when you press the shutter button.
You want to take HDR photos – bracketed shots of over & under-exposed ones to be recombined in HDR softwares.
You want to do bird photography.
You want to shoot video & not want your motion pictures turn into a Blair Witch Project kinda production.
You have a giant setup.
You want to free your hands to eat/drink/talk on the phone while monitoring your subject.
You want to shoot from a vehicle/boat & need support for your gear.
You want to shoot remotely.
You don't want to be called an amateur.
You want to rely on a support that's not called "˜a man.'
It doubles up as a defence weapon when confronted by thugs/wildlife/crazy neighbour/over-amorous monkeys in parks.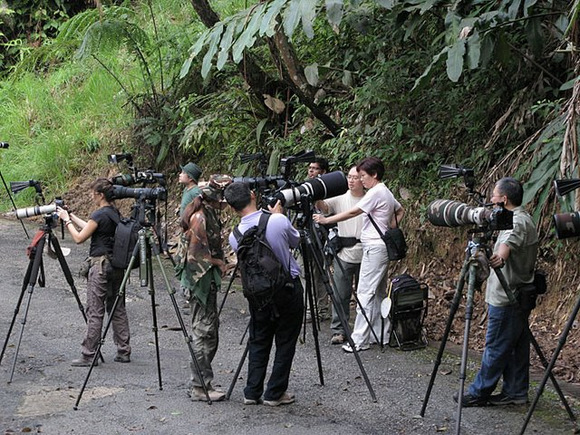 Birders at work.
When You Choose A Tripod:-
Select one that has the right height. If you are tall & the tripod is short, you end up bending in the wrong places & craning your neck to accommodate the camera rather than vice versa.
Determine the make. Manfrotto is the world leader company in the production and distribution of supports for photography and videography such as tripods, heads and monopods. And Manfrotto is Italian. Italians are sexy. So are the tripods they make.

?

For some founding history, read here.
Quality over price. Determine a budget. A good rule is knowing how much your camera+flash+battery pack+lens cost. If you spent in excess of RM2,500 & above for your system, does it make sense to get an el-cheapo, flimsy/wobbly, sub-standard RM50 tripod that run the risk of collapsing & ruining your gear??? Surely not. Protect your investment & make a wise choice. My birding setup cost me RM10,000 & this is small compared to what the birdmasters spend on their gear. I'm the Wannabe birder so I can shoot with whatever I please but I do get the best with whatever I can afford. You don't need a Gitzo if you are starting out & you don't need to conform to the norms of society. I will show you equipment that are equally good but costs much less.
Determine your kind of travel, by road or by air. If you fly often, it would be good to get a light but sturdy tripod made of carbon fibre.
Determine the weight of your camera+lens+flash+ball head before you choose the right tripod for your system.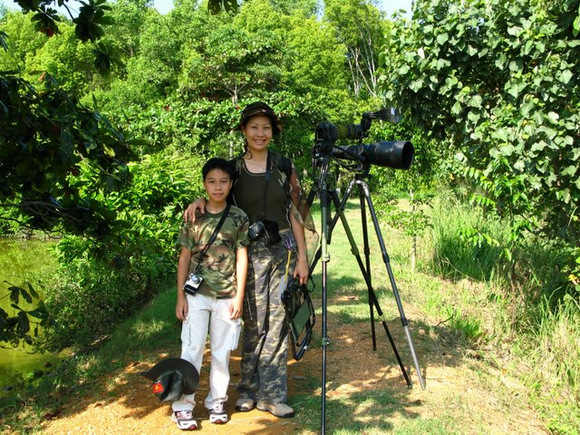 Ian Liew & myself at Kuala Selangor Nature Park
Setting A Standard:-
Be creative. Paint your tripod. Put decals on. Make your tripod standout from the rest. If you are a birder like me, you ought to put camouflage tape instead.
Everyone thinks they ought to use to top range products but my Manfrotto 055 Nat Trekker (for birding) & Manfrotto Modo (for travelling) have served me so well. With the recent acquisition of Manfrotto 055CXPro4, I think I'm quite ready to become Manfrotto's official fan.
Manfrotto is readily available locally & all spare parts too. I need not wait forever for a part to arrive from the other side of the world should anything go wrong.
Did I mention Italians are sexy?
Watch out for more posts on tripod usage as I begin the tour with My Selangor Story! Readers of Pummkin's Pitch will get a special price on selected tripods so check back here often! (Visit my sponsors on the right of this blog.)