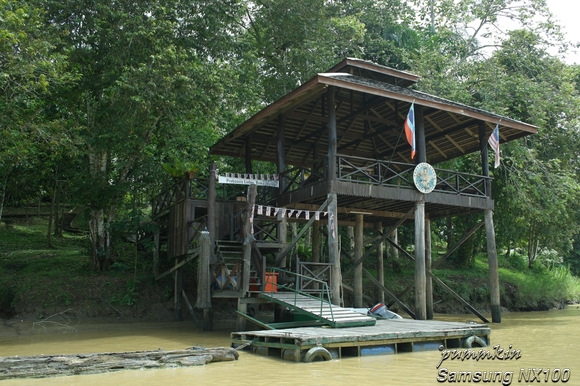 Bukit Melapi Resort – private dock.
When we left Labuk Bay, we headed straight for Sukau. In the interiors of Sabah, the ride itself was an interesting one because Hamit, our guide kept spotting birds for us to see. We stopped several times for the Greater Coucal that walked on the fringe of the jungle. We tried to ambush it from the car with my lens sticking out of the window but this bird outsmarted us. Even the journey gave us several species of Kingfishers & Herons. I was wondering what Kinabatangan would be like.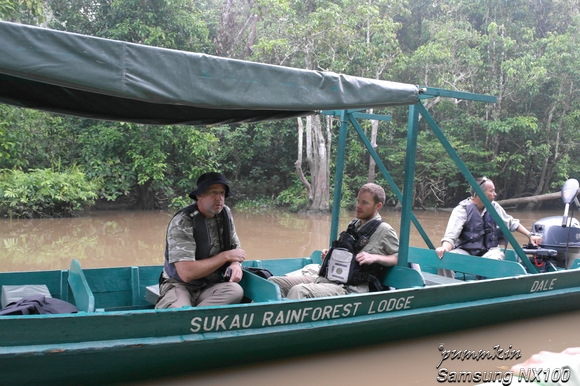 The crew.
Soon as we got into Bukit Melapi Resort, we headed out on a cruise. Then a boat with foreigners sailed by asking us permission if they could fly a helicopter overhead as they wanted to film. There was a boat tailing this one & looking at the solitary person sitting in front, I did a double take. I asked the foreigners, "Where are you from?" to which they replied, "We are from the BBC!" proudly. As I couldn't hold my excitement further, recognising the lone ranger on the boat behind, I asked, "Is that Sir David Attenborough???" And they nodded excitedly. Before you know it, Alex, Marts, Hamit & myself were waving frantically saying hello to the living legend! Then I turned to the crew & said, "Sure! Fly whatever you must & take as much footage as you need to show the world what Kinabatangan is all about!!!" And the crew politely thanked us in their thick British accent.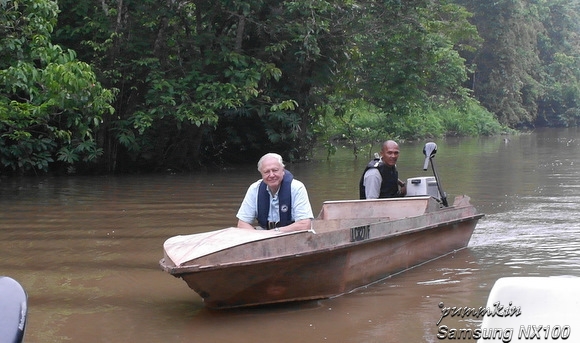 Sir David Attenborough himself!!!
He smiled & nodded, acknowledging our frenzy before continuing their journey. I shot the helicopter alright, with the cameraman sitting precariously over the edge as they filmed.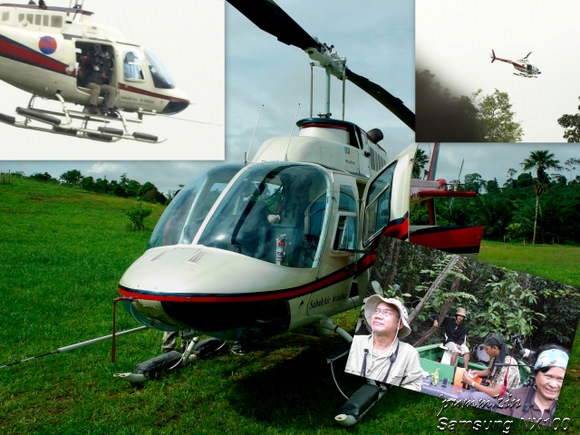 Later, the helicopter parked by the open space next to our resort & we went over to "˜inspect' the machine as all curious creatures do when there are subjects of interest in the area. Couldn't resist the pose with the flying machine!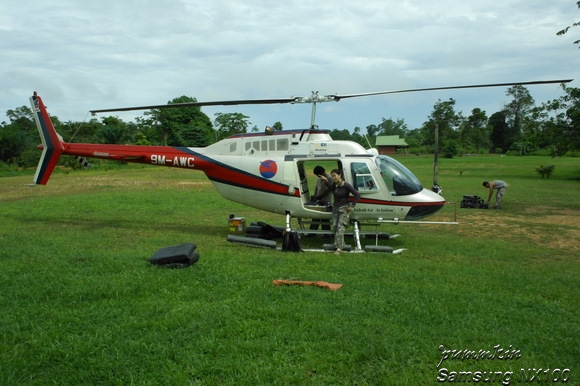 We didn't think that we would meet him face to face after seeing tons of his works on TV & being such a fan of them. Saying we were star-struck was an understatement. He was a real-lifer! What else did we find at Kinabatangan? Find out in my next post….. 🙂