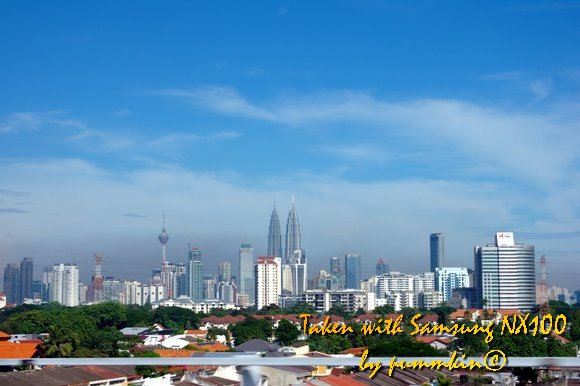 Blue skies outstripped the preceeding days of rain & haze, ushering me to get ahead with my geargets (pummkinology for combination of gears & gadgets) & newly acquired Samsung NX100 hybrid camera! Rendezvous with Nigel & Carman was at 7:15am, at Metro Tabernacle. Most times, we spent hours on end not saying anything to each other as we spend them underwater but it was an exceptionally chirpy, Tuesday morning because we were going on a motor treasure hunt! Nigel called our team, OFF COURSE, which was quite apt, I tell you. One wonders what team members get up to when they put an adventurer shutterbug who loves food to the navigator. Let me lead you through our journey of solving the puzzles & clues contained within the challenge.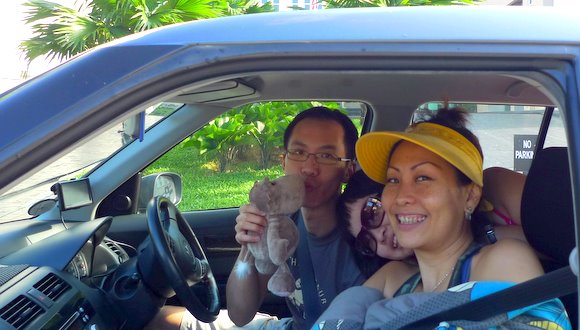 At the flag-off, we got a shot of our 1-member-short team. Jo couldn't wake up in time to join us leaving us to solve problems & decipher what-we-thought as non-existent!
Starting out hopeful, I brought my entourage along. Let me introduce them to you. Tigris, my tiger; Gigi, my giraffe & Hippster Jr, my baby hippo. Don't be fooled by their cute expression, they pack a punch to power up a computer & wire up to the net! I'm serious! They are little bags that hold all my cables, USB modem, AC Adaptor & other knick-knacks…..hahaha!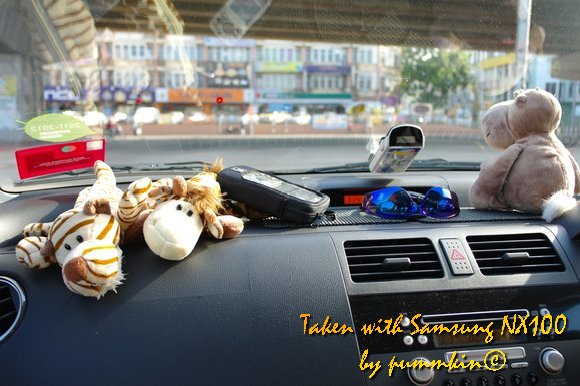 Tigris, Gigi & Hippster Jr at work.
Having done 2 U-turns, we must have missed all the clues because either we have gotten it wrong or there's something about the tulips (instructional map of hunt) that really threw us off course. By the end of the first hour, we figured we weren't going to make the finish line at 12:45pm. The route took us through to Cheras & onward to Kajang town, with questions that challenged our intelligence…..or the lack of it. I was particularly looking forward to the photo-acquisition challenge along the way, however, we circled round & round Kajang town to find why "˜Baba is missing' or how "˜Hot coins perhaps heated up audio equipment' could have been possible. Some of the questions were quite pseudo & deceptive & the only way to find out the answer is to get down for them. The sun was high up & both Carman & I were in sleeveless/spaghetti strapped top, exposing a huge surface area that would be sun-kissed so we decided to stick our heads out of the window to scout the place.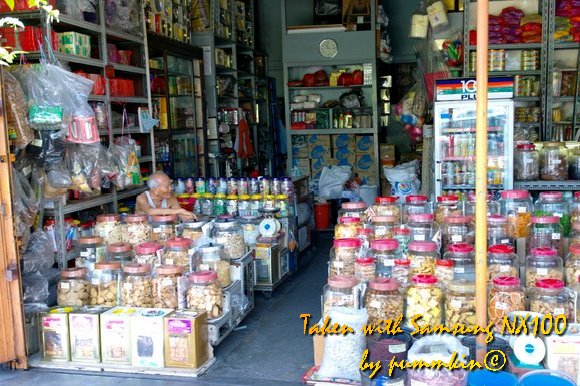 I found a biscuit shop! They had all my favourite kinds of biscuits! No, I couldn't stuff Nigel's car with it…..
We changed course the moment I told my team about Duck Satay. Suddenly, the quest for the champion spot was no longer on the list. Carman & Nigel were on the hunt to eat a quack. Duck Satay, it has become….. We ordered Fish Satay & Duck Satay, literally ate our heart out before setting off on the hunt again.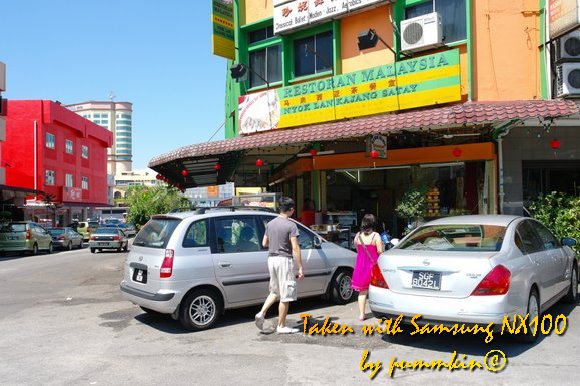 Malaysia Restaurant is at the corner shop opposite the pedestrian bridge.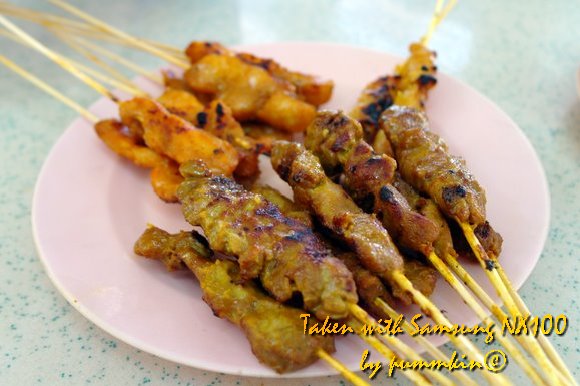 The satay was all meat & no fat pieces. Pretty good for RM1.20 per stick!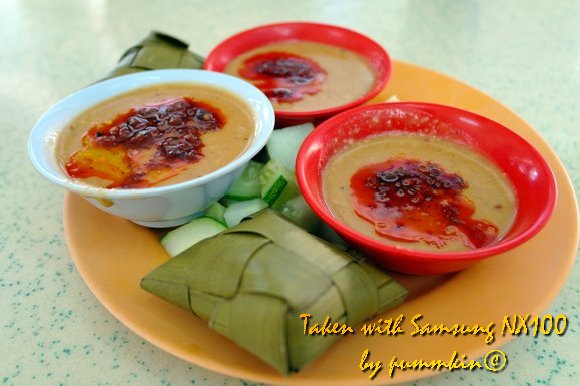 The peanut sauce came with a teaspoon of sambal paste to give it an extra zing!
Along the way, you might say we happily trailed behind others because looking for the answers was a lot of fun. We had to take a photo of "˜one of Dorothy's friends' which we deciphered to be Scarecrow, Tin Man or Lion. I wasn't expecting to see any lion in the wild so we had to settle for Tin Man or Scarecrow only. We had strange quests to fulfill & seeing the picture below was an indication of how we performed to achieve them. The vista of the interiors of Hulu Langat from Semenyih was truly breathtaking. We were glad we had satay because every car in the hunt was off course & late.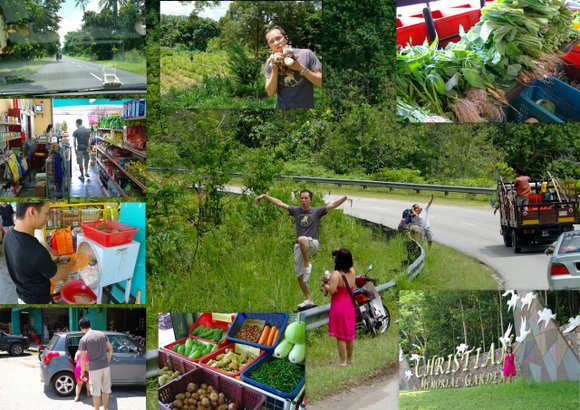 Scrumptious food awaited us at the Langat Fishing Seafood & Beer Garden, the final destination of the hunt. It wasn't about winning, it wasn't about how we couldn't answer the questions because with all the pictures that we took along the way with all my geargets, we had a whopping good time!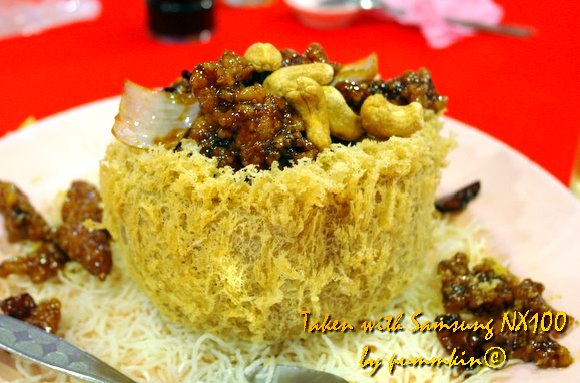 Yam with Mantis Shrimp & Cashew Nuts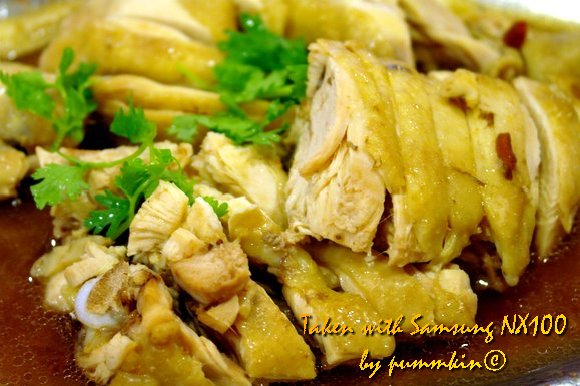 Steamed Chicken with Soy Sauce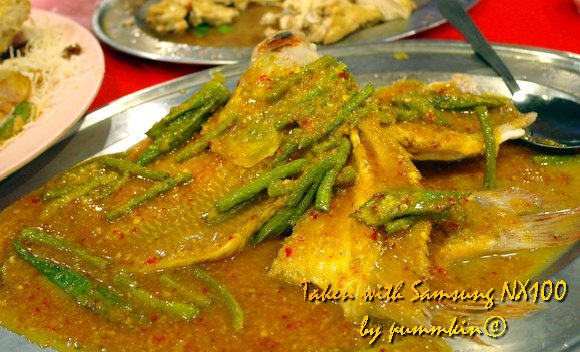 Steamed Tilapia Fish with Bean Sauce & Chillies
The moral of the hunt is, it doesn't matter where you are going or what you are looking for, as long as you have great friends to get lost with, it makes it worthwhile to stay OFF COURSE!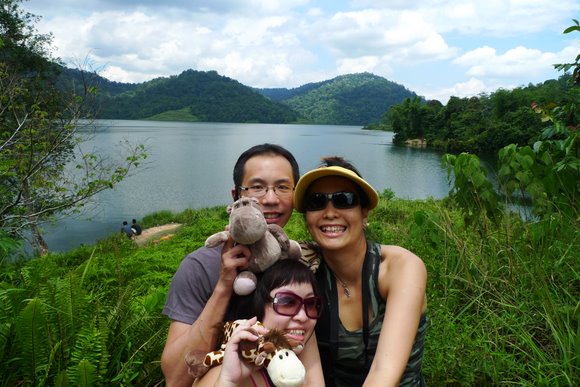 The team OFF COURSE! ? – Incredible hunters with wild friends….