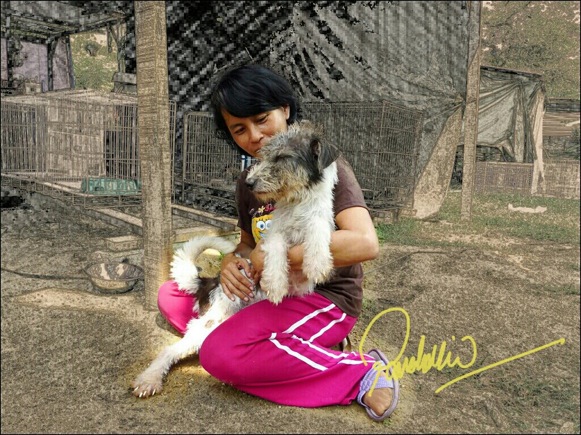 Her grit saw her through the many dire situations that Sabrina Yeap encountered in her lifetime. The lives of those furry friends she found on the street, rescued from chains or cages in abandonment, in the drains & ditches and even in mangrove swamps. Sabrina Yeap always had room for one more dog in her farm no matter what her detractors say. And her detractors are simply just that. Sabrina was born, her parents died & her relatives took everything then dumped her at an orphanage. She knew too well what it's like being abandoned. She never had a normal childhood, yet the love for dogs emanated from within the tiny frame that held her gentle soul, kept her close with the animals that she devoted her life to raising, caring & protecting. She spent 15 years working in SPCA as an Animal Inspector, then under the leadership of (Max) Ian Wheatley who founded the society in 1958. I met her a few years before Mr. Wheatley died when I volunteered at the society.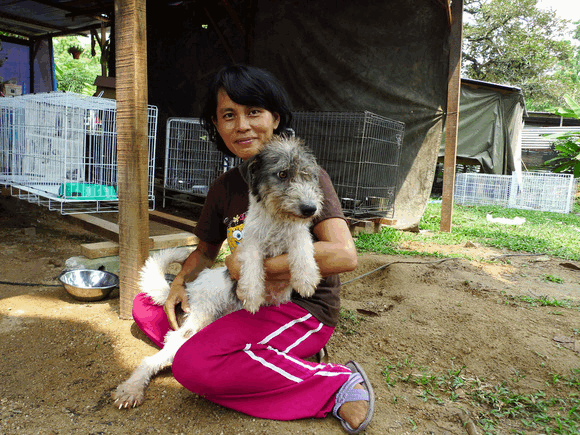 Holding Cleo, one of the rescued dogs of Pulau Selat Kering.
Sabrina investigated every case of cruelty reported & she worked together with the Department of Veterinary Services (DVS) to prosecute perpetrators in court right up to 2005. In that time I've known her, she always had the welfare of the animals first. She would climb out of the trucks with dogs trapped & the look of triumph on her face told me that she had rescued another cruelty case. My task was merely to feed the difficult dogs their medication but seeing her return with a casualty was like watching CSI solve a case.
Our ties formed when I began travelling, and very often I had to leave my dog with her in her house where she boarded pets as a side income to supplement her low income from the shelter. She did odd jobs like bathing dogs kept by the affluent for RM10 each, which some might think is a lowly job when in fact, she had enjoyed every minute of the bonding sessions with them. She got closer to the animals that she was entrusted with, and very soon, my dog too, started to listen to her command.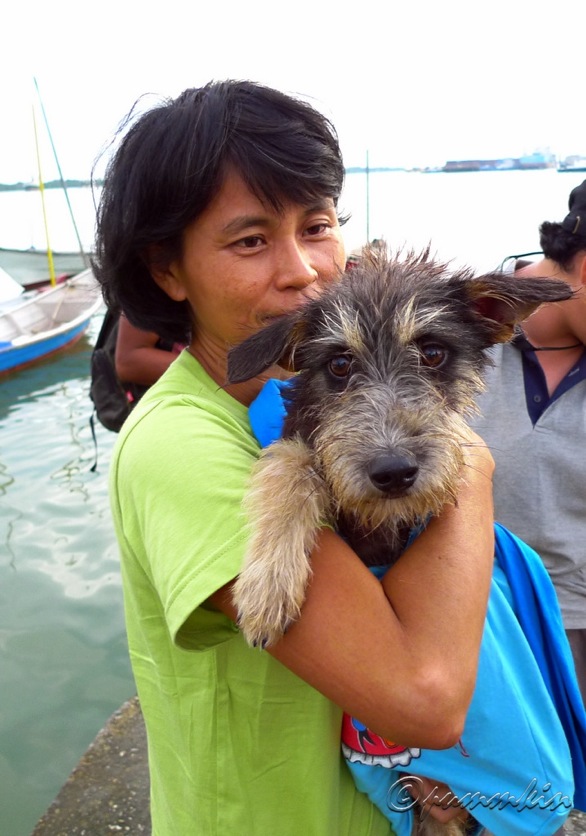 In safe hands!

She had always spent her money on the dogs' welfare & never for herself. The money belt grew tighter after she left SPCA & eventually started her own no-kill policy shelter with 10 dogs in 2006,  giving tuition classes to earn a living. With a meagre income, she started an adoption programme where people could sponsor a dog for life at RM30 per month. She rented an area to keep these dogs, driving to & fro Kundang to prepare food for them & feed them. When more people got to know her plight upon recognising her exemplary work in SPCA, they begin to give her a helping hand. She built Furry Friends Farm to what it is today with sheer dedication, hard work & determination to give dogs (and cats, goats, rabbits) a sanctuary for their dog days. She gave talks in international schools on responsible dog ownership & had awareness campaigns in exhibitions & expos in the Klang Valley. She ate very little & made sure her furkids ate a lot. By the time she rescued & helped 100 dogs, she knew she had the capacity to take in more. The dogs were jolly, charming every visitor & hounding those who had treats in the pocket as soon as they stepped through the gate. She knew each dog by name & they knew her by her voice. The dogs would be scampering home if they had escaped through cracks in the fencing, much like a kid caught for staying out too long. She could even tell me all their traits as I sit down in the centre of all her most laid-back snoozers. Dr. Jill Robinson of Animals Asia Foundation, appointed Sabrina to be the executor of the Dr. Dog Programme in 2007 & have since raised eight Dr. Dog Ambassadors.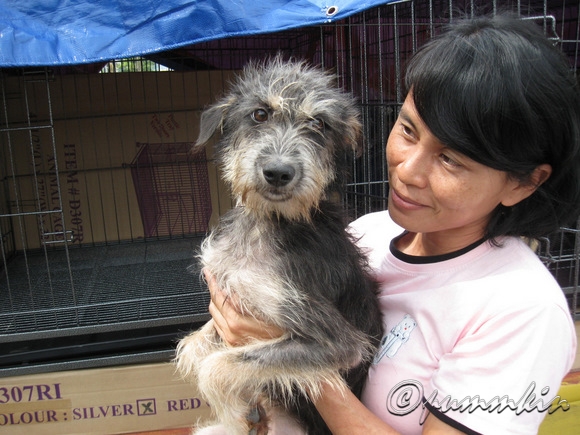 Picking up Hope at the vet one morning in Kepong.
Sabrina had a quiet demeanour but with a kind of assertiveness that made her the matriarch of the troop, subduing even the most aggressive of males in the pack. She would get herself dirty to rescue a stranded pup & risk her life to reach out to an injured dog. She ferried each dog to the vet & would collect the ones which were already treated, in her little Kancil. Her relentless effort for animal welfare made her a champion for the causes she stood up for, including the Pulau Ketam dog dumping incident in 2009 that garnered international attention.(More on that rescue in the RESCUE category). In that mission, 29 stray dogs were rescued, now living in the farm. Its no wonder those who know her would feel protective of her. She had many friends, some stayed away from the overzealous & territorial volunteers she seemed to attract & helped in a distance. Having spent years communicating with her, we know what she held close to her heart & what she wanted most for the animals. We have lost a selfless saint of neglected dogs & cats on 17 July 2012. May she be reunited with the lives of her furry friends who had gone on before her to the other side of the Rainbow Bridge.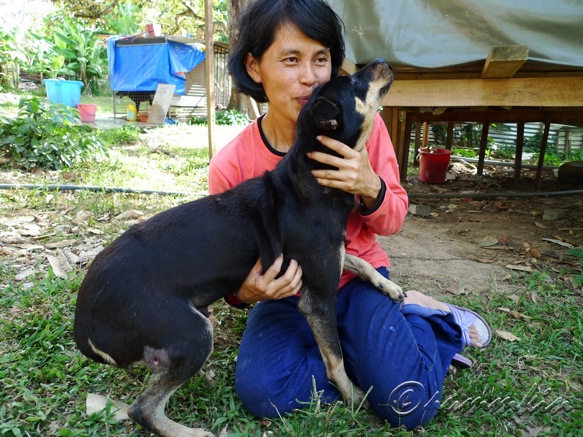 Sabrina kissing Jerry, the snoozer, at FFF.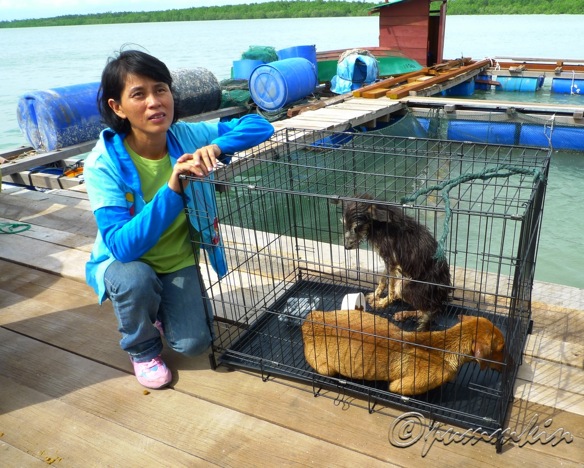 At the kelong near Pulau Selat Kering, Klang
Furry Friends Farm will be managed by her current pool of volunteers & if you would like to pay your last respects, the wake is at Nirvana Memorial Centre, No. 1, Jalan 1/116A off Jalan Sg. Besi, KL. Funeral Parlor No.13 (Rose). Funeral Service:- Friday, 20 July, 10am Shah Alam Crematorium (Nirvana)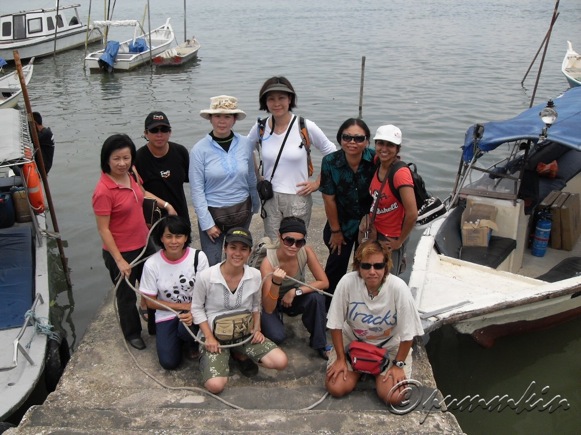 Group photo of the rescuers.