What 2012 had been was a year of drama, excitement, elation, grief, distress, mourning all at once. The year passed so quickly. With the blink of an eye, I'd been to several countries & back. Some of my involvement with social work has been enlightening too. Being one of the country's representative for The Access Initiative (TAI) with Jeffrey Phang, I was able to learn what others pay top dollars to do so. Returning from our regional meeting in Bangkok, we were able to put our knowledge to work. Mom passed away just before the trip & I missed my flight but I knew it was important for me to be there. As part of the initiative, we are to advocate access to information, access to public participation in matters concerning the environment that would affect people & access to justice. We are now in the process of getting a club to adopt the hardcore poor homes by sponsoring food stuff. They are also keen to have the kids from the Drum Circle perform on their annual dinner event. More about that in time to come. Meetings with these wonderful ladies from the club is so heartening. With the passing of a life, another event begins.
On the animal welfare front, we have gained good ground by working with the first local council in Malaysia to celebrate & honour World Animal Day 2012. All thanks to Anthony T, who spearheaded & founded CAT (Canine Advisory Team, a panel in which I sit in) in MBPJ as a councillor since 2008, we will soon have a dog park to let our dogs be paw-loose & fancy-free! Listen to his speech at the launch of the day in the video below.
So much work set in motion by Sabrina Yeap, who also passed away this year, contributed to this effort of councils & organisations getting together. There are those who think that they are a contributing factor while they clamour for her stature but no one have the guts & gall that Sabrina had to have spent her life dedicated to making life worth living for the animals. Hardly surprising because those who deem themselves important have so many personalities uprising from their virtue of stunning others with incorrigible behaviour & expletives incontinence. And their little squadron of likeminded individuals, usually personalities playing up from not following doctor's orders, would start to fire at anyone & everyone who has never known of such vocabulary. Out of the abundance of the heart, the mouth speaks, the pen writes or the keyboard types. When these keyboard warriors go on a rampage, they can only fool some of the people, some of the time. When some of these individuals stopped making sense years ago, I've pretty much disregarded their significance in the world of rescue. They have only themselves to rescue out of the pit they have dug & fallen into some time ago. I pray that they would find peace amidst the turmoil they face within.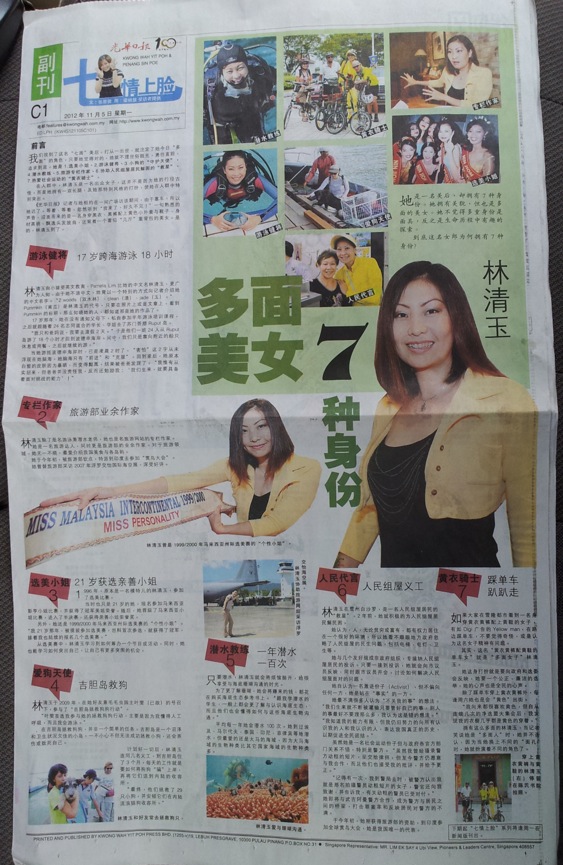 Later on in the year, I was featured on a full page of a Chinese daily & Szee Cshieng, the journalist from Kwong Wah Yit Poh contacted me a month ahead to set an appointment for the feature. We met in 2007 at the LIMA exhibition in Langkawi. Since then, she had been following my pursuits on FB. Thank you for the compliments in the 7 roles that you reprised of me but I see myself as an adventurer more than as a star. If God has given us skills & talents, then we must use them to bless others. Even if it's just to teach a new skill, impart a knowledge or to share responsibilities. In doing this, my life is enriched. In living life to the fullest, I am able to create pieces that thrills from having lived that journey of getting to wherever or whatever. This came shortly after my interview with Cars, Bikes & Trucks section of New Straits Times & a feature done by Grace Chen.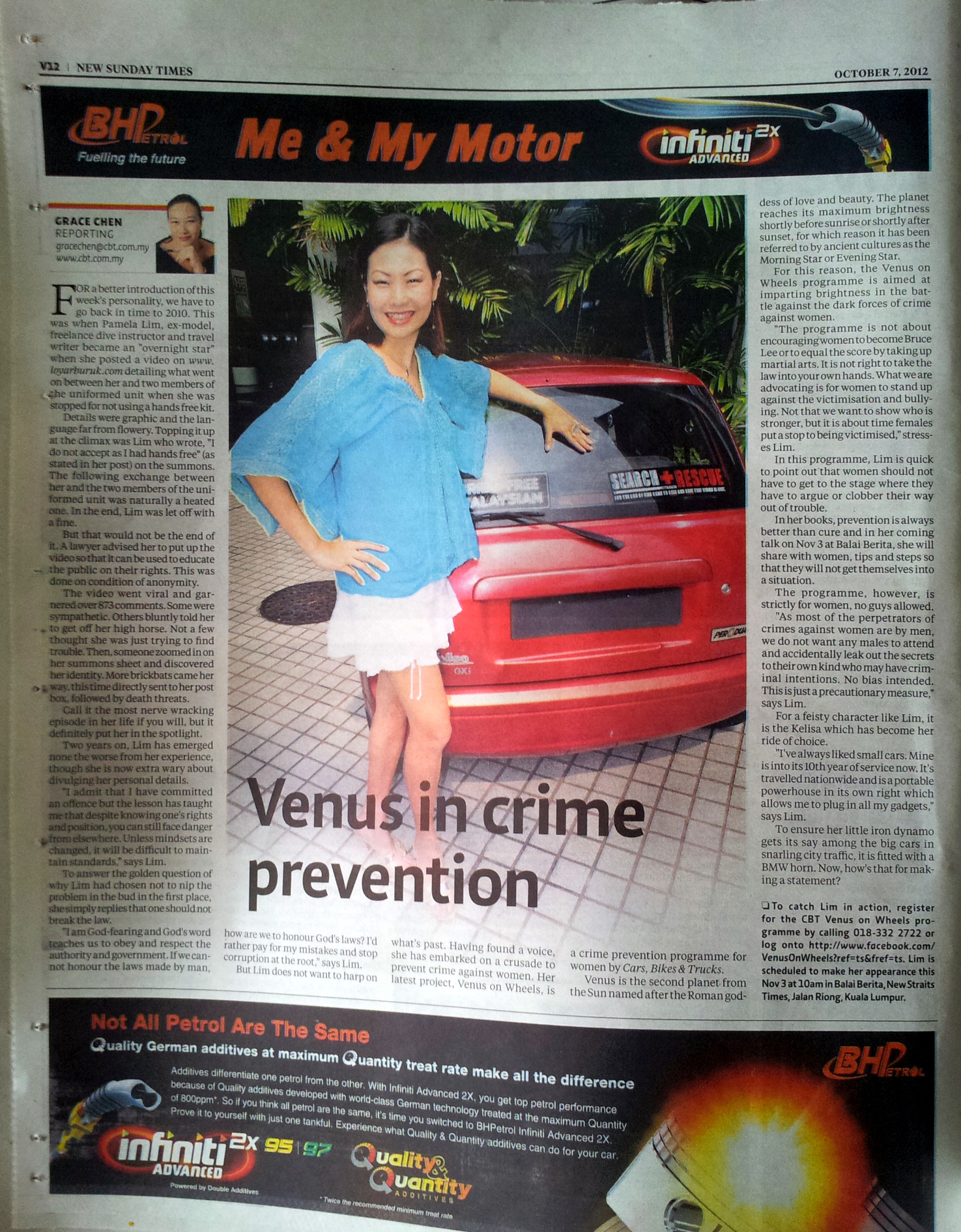 A directive from the top had me moving out of the city & into the beautiful countryside. My move is all done now & settling into my new place is easy. It's the unpacking & organising of my stuff that's daunting. Taking for granted of my ever present kitchen for the last 7 years, I didn't know how much I missed not having one so I fitted in a brand new stainless steel kitchen & got myself a full-fledged/featured microwave oven that grills, bakes, steams & microwaves! Rufus took about 10 days to resign to his new home & he's loving it here too. And my cousin Lisa gave me an infrared gas stove as a house-warming gift and guess who has been dropping in for meals ever since??? My beloved guest from Italy & the Scotsman living opposite my place! Hahahaha! Thanks, Lisa! I love the stove! I got a chicken timer for Christmas too & a pack of drink stirrers in addition to some birthday presents (gadgets & a locket). They also loved the DOM Benedictine that's been evaporating from my non-consumption of it & topping it with Bulla's Caramel Toffee Ice Cream, it seemed to have made these men happy! Not to mention, we even had a go at my rice wine meant for cooking…….. Time to stock up my freezer & pantry!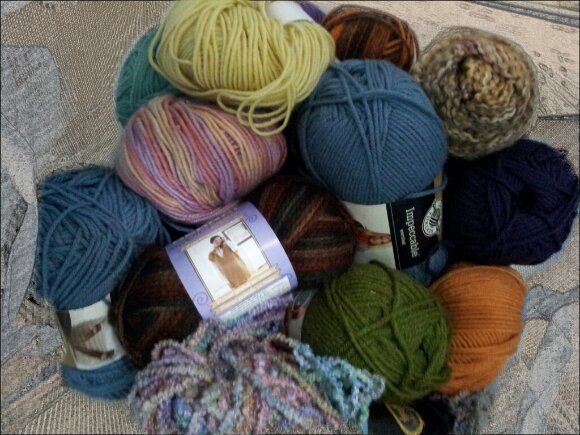 When packing to move, I found my stash of yarn. It was then that I decided to pick up my first love of crochet & made a pair of gloves, a cowl for my winter trips, two boleros and now starting on my another pair of gloves. I ordered more yarn & am enjoying church service so much more!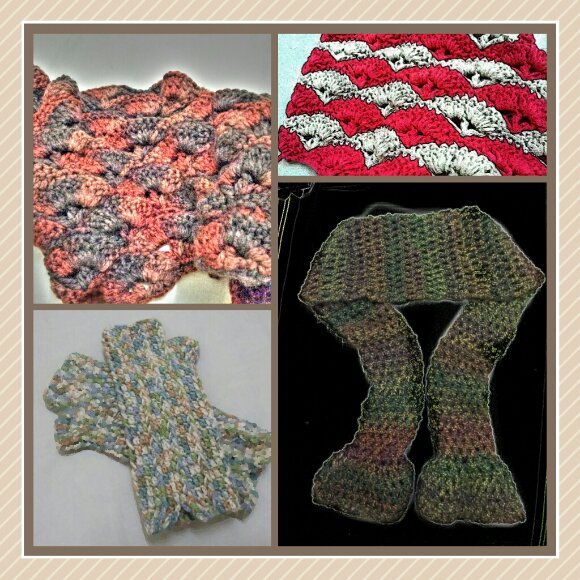 Making full use of fill-in time like getting caught in traffic jams, in between appointments & travelling transits, I was able to make all that. Imagine if I had more time on my hands! I'd be attempting to make those pretty tunics & dresses! If you like crochet, follow my crochet boards on Pinterest to get patterns & inspiration!
So the world didn't end. Even after Chien died, mom died, Chien's mom died, Sabrina died, Maxine died. I choose to think that my chapter with them has ended. And they would want me to write new books & chart new paths with other people too. And my world, the one that God has blessed me with, has just begun. Thank you, Lord, for a remarkable 2012.