Mount Kinabalu holds a special place in the hearts of Sabahans, being the tallest mountain in South East Asia, its surroundings host between 5000 and 6000 species of plants, 326 species of birds, and more than 100 mammalian species identified making it one of the most important biological sites in the world. Rightly so, it earned a place in UNESCO's list of World Heritage Site. This is right after we got so pampered in Brunei that we left with a heavy heart not being able to see more of what it has to offer. This will make some of us come back for sure.
The flight was a short 35 minutes to Kota Kinabalu where we were transported to Kundasang shortly after immigration clearance. We met Tengku Adlin, Chairman of Sabah Tourism Board, when Sabah Tourism hosted the welcome dinner in the cool mountain inn. Vegetation changes were prominent as it spans 4 climate zones. As we ascended every 100 metres, we could even see stars at eye level! The following morning began with a wake up call at 4am for a headstart towards Timpohon Gate by 5:30am. This is where climbers usually begin their ascent up the mountain & we were there for its inhabitants! The birds! And did we see birds! It was also 15 degrees C!!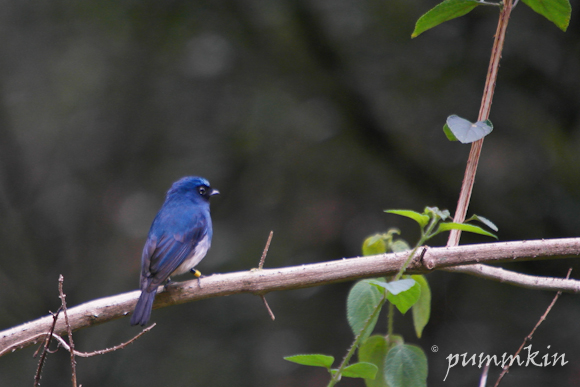 Indigo Flycatcher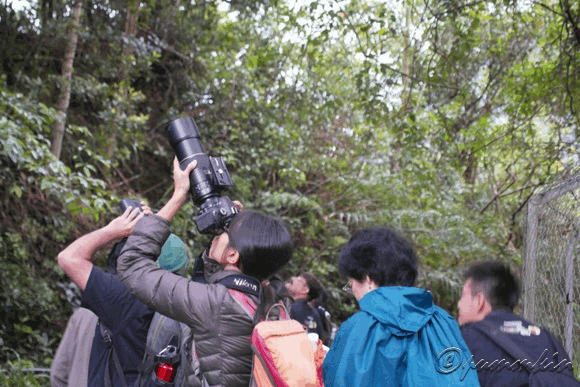 Participants at race!
Roger Rajah pointed out to me a particular fern (pteridophytes) whose spores are used as the dusting powder for fingerprints in forensics! How awesome is that? There are 600+ species of ferns here & it would not be surprising if scientists find other miracle uses for them. Taking a stroll down the 4km road to the park's headquarters, there were beautiful plants popping up in the most unusual of places. Apart from finding several swift nests on ledges of a rock cliff, we found a group of foreigners marvelling at a Bulbophyllum orchid by a tree on the side of the road!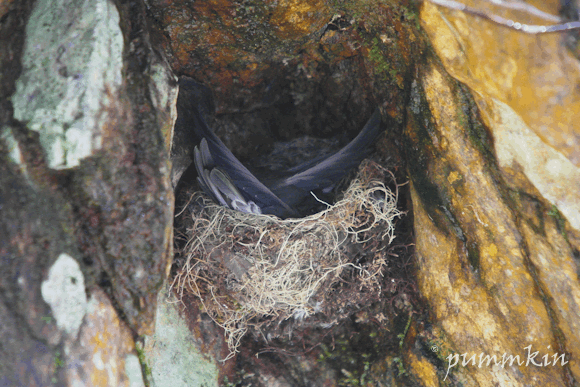 The Borneo Bird Race is not just about the race but a reason to combine expertise from each of the 7 nations participating to document the most number of bird species. It is a melting pot of minds to find the flamboyant & the elusives of Borneo's avian life, some endemics, while promoting travel within Asia. Known as one of the most hospitable nations, Sabah has a great expanse of natural resources to marvel at, with the Minister citing to keep 65% of the state to be maintained as forest reserve. What a fine example to set for the country! And if these sightings of wild & rare orchids, magnificent birds, superb bugs & awesome mammals are anything to go by, Sabah will be one big wild secret that's difficult to keep!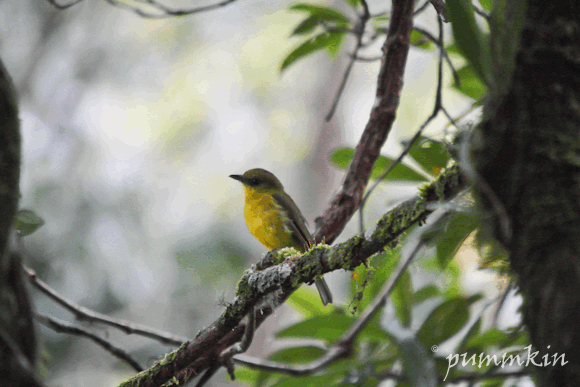 Bornean Whistler, Pale Faced Bulbul, Black & White Flycatcher(?), Mountain Imperial Pigeon.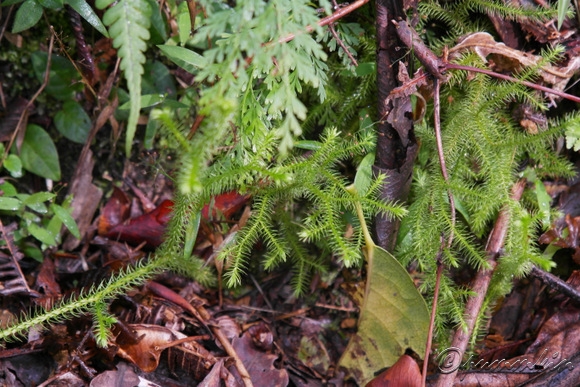 Spores for forensics.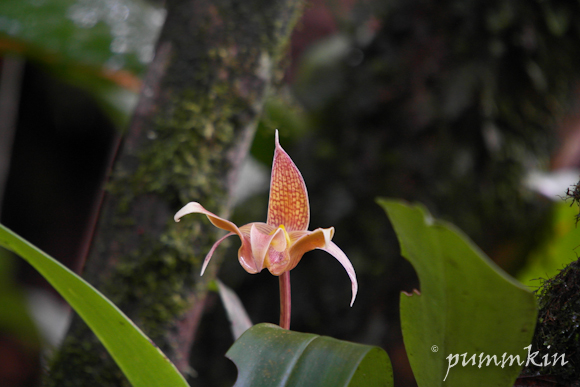 Keeping quiet was imperative although at times I felt like exploding with delight when I see a bird I hadn't seen before. The teams were concentrating hard to spot the skittish birds & identifying them through Quentin Phillips' guide book or Susan Myers'. Most of these birds are lifers to them (also to me) & some of them even went into the trails. There were times when there were no birds at all & that's when we turn to other flora & fauna. What kept the teams apart during the race (they can't discuss birds), they made it up during bus rides & pit stops! After breaking for lunch, the entourage embarked on a 6 hour road journey through a picturesque inland to Sepilok in Sandakan. Along the way, we even stopped to see the Bornean Falconet! We can stop a bus for a bird! 😀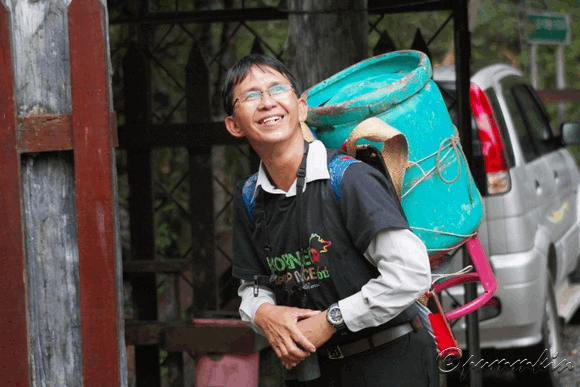 What's camaraderie if Adjudicators like Alim here, doesn't take a break to fool around by hijacking the gas tank of a mountain porter??? Here, he poses with a backpack belonging to one of his porter friends who were later seen lugging it up Timpohon Gate!
The remarkable Stewards were always on hand to give advice, tips & suggestions on how to spot the birds & rightly so, a few of them have made the Borneo 400 Club! A club that recognises a record of over 400 species sighted!
Don't miss my next post on Sepilok Forest as I take a weekend break to cover yet another bird race in Fraser's Hill!