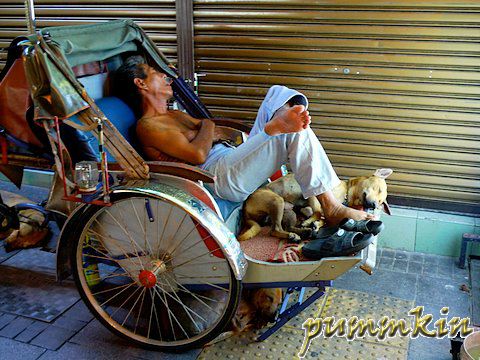 Every now and then, I get words of encouragement which I truly appreciate and today, I received an uplifting piece of comment from Mae, someone I have never met but has given Sabrina and myself a much needed moral support to continue doing what we have been doing.
Today we got a visit from Jabatan Haiwan (Department of Veterinary Services) at the farm, acting on a call of complaint alleging that 'many dogs died in our care' and that 'we don't feed them' (which of course, were baseless) and they proceeded to ask many questions to all who were at the farm, the contractors building the shed, the volunteers tending to the dogs, cooking the rice & even asked who the landlord was. They wanted to know where the water supply for the dogs were coming from, why wasn't the ground where the Pulau Ketam's dogs were, cemented and why there's rubbish (don't we all have rubbish in our houses too???).
Sabrina told them the truth, no dogs has died yet except for one which had to be put down due to illness. We don't save all these strays just to have them die on us otherwise, what's all the effort for? It may happen in other ORGs but not with Furry Friends Farm….
You do remember me telling you that there were more 'pressing' matters to attend to beside the rescue mission right? Well, I had seen this coming & they couldn't find any fault with the happy mutts we have, some of which were fat & chubby, looking more contented than some fat bottoms sitting in an office somewhere trying to cook up a storm with some conspiracy.
I felt the need to publish Mae's words of encouragement. When we are swamped with challenges, all I need to do is read this to know that the world will be rallying behind us. Thank you & bless you, Mae.
Pam,

You and Sabrina are a beacon of hope for many of us who deeply questioned the existence of God when there are so much cruelties are taking place. Looks like our questions were answered. It is not a dead end for humanity. There's a bit of 'Sabrina' in all of us.

Those who deals with rescuing wounded and broken strays are compelled to despair at times; when we cannot save the ones we tried so hard to save. But then again those who had seen the miracle happens when the wounded and broken healed, happy and healthy…is like feeling the presence of God in all Its' glory. I suspect you feel the same when you sit next to the once you rescued from the swamp in the boat on the journey to land.

Thank you for your praise. There are so many faceless, nameless independent rescuers out there. Not for money or gain or fame. Truth is; we are tired of being passive by-standers to the plights innocent defenseless strays. The pain that pricked our hearts and consciences when we see pets being abandoned at highways, carpark, foodcourts, back alleys, drains, dustbins,jungle, abandoned houses, …we can't ignore it. We have to be pro-active. There is no system available to protect defenseless strays.

Pam, you are bestowed with a wonderful gift; when all this is over, as this phase too shall come to pass… You should write, anything a book a novel or commission a film. (Though making into a film what took place this past month will likely be a deranged espionage movie). We are your biggest fan and supporters; we come to love and admire you.

"The ball is in your court" our dearest Pam.

No matter what names they call you; devil, satan. We know once in a while God sent angels to walk amongst us; to me to are an angel. Been touched by an angel before and it changed my life completely. Became a stray rescuers because of my wonderful vet; she made it all possible. You are an angel the way to stand up for Sabrina when most people would choose to walk away rather than get involve as the stakes are high.

Signing off with an Irish blessing when 'real suffering is where the contradictions within us harmonize, where they give us to new streams of life or beauty. As the Zen monk said: 'When one flowers blooms, it is spring everywhere.'

"May you be blessed in the holy names of those who carry our pain up the mountain of transfiguration.

May you know tender shelter and healing blessing when you are called to stand in place of pain.

May the places of darkness within you be surprised by light.

May you be granted the wisdom to avoid false resistance and when suffering knocks on the door of your life, may you be able to glimpse its hidden gift.

May you be able to see the fruits of your suffering.

May memory bless and shelter you with the hard-earned light of past travail, may this give you confidence and trust.

May a window of light always surprise you.
May the grace of transfiguration heal your wounds.
May you know that even the storm might rage not a hair of your head will be harmed."

Pam, we will keep you close in our hearts and prayers always. – End
If the trishaw peddlar has such peace with his 'friends,' let it be so for those who care for the strays, the neglected and the banished.