When Danny wanted to tie up the shade of his boat, he let me take over the pilot's wheel. We were cruising at 40km/h when we hit the straits heading out to Selat Kering. Sustaining the dogs with food & water is crucial to buy time till we can get them out. Of course, the unmistakable grin that greeted us was more than what we had hoped for.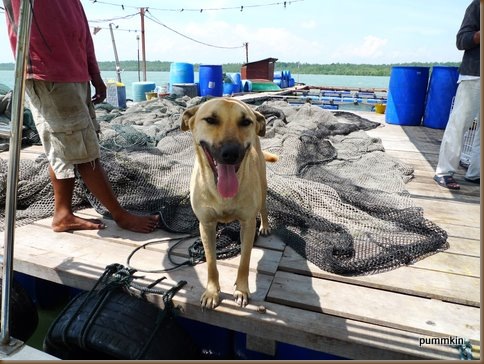 The kelong workers were all smiles. They had caught another stray!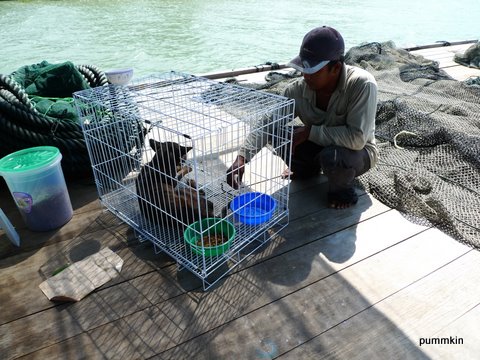 This black dog came out the previous day to eat. She stayed on the pontoon for a long time. Very thin, her bones were jutting out. Her left eye was punctured & swollen. It was almost like she knew help was near. She didn't resist nor did she mind us touching her. She gobbled up more food when she was at the kelong. She drank all the water in the tub we left. I shall name her Bulgess, after her bulging eye.
We had to top up the food on the 4 pontoons before we head back. Danny put a shade up at the nearest pontoon using a tarpaulin sheet.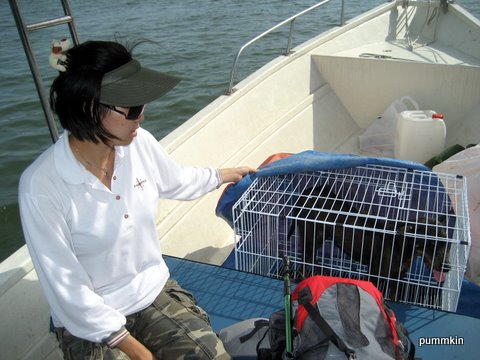 We completed our work for the day & rushed Bulgess to the vet.
Seeing that she is a female, black in colour & hasn't got the looks, it would have been so easy for people to dismiss loving this dog.
Now that she is being treated, she would have a chance to see her friends soon & maybe one day, have the opportunity to be a friend to the humankind who performed the dastardly act that she has to live remembering.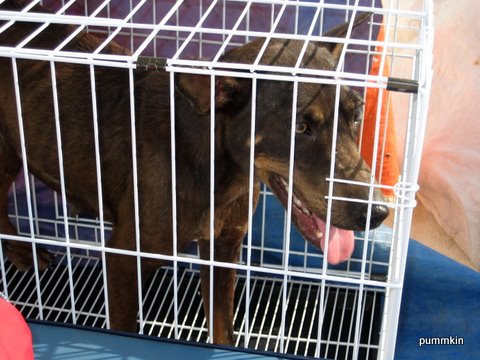 Footnote:- I will reply to all your comments when I have better internet access!!! Digi, if you read this, please enable your 3G access soon!