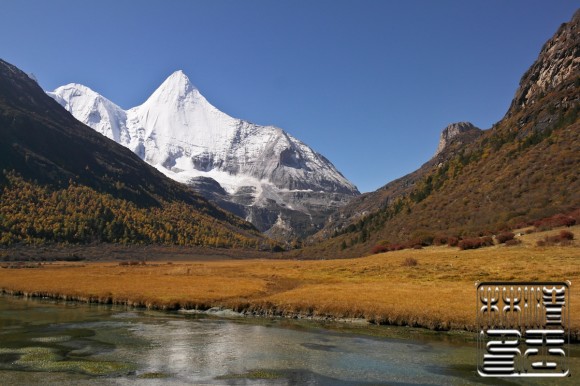 Yading Nature Park, Sichuan, China – I almost passed out getting this picture. Subzero temperatures, sitting on frosted ground waiting for clouds to clear.
Having zero tolerance for the cold prompted me to look for different jackets & baselayers available for all my outdoor pursuits. Not sure if it's owing to the lack of hair on my body or my internal heating system/metabolic rate is virtually not working or I may just be wearing clothes with poor insulation. My trip to China allowed me to truly rate each jacket's warmth & insulation. Let's just take the last reason for me to shop some more. 😛
I have a Max Cocos insulated micro fibre winter coat for city trips to help me withstand the cold in winter countries when I have to attend meetings but I can't use the same delicate jacket for outdoor adventure. I remember when I had to cover fam trips in all kinds of expedition around the country where I would tear a pair of pants or two every trip. It was quite a costly affair & this is in the tropics. What about zero degrees or sub zero terrain? I didn't understand what 'technical jacket' was all about until I learnt the technology behind it.
My favourite brand is of course, Animal from UK. They have sizes that fit my long arms & legs perfectly. At 175cm, I tower over most Malaysian men & that's without heels. I fell in love with the turquoise colour of this jacket & having a waterproof rating of 10,000mm & MVP of 15,000g, this jacket was perfect for times when I have to brave the rain or chilly wind on the dive boat ride back to shore.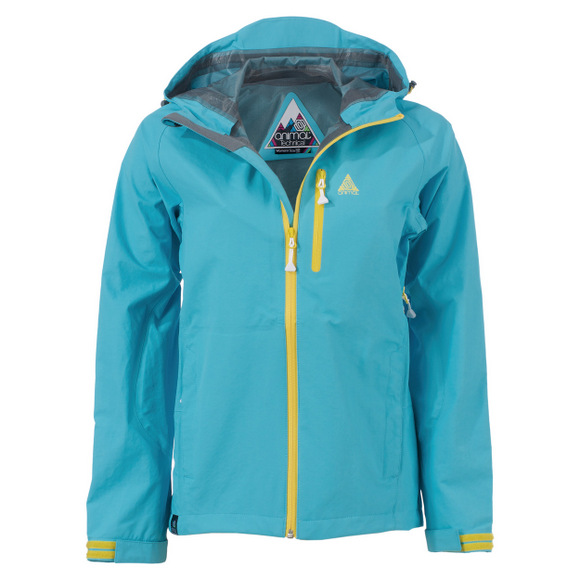 Animal Amaya Jacket
This 3 layer technical fabric is designed to keep water & wind out while venting away excess body heat.
Technical specifications:- 
Anitex Technical Fabric
Textured Nylon 3 Layer Fabric With DWR
Waterproof Rating of 10,000; MVP 15,000
Taped Seams
Waterproof Zippers
Underarm Ventilation
Grown On Hood
Adjustable Hem And Hood
Adjustable Cuffs
Reflective Logo
Let's examine this MVP rating. MVP is moisture vapour permeability. It tells you how much moisture can vaporise through the fabric per m2 per 24 hours. Which means, even if the fabric is waterproof from the outside, it allows sweat to permeate through the fabric without leaving you soaking wet. The waterproofing rating involves testing using a number of different testing protocols but most involve the equivalent of placing a 1" x 1" square tube over the fabric and determining how high (in millimeters) a column of water you can suspend over it before it starts to leak. So when I read that the Animal Amaya jacket has 10,000mm WP, I knew I had to have it.
Then came the Trespass Balbi. Trespass is another UK brand (I love their size 12) that is available online through their website. Being dark grey, I could use it for birding! So I got it in time for my trip to China.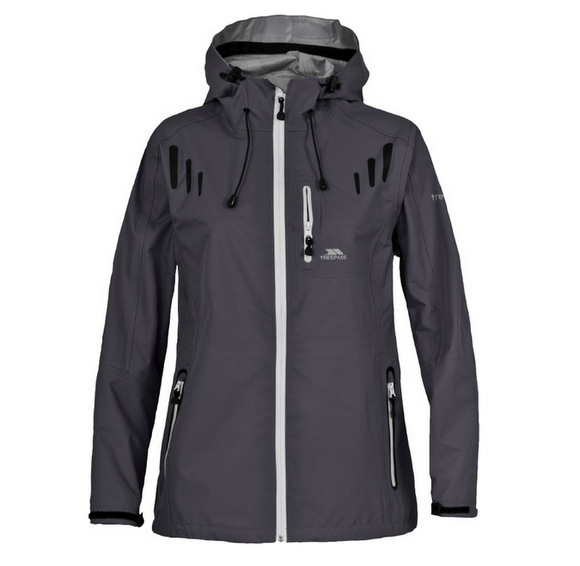 Trespass Balbi Jacket
Technical specifications:- 
Shell – 3 Layer Fabric
Adjustable Grown On Hood
3 Zip Pockets with Water Resistant Zips
Water Resistant Zip at Centre Front Opening
Hem Drawcord with Side Adjustment
Form Cut Rubber Cuff Tab
Shell: 100% Polyester/ TPU
Membrane/ 100% Polyester
Waterproof 10,000mm
Breathable 3000g/m2/24hrs
Windproof
Taped Seams
Though I loved this jacket, upon the 3rd day of use, the inside started to peel away at the waterproofed seams. Since it's still new, I am going to ask for an exchange. Coupled with the Trespass Wendy jacket as a midlayer, it provided me with enough warmth but due to a switch of bags for the journey, I didn't get to wear this in Yading & wore the less effective Karrimor 3in1 parka instead. Naturally, I froze & almost passed out.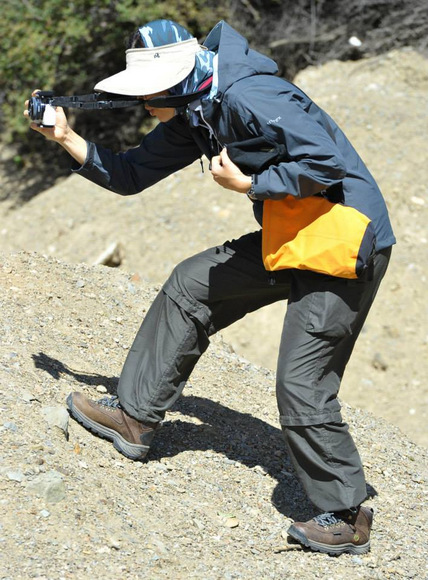 Leong took a picture of me taking a picture of something! In my Trespass Balbi jacket.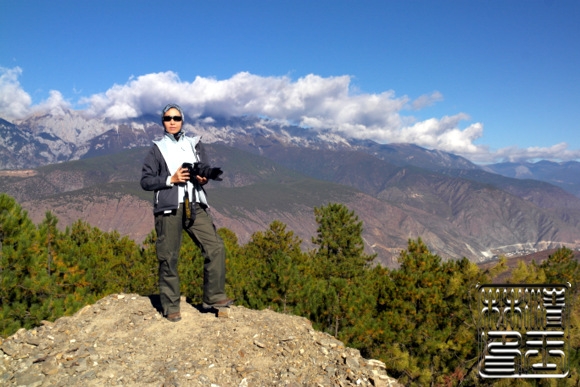 Standing atop a pile of earth at the edge of the ravine, we were in Yunnan, China. I was covered in my Buff™ balaclava & was wearing Animal Ski Pants!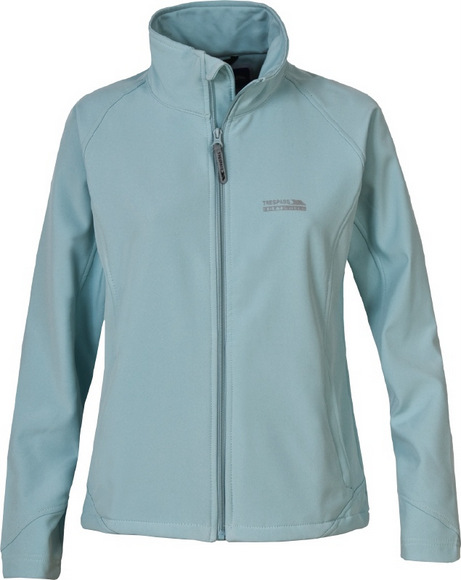 Trespass Wendy jacket – the soft shell fleece midlayer I wore in China.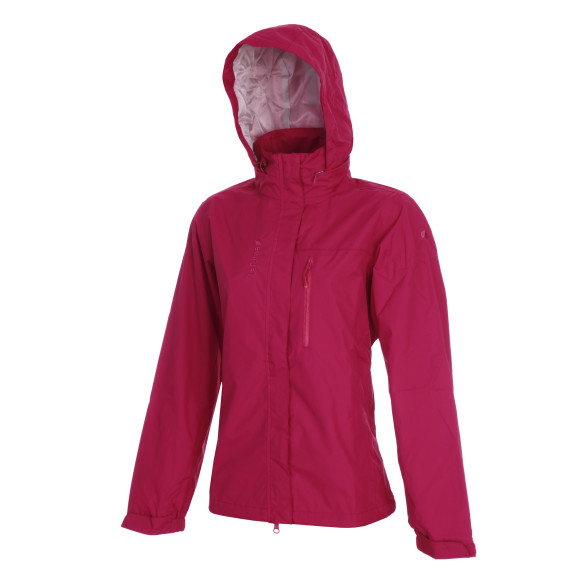 Lafuma LD Donegal CLIMACTIVE® Jacket i
This is one of my favourite all-year round jacket. The lightest of them all, this pink jacket packs a hood in the collar & it's great to ward off the rain on your photo walkabouts. I often wear it when I have my dinner outdoors at Chinese restaurants to repel wind. Did I mention that I have no tolerance to cold? As soon as the temperature dips to 24? or less, I will start to feel uncomfortable.
Technical specifications:-
100% POLYESTER
3 in 1 protective jacket with removable fleece
Structured Twill-effect fabric
Attached hood which stows inside collar
1 zippered chest pocket with invisible zip
2 zippered hand warmer pockets
Adjustable hem with elasticated drawcord and toggles
Velcro tab adjustment at wrist.
2 zippered hand warmer pockets.
Seam sealed.
This Lafuma jacket can be found at Lafuma Bangsar. I believe there are men's versions as well & certainly not pink in colour. ?
My fascination with pink has to do with being female. I can be a typical female when it comes to colour choices but for practicality sake, no one would want to steal 'pink.' This is my second pink jacket, the first being the Animal Kapelle Ski jacket.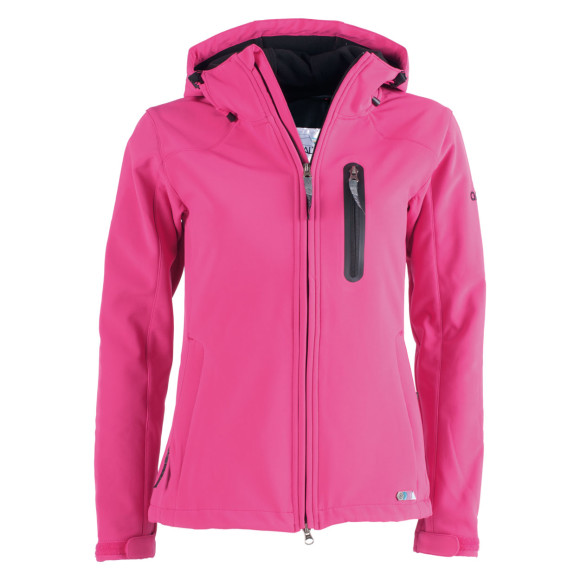 The Animal Kapelle is a soft shell fleeced jacket that works great in the cinema! I haven't actually brought this on my expeditions yet to test the warmth rating & I should do so.
Technical specifications:-
Anitex Technical Fabric
Softshell Fabric With DWR
Grown On Adjustable Hood
Mesh Lined Pockets For Extra Venting
Cuff Adjusters
Inverted Zips And External Taping Detail
One Handed Adjusters At Hem
Waterproof: 8000mm
MVP: 10,000g/m2/24hr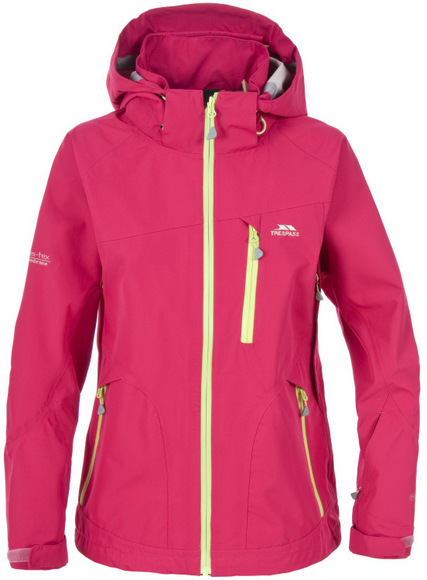 My latest haulage is the Trespass JADA Women's Waterproof Jacket. Similar to the Animal Amaya, the JADA jacket is the ultimate outdoor piece of kit. The Tres-Tex membrane is made with 3 layers – outer shell, membrane and inner shell- which are laminated together. High performance but lightweight, the thing I like about this jacket apart from its high visibility is the detachable hood. The highest waterproof-rated material at 15,000mm & I would really like to put it to a test in the harsh conditions of some snowy mountainous region somewhere or the jungle! I wanted to a more neutral colour but it only comes in Pink, Black or Turquoise which I already have. I never liked black. My Jada arrived in the mail yesterday!
Technical specifications:-
Shell – 3 Layer Fabric
Ventilation Zips
Adjustable Zip Off Hood
3 Water Repellent Zip Pockets
1 Sleeve Zip Pocket
Hem Drawcord with Side Adjuster
Flat Cuff with Velcro Tab
Back Tail
Waterproof 15,000mm
Breathable 8000mvp
Windproof
Taped Seams
All these jackets above are not padded with additional insulation. I thought it should work with base & midlayers & it did plus you can also use it on its own in the tropics to repel rain. Should I come across another highly rated jacket again, I will post it up here but chances are, it would be pink again. 😀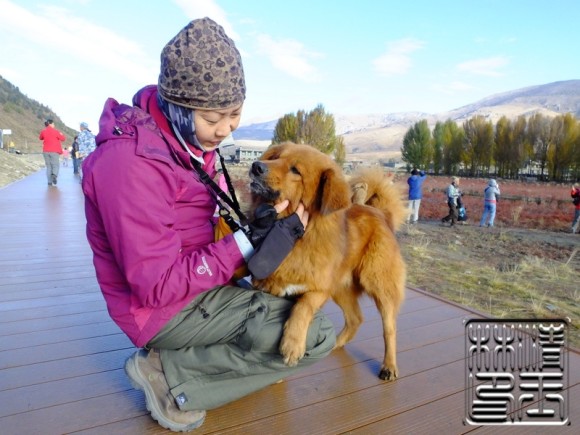 Donned in my Karrimor Parka, which could only help me withstand down to 7?C. I was freezing throughout until I got my to my main luggage & changed back to my Balbi & Wendy.