This month, Tourism Selangor takes us to celebrate the return of migratory birds & explore the resident species that make homes in the entire state. Migratory birds use the mangroves and coastal areas around Kuala Selangor as a transit area to feed and rest before continuing on their journey down south, much like a rest & relax area for birds! Kuala Selangor Nature Park has been designated as an Important Birding Area (IBA) – in compliance with internationally set criteria by BirdLife International. What can you find in this huge park? Let me take you to the permanent inhabitants……
Before you go, here are the list of things that you must carry on you when you set out on the long walk. You are not adviced to go if you don't have these things on you.
Insect repellent <– compulsory. Midges will get you otherwise. These are nastier than mosquitoes & they come in swarms. Preferably, wear long sleeves or you will be considered as one with the colony of monkeys nearby.
Hat. The sun has no mercy. Stay cool & stay in the shade. Machismo can't take you far in this park. Use a brolly if you have to. There are camouflage collapsible ones sold in tactical shops to prevent you from sticking out like a sore thumb as you wait for the birds.
Polarised sunglasses. <– you will need this to prevent you from squinting the whole day. Go to Peak Vision Optics & get yourself a pair of Cocoons.
Drinking water. <— compulsory. When you find a bird stalking a prey, you wouldn't want to run back to the park office to get something to quench your thirst.
Batteries for all gadgets. Your phone, your camera, GPS, torch, whatever you need to power up everything for you to document the journey (of birds).
Portable/handheld fan. You will thank me for this.
Camouflaged attire or any green, brown or khaki coloured clothing will help you blend into the surroundings & get nearer to the birds.
Folding chair to rest at will. 🙂
Leave word with your friends & the park ranger of your expected time of return. They will send for a search party if you are caught ogling at birds longer than you should. We set off early in the morning to get there after breakfast. The loop around the wetlands is several kilometres long but you will see plenty if you keep your eyes peeled. The only migrants who arrived sooner than expected were the Blue Tailed Bee Eaters.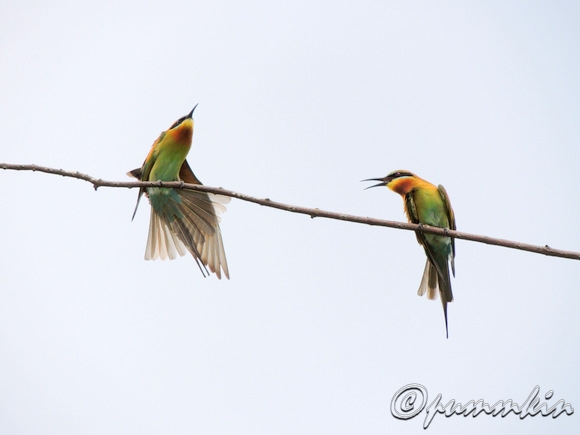 Blue Tailed Bee Eaters. I think they were having a bit of a domestic quarrel here!
Walking along the fringe of the mangrove, we spotted a huge bird lying on the ground. When we got closer, it flew to the nearby trees, settling just above our eye level. It was a huge Crested Serpent Eagle! We had a good 20 minutes shooting it at all lighting conditions & angles never thought possible. A Black Naped Oriole was consistently attacking it to chase it away from its nest, assumed to be nearby. The eagle didn't budge until it spotted a bigger morsel further into the jungle.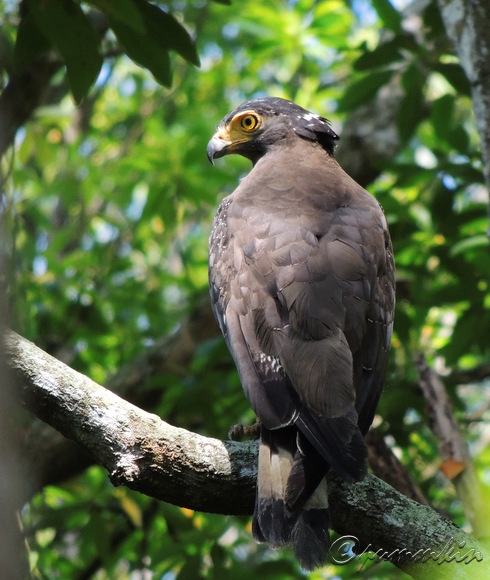 Soaring above us was a White Bellied Sea Eagle, taken here just after a successful hunt. The fish it caught in its talons was a sizeable one! We weren't really looking up into the sky if we weren't having a break & thankfully, I had the camera ready. They will usually give out a shrill but most come unannounced when they hunt.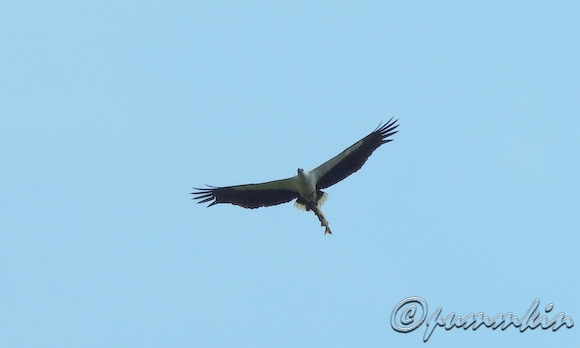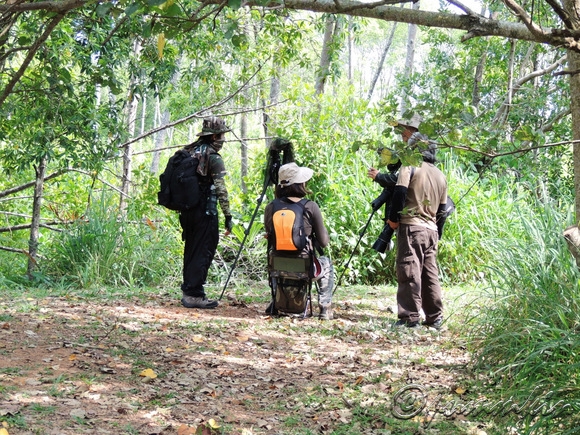 Us taking a break in the shade while waiting for the kingfisher.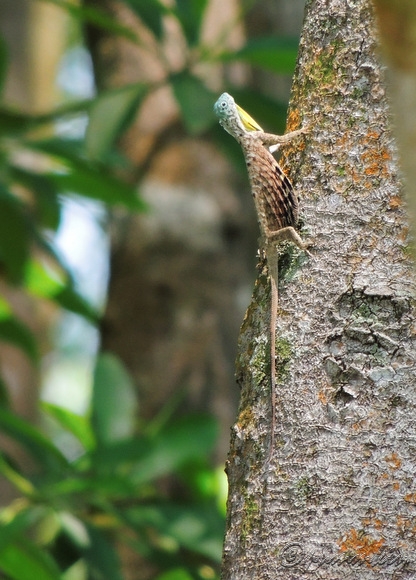 Flying Lizard (Cicak Kubing)
Birds are not the only kind of wildlife we see in the park. There are Flying Lizards too! When we went up to a watchtower, we got to capture a few woodpeckers looking for worms in the woods.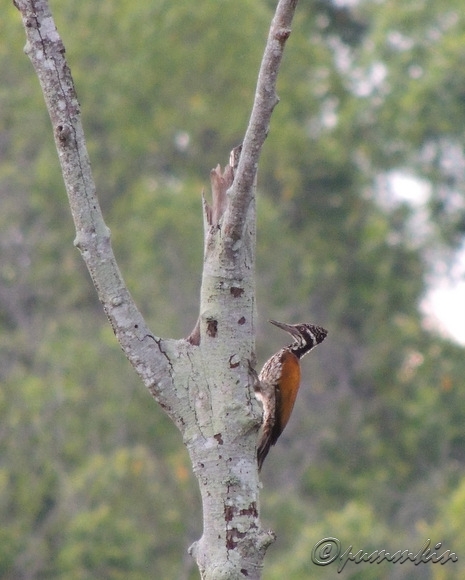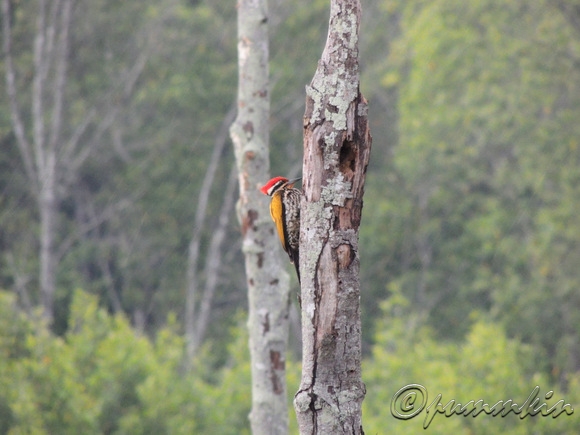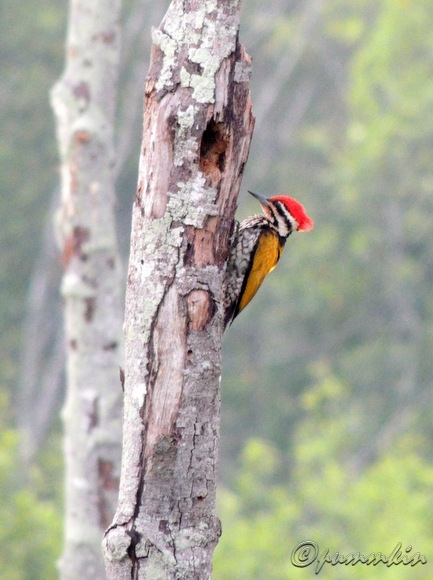 Spending a good 5 hours at the park & returning with all these beauties in our memory cards was all we came after. On the way back, we were treated to another session of birding when we saw a tree filled with nests that turned out to be Baya Weavers' nests. Treading carefully & slowly, I was able to film one doing the deed! See video here:-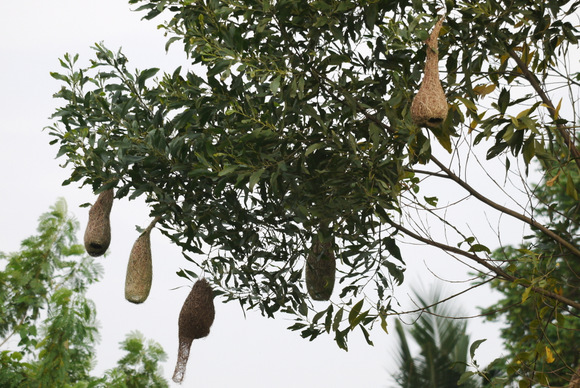 They are normally built on the same tree.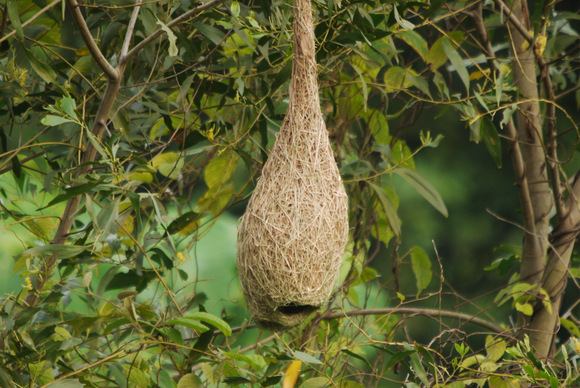 Closer look at the nest.
Coming away with a few residents & one migrant specie in my list is a great boon to come back again & again. More birds will be arriving in these shores as December approaches so it's the best time to be watching them at Kuala Selangor Nature Park! Don't forget that list of things to bring!
To get there, you can take the bus or taxi but it's more advisable to drive.
(Taken from Wikipedia)
Visitors can board Selangor Bus No. 141 from Medan Pasar Bus Hub in Kuala Lumpur. The bus departs half-hourly from KL between 6.30am and 7.30pm, and takes 2 hours (++) to reach the bus terminal at Bandar Malawati, Kuala Selangor. (The last bus for the return trip from Kuala Selangor to KL is at 7.45pm) The one-way fare is RM7.30. The bus hub is about 100m north of Central Market. From Masjid Jamek LRT, walk 100m southeast along Jln Tun Perak before turning right into Lebuh Ampang. After walking another 100m, you will see the bus shelter next to a grey "clock tower" in the small square.
Directions from Bandar Malawati Bus Terminal: The terminal is in Bandar Malawati, which is about 1km southeast of the town centre. You can then take a RM5 taxi ride / local bus to the town centre of Kuala Selangor (alternatively you can take a 15-20min walk). [The bus terminal is also served by Cityliner buses from Klang]
It's a one hour journey by cab. The cab might also not be able to pick up a passenger on the way back, so expect fares to be high. For comparison, the distance from KL to KLIA is about 80km and a one hour journey. Taxis typically want RM 70 for a trip to the airport. So you would expect something similar, or higher for this trip. You might be able to negotiate a good deal if you book the taxi for a return trip.
Hourly hire rates for a small taxi (red/white) is about RM35 an hour if you would like to book one for the duration of the trip.
If you drive, set your GPS to Kuala Selangor Nature Park & navigate your way there! I use Waze, available on iPhone & Android.