Daddy was a sportsman, who put Malaysia on the world map each time he qualified for SEA Games, Asian Games, Commonwealth Games & even the Olympic Games. Upon a search in the online archives of Straits Times, I found many news articles on him in his days as a national shooter & golfer. I guess we were too young to keep newspaper cuttings then & to find this picture of him in the company of our nation's first Prime Minister, the late Tunku Abdul Rahman & the former Prime Minister of Singapore, Lee Kuan Yew, was indeed, dignifying. I met Tunku when I was a young girl while he had drinks with my dad at the RSGC. My dad was the first winner of the Putra Cup, a golf tournament in honour of Tunku as the founding father of Malaysia.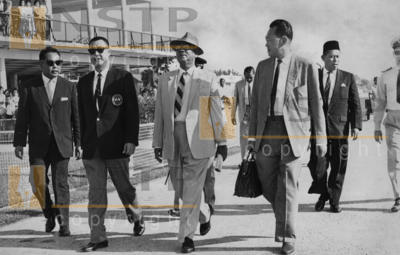 Daddy is second from left, Tunku beside him & Lee Kuan Yew on Tunku's left.
Daddy's avid hunting pursuits brought home all kinds of game meat. In my lifetime, I've had wild boar, venison, pigeons, flying foxes & even an owl when he heard that it would cure my whooping cough. For some strange reason, it did. What I didn't know was that he used to go hunting with the Yang Di-Pertuan Agong (The King) too. Dad, you sure shot me some royal pigeons there! How I wish you had brought me along to the hunt with you! You're super cool, you know! Royal pigeons…….the only thing I'd come close to eating anything royal nowadays is royal jelly. I miss you dad.
In all those times you had represented the country in your pursuit of excellence, you demonstrated your sportsmanship by doing your best, staying in practice even if it meant footing everything yourself because the country didn't have sponsorship programmes then. Following you to the gun club meant that I got to disturb the admin staff & watch them polish shotguns. And what a highlight it was when you won medals in competitions!
Well, it's exactly 7 years since you went home to the Lord. I still remember receiving the phone call while I was having my ISO Standards meeting at SIRIM. How fast time flies. And I'm so glad you are playing golf in heaven today. I wish I could play with you one day, daddy. I'm sure I would look as good as you in golf attire too. Hey, wait…..I have your smile, daddy!!! ?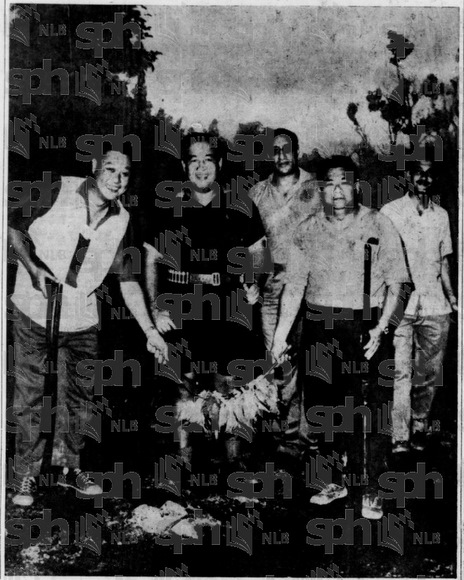 Dad with the King! Beside the King is Dad's cousin, Uncle Pow Thong.