The Oriental Darter (Anhinga melanogaster) is a magnificent bird that hunts for fish underwater! Listed as a threatened specie, this bird is also known as the Snake Bird, contributed by the way it moves its head on its elongated neck. When it dives down into the water, it can stay submerged as it hunts for fish & reemerges to toss the fish in the air before it swallows it. The most impressive sight would have to be when it takes off from being in the water. Only its head breaks the surface as it swims to gain momentum for the lift. At Kinabatangan River, this specie can be spotted on treetops when not in the water.
While cruising on North Borneo Safari's quiet, electric engined boat, Alex Tiongco, Marts (speakers from Phillippines) & Hamit Suban, our brilliant nature guide, pointed out a flock of them on a skeleton tree. Unable to contain ourselves, we were rocking the boat with excitement. Each time either one of us did that, none of us could get a focus on the bird with our cameras & binoculars but it didn't matter! Shaking from excitement is part of the fun. Thankfully for my Manfrotto 055CXPro4 tripod, much of our shakes were minimised & I could still take pictures on the flat bottom boat.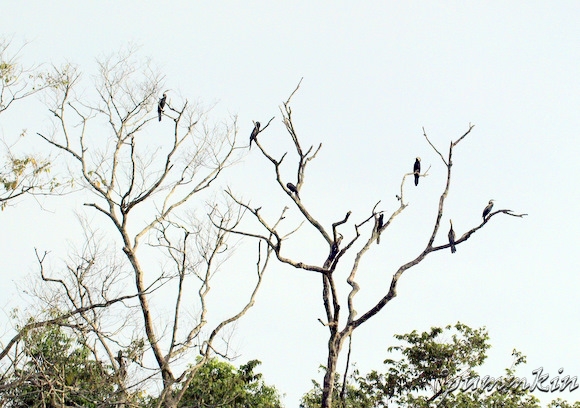 Count the Darters!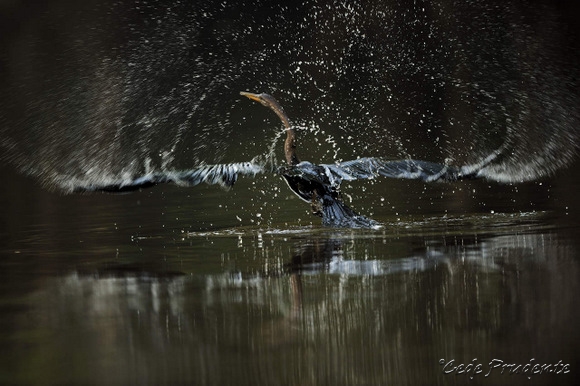 A Darter emerging from underwater! Used with permission from Cede Prudente.

Grooming.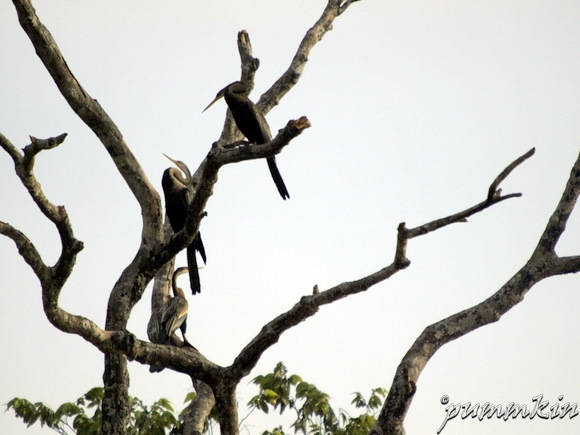 These were taken from at least 100m away.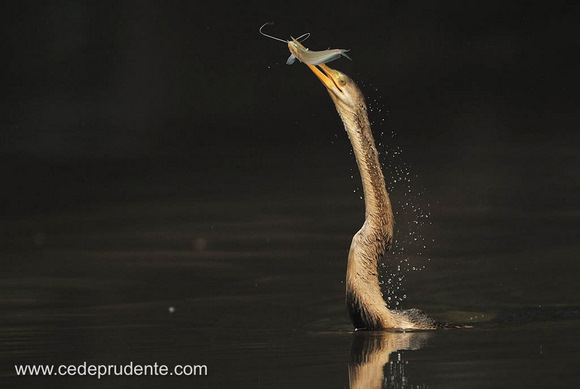 A fishing Darter! Used with permission from Cede Prudente.
That was our first sighting on our first cruise. Eight of them in one frame! Sighting of a lifer is something that birders get extremely excited over especially when the specie doesn't exist in my part of the world (Peninsular Malaysia), what more seeing eight of them. Their sheer size was also noteworthy & Cede Prudente had the opportunity of capturing this diving bird fishing as well as emerging from the water & it is truly an aspirational picture for me to document it one day……if I get to stay long enough in the river stalking this Darter.