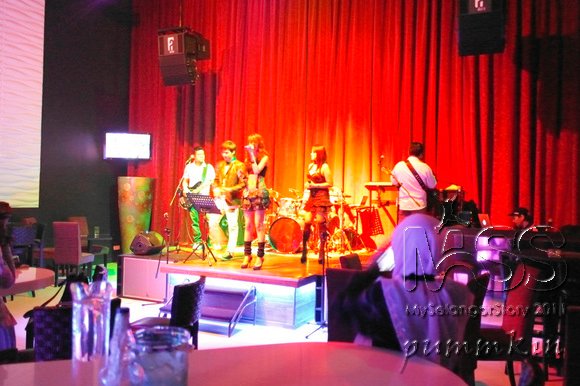 Zynchro, the resident band.

Now we see why we need a holiday to recuperate from one & thankfully as we headed down to Holiday Inn Kuala Lumpur Glenmarie Resort,, there were no other physical challenges ahead apart from chilling out. The closing dinner was held at The Mix, our official restaurant for My Selangor Story 2011 & the chefs whipped up a storm! I particularly enjoyed the Mesclun Salad & the Apple Potatoes Salad with Toasted Nuts topped with a generous helping of balsamic & garlic sauce. I had 5 helpings before going for the main dishes which were superbly done. The presentation of the food in circular bowls served on covered heated pans ensures the food stays warm no matter how many times you go back for second helpings.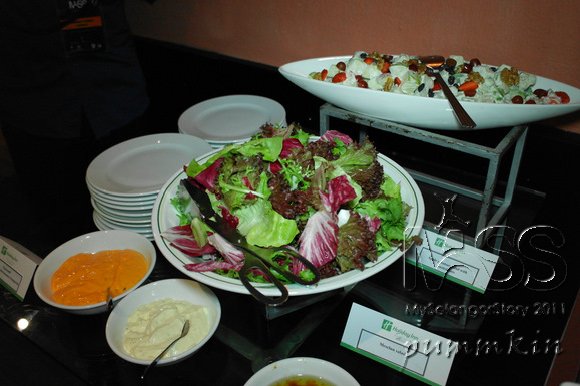 Mesclun Salad & the Apple Potatoes Salad with Toasted Nuts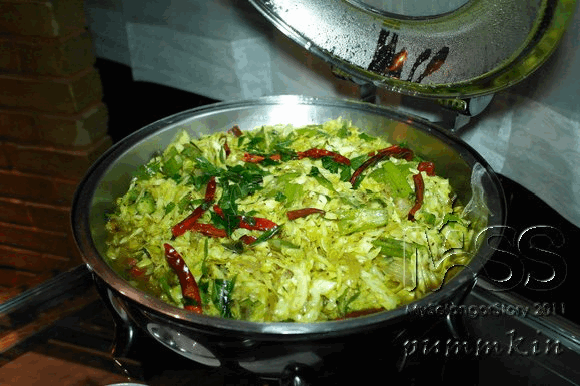 The offering at the dinner!
The Mix has a bar downstairs & a restaurant upstairs. As you enter the premise, the kitchen is in full view of the patrons, watching the chefs cook will whet your appetite as you look through the menu for what to eat. Ladies Nite is on every Wednesday AND Saturday where we ladies are entitled to selected cocktails & spirits all night long. There is a private dining room for patrons wishing to have a space away from others & a rack of fine wine for the connoisseur.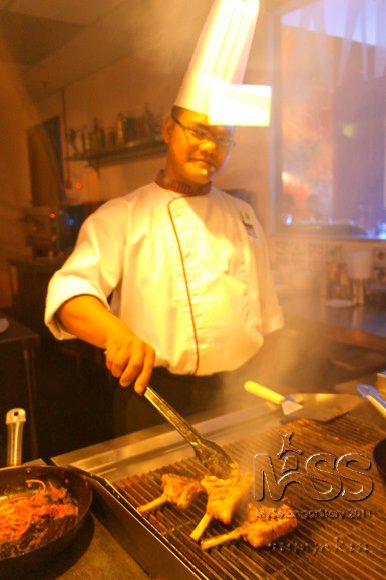 Chef at the grill!

The dinner marked the closing of the 5 day tour & a celebration of the coming together of so many brilliant young minds for the chance of contesting in such challenging circumstances. Sagina Manandhar, Marketing Communications Manager of Holiday Inn Kuala Lumpur Glenmarie Resort, gave the closing speech as a welcome to having us stay with them & to congratulate everyone for surviving the challenges! En. Fazly Razally, the Event & Marketing Manager of Tourism Selangor, arrived later to join us for the after dinner celebrations with the house band!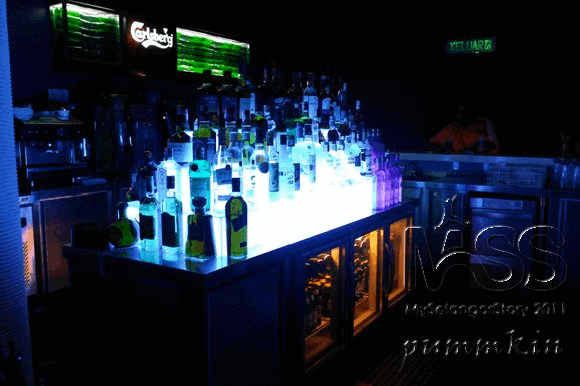 Zynchro, the resident band that performs nightly at The Mix, entertained us with a great rendition of current hits & hot favourites. Before long, the crowd was dancing to their upbeat numbers. Dian organised a surprise birthday cake for Amelia, the organiser, as she celebrates her birthday that evening with us. She obliged to sing again at the popular request by all of us & was she good!
We said our goodbyes to the Indonesian bloggers who would be on the first flight out the next morning. It was rather sad to let them go & it would have been so good to be perpetually on holiday but with modern technology of the internet, we will never be far from each other.
Watch for my next post on the 5th day of my tour! And please vote for me HERE! <—- Every blogpost is an entry so please vote on every link that you find at the end of my entries! Thank you!