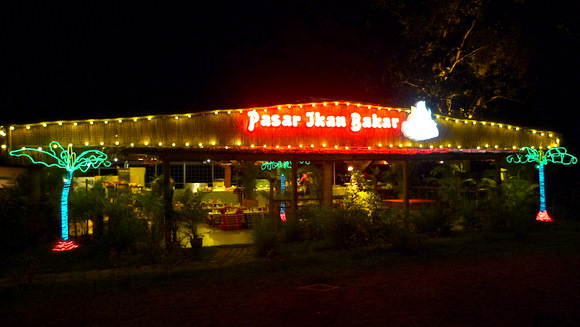 Dinner was lavish. Seafood was brought in & the spread was more than what we could stomach for a week. The restaurant is called Pasar Ikan Bakar, translated to mean Grilled Fish Market. Decorated with low tables & Thai triangular-backed cushioned mattresses on colourful hand-woven straw mats, it was one big, cosy dining area. When we were told of a night walk, we thought we'd better stuff ourselves. It was difficult to hold back given the choicest foods in the spread! We became gluttons at sight of the seafood!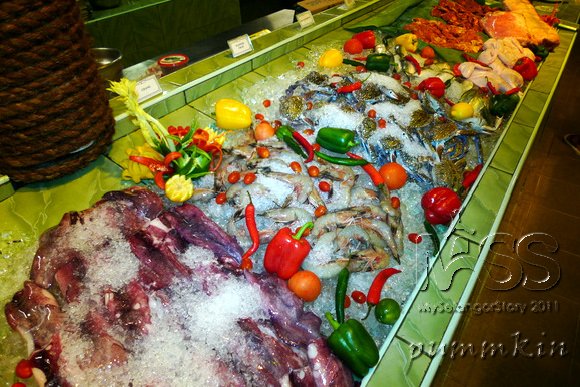 Calamari/squid, fresh prawns & flower crabs on a bed of shaved ice!!!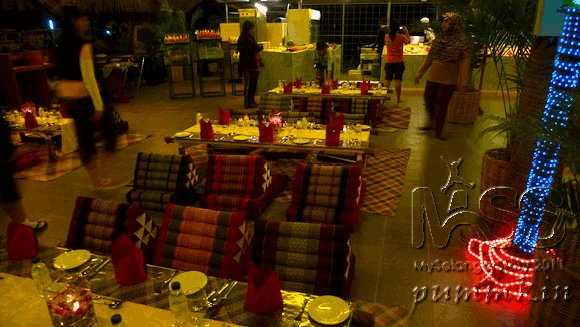 Cosy settings at Pasar Ikan Bakar
We even had the in-house band entertain us with songs throughout dinner which I thought was utterly fabulous! The singer had a wonderful voice & it filled the place with an ambience that's indescribably good! Maybe my protruding tummy at the end of the meal & the triangular backs of these mattresses caused me to be at ease at all times. It felt so good to have someone serenading you over your meal, just like in a hotel except that I was in the middle of the jungle in Genting Highlands. Bliss! With bloggers like Andi Kus & Shaleh, I couldn't stop laughing the whole night. Goofing around was never this fun until I met them! I don't think there is another jungle lodge that's as elaborately comfy & vibrant as this place!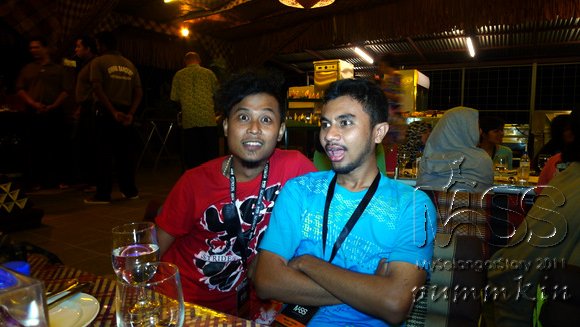 Andi Kus & Shaleh with muka-muka masing-masing!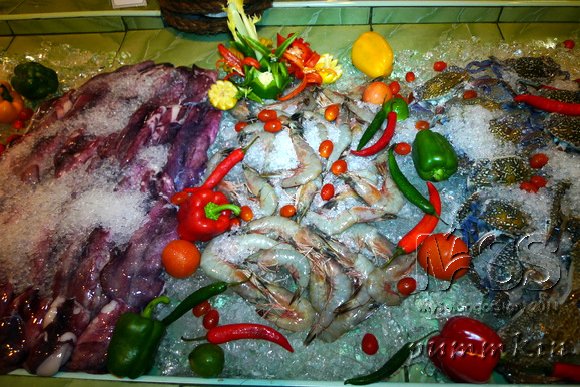 Posting the yummy seafood for you to see again!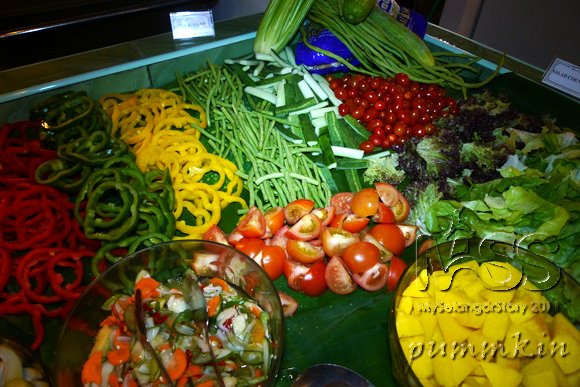 Salad bar!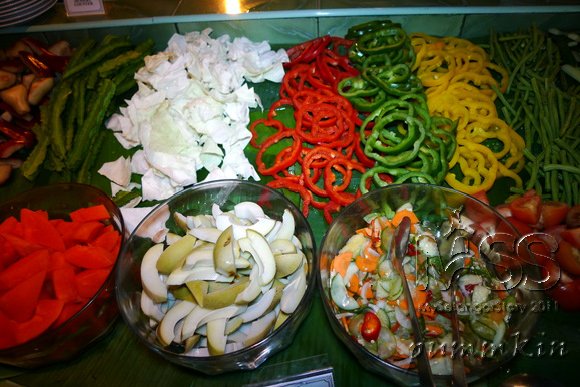 We even have pickled nutmeg & such!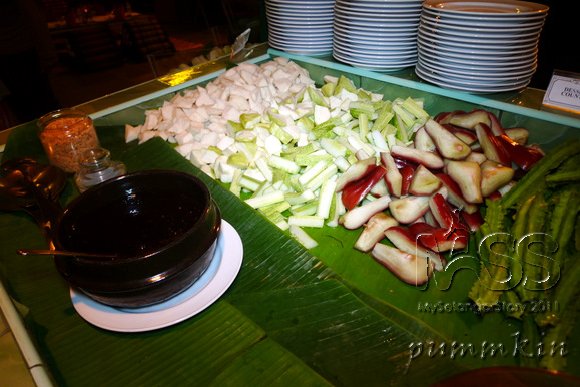 A fruit rojak bar!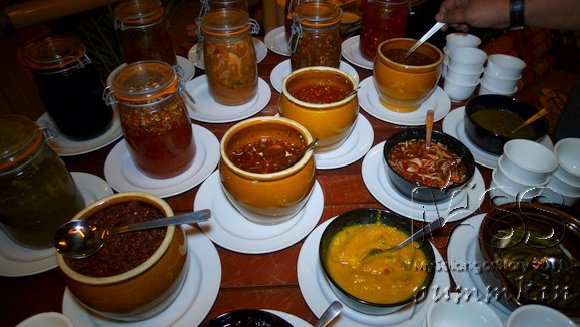 A sambal counter!!!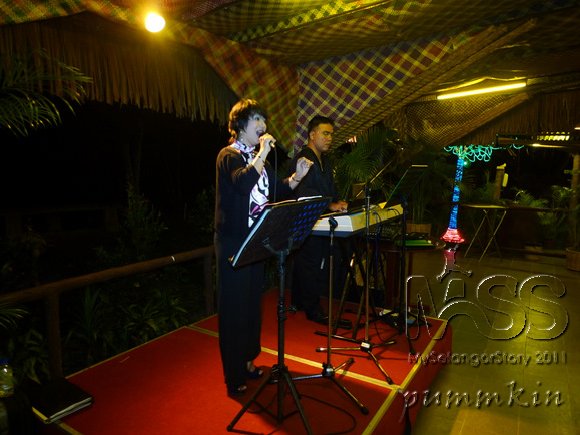 The in-house band entertaining us!
This wasn't all, Amelia Tan, the organiser gave a rendition of the same song in the most soulful manner, enough to melt any man's heart. The video is on my Day 5's posting.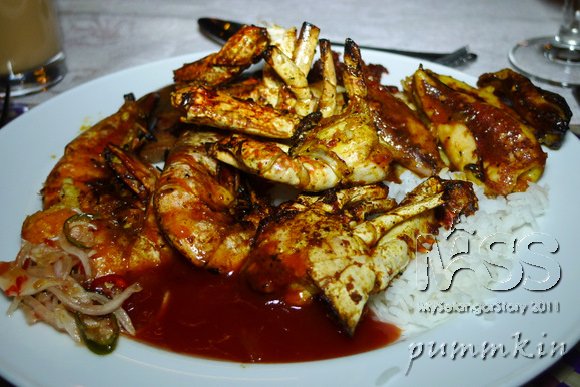 I had two helpings of this portion!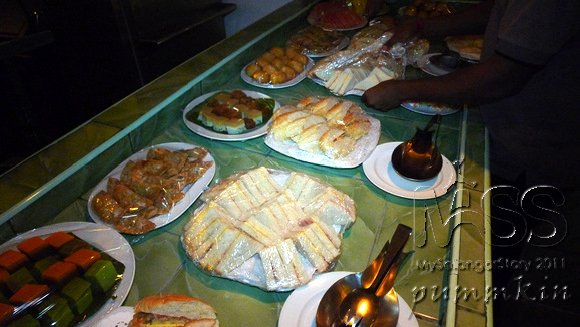 We were served supper too!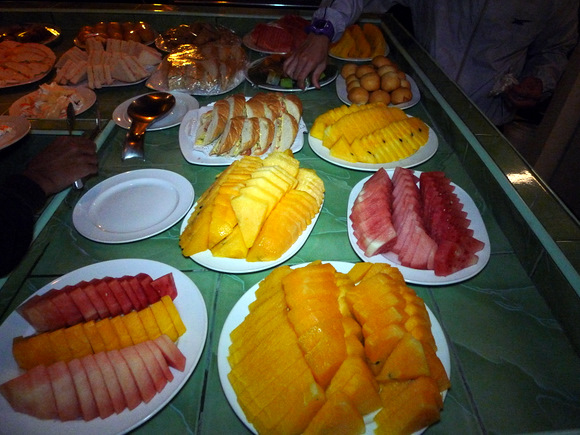 Spoilt silly for choices.
This is definitely the place for companies to bring their employees for team building. Where else can you get such great food to bring out the devotion in your staff? After being fed supper, we all turned in. In the stillness of the night, the symphony of frogs croaking sent me rolling onto my mattress & planning yet another escape route for the obstacle course the next day…….
Pasar Ikan Bakar is at Awana Genting Highlands Golf & Country Resort and is open every Friday, Saturday & Sunday. For bookings, call +60361013015 Ext: 53020 or 7605 between 9am – 5pm.
Note: Thank you for reading this far! This is a contest entry so please vote for me HERE! <—- Just click on the hearts! The more hearts, the better!
The next day, the gruelling challenge begins…..