As every discerning traveller needs to refuel, the Pummkin needs to be fed well to perform the activities to follow. Breakfast started with getting to know one another through food. The Malaysian way has always been about thinking & talking about the next meal while you are having your present meal. At the heart of Golden Palm Tree, lies the buffet spread that spills over from Bila Bila to Buloh Bar. I had my fill of fresh salad & cherry tomatoes topped off with 2 tubs of yoghurt with berries before having my bacon, bangers & eggs. The spread & variety were good but somehow, something was lacking but I couldn't place a finger on it.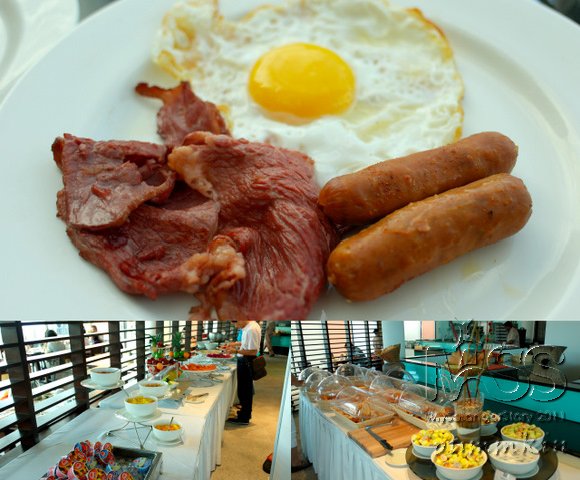 Part of my diet consists of yoghurt, fruits, salad & bread……before my indulgence in bacon, bangers & egg!
Our assigned dining area for lunch & dinner was at the alfresco rotunda, Sepoi Sepoi cafe at the beachfront, serving a delectable array of Malaysian snacks, noodles & local delights. I managed to savour 3 kinds of dishes, mainly the Hainanese Steamed Chicken Rice, the Mee Goreng Mamak Style & the all-time favourite Nasi Lemak. The portion was huge & chefs were at hand to whip-up the dishes as you order them. A great stopover for anyone returning from Smiley Beach to get into the lobby, which is at the base of the 'trunk of the palm tree.'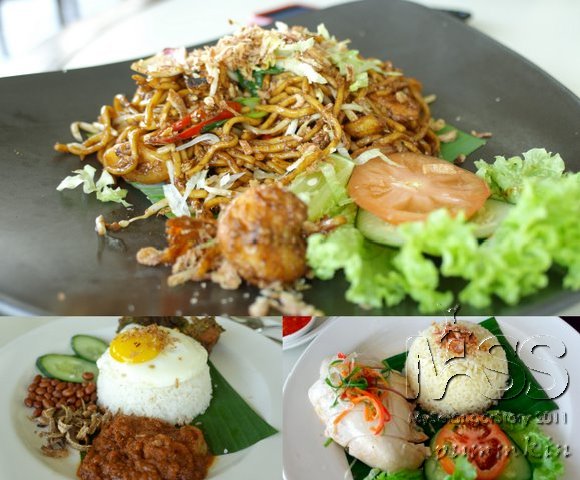 Mee Goreng Mamak, Nasi Lemak & Hainanese Steamed Chicken Rice!
Celebration Dinner.
The most pleasant surprise came in the form of an invitation from Golden Palm Tree's management to join the Malaysian Night dinner that evening, which was to be held at the grand ballroom with a capacity of 1,400 pax. A cultural performance of tribal dance entertained the diners with their Bornean Bamboo Trap & was skilfully executed by natives from Sabah & Sarawak. The dancers went on to invite guests onto the stage to teach them how to dance to the beat of the drums, averting the bamboo stick knocks. Foreign guests were so thrilled with this participation & soon the crowd was cheering them on.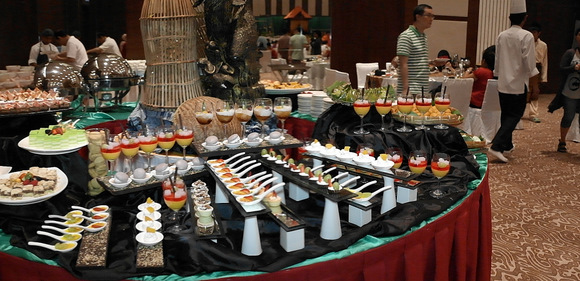 The terrace of the ballroom was decked with a row of hawker stalls. The buffet spread that lined these stalls were filled with trays of Malaysian cuisine ranging from Beef Rendang to barbecued seafood. There were a bevy of chefs standing by a wok of stir-fried shellfish that made my mouth water just by looking at the varied kinds of clams in there, a wok filled with curry chicken & a wok filled with fried chicken. There were about 20 different kinds of dishes synonymous with Malaysian cooking & there was a bar counter serving alcoholic beverages in the form of beer, red & white whine. I had one glass of white wine to go with the seafood that was generously dished out by the chef. What pleased me further was the dessert island counter decorated with trays of sugary bakes, chocolate mouse, puddings, jellies, tarts & puffs! I had to convince myself that dieting starts (again) the week after MSS 2011! Heaven! And separate counters for ice-cream & other delightful servings of sweets. I like this version of Malaysian Night but I don't know how my waistline (or the absence of it) would be able to take it after a week.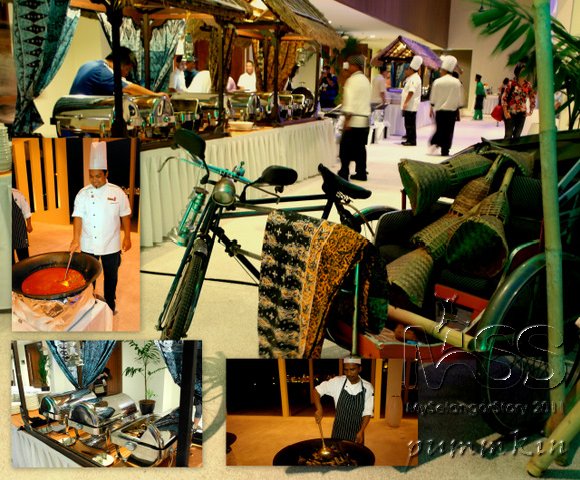 Terrace outside the ballroom.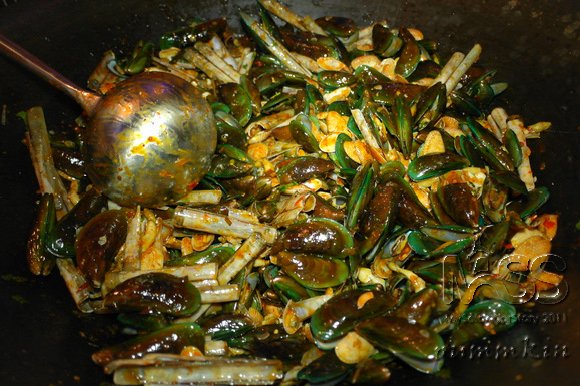 The wok of mussels.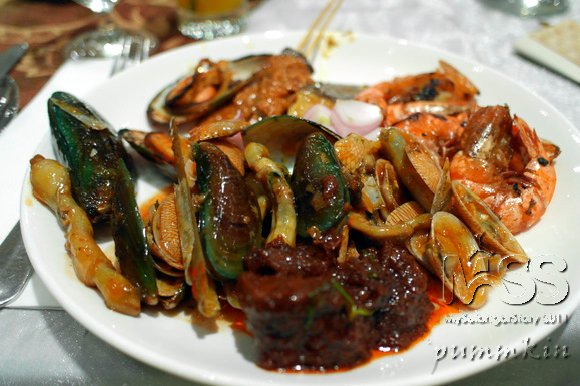 My plate of clams, prawns & mussels!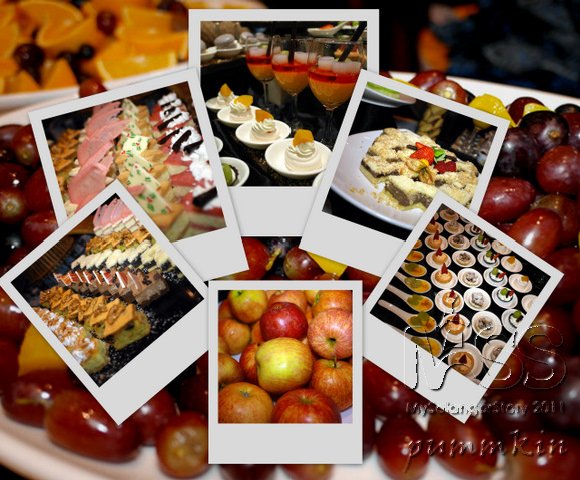 The selection of goodies for after-dinner!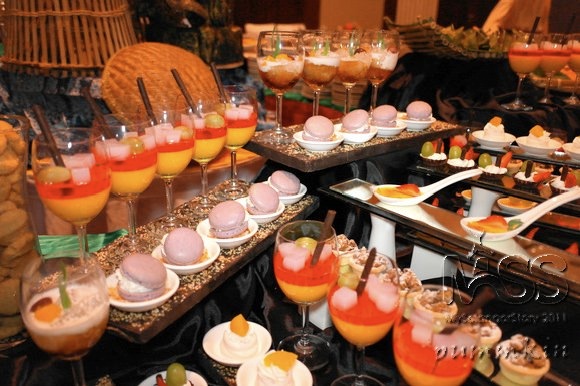 Trays of jellies, puffs, mousse & tarts!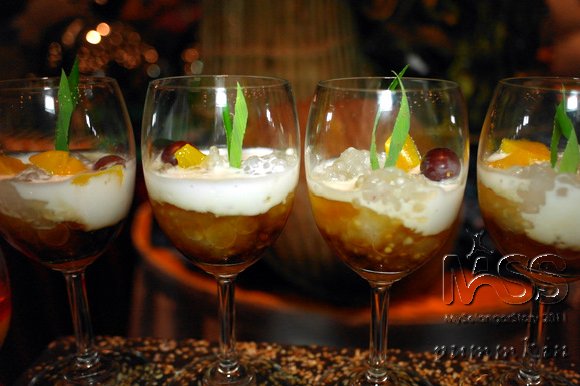 Goblets of sago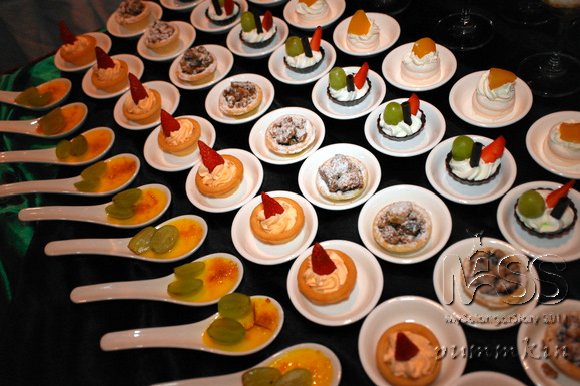 More tarts!
Though there were 24 bloggers in total plus another dozen from the official support crew & organiser, the ballroom was one big party of happy guests celebrating a triumphant year with the most lavish dinner buffet ever. For a luxury resort, anything less would not live up to its name. We were entertained by the spontaneity of those who were called to the stage to happily jive away. If this Malaysian Night is not a regular feature yet, then it would go very well becoming one. The management could even suggest a batik themed night to go with it & have professional photographers take pictures of them to be printed on the spot & presented to them as a souvenir. The resort could very well start selling some exquisite batik dresses & shirts to complement the gala night. After all, people who go on holiday are prepared to spend & what better way to spend on than to buy wearables? You might even want to hire make-up artists for the night to make them look like a princess for the evening! You may even spark their spouse's interest to give their relationship a boost & have them come back for this specific event annually. If they are having the time of their lives, wouldn't you feel good to have been a part of it? It would be a night to remember for the chefs who will delight in seeing empty trays, waiters who will get tipped & managers who will receive the compliments first. It would be a night of wine & dine for the whole resort to celebrate in, only at Golden Palm Tree……
Note: If you think my post deserves a mention, please vote for me HERE. Your hearts given will ensure that I stay in practice to pitch my skills & test my endurance in bringing you the adventure! If you want to read about what I did that warranted for so much food, the day's activities are detailed here.
Our next destination was a challenge. See what we went up to the mountains for on the 3rd day….