Rising to a high tide is awesome! Apart from hearing the sound of water beneath my villa, it was also indicative of how much time we could spend in the water. The ripples generated by the wind was another visual clue that I ought to be in the water as soon as I can! Got ready in record time, slathered a layer of sunblock, put on my fun visor & I was ready to rock & roll. It would be a great day to be outdoors.
Right after we breakfast, the congregation of bloggers marched to the Smiley Beach for some fun in the sun & for me to launch the windsurf. Dragging the board out to waist deep water, I only managed to sail within the confines of the buoyed perimeters as it was rather choppy & I was out of practice for over a year. Nevertheless, it was very fun to fall into the water each time the sail did not want to cooperate with me & the wind! The other bloggers took on a more physical challenge by taking the sailboat or the kayak out. Rowing in tandem, they had a field day manoevring the kayak before aggregating for a game of beach volleyball. I didn't take as many pictures as I would have liked to simply because I spent most of my time in the water or on the board but I kid you not. It was more times in the water than on the windsurf board. Such is life!
As we weren't the only guests, many people turned up to hire bicycles for a ride about the village & it was quite chaotic to get onto some other activity within the place. Cycling was something that we eventually got to do in the afternoon. At 2pm. I was already thinking about bringing my collapsible umbrella out, to the horror of others who then suggested I should have an umbrella holder on the bike. Hahaha! If only that was possible for my mini collapsible brolly! I may love the sun, but I don't like the effect that it brings so I try to stay covered up whenever I'm outside.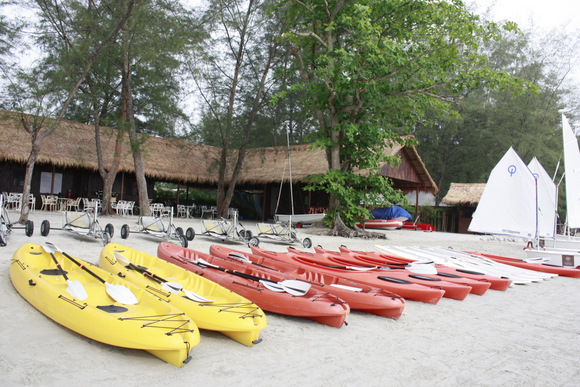 Photo of Watersports Centre at Smiley Beach courtesy of Golden Palm Tree.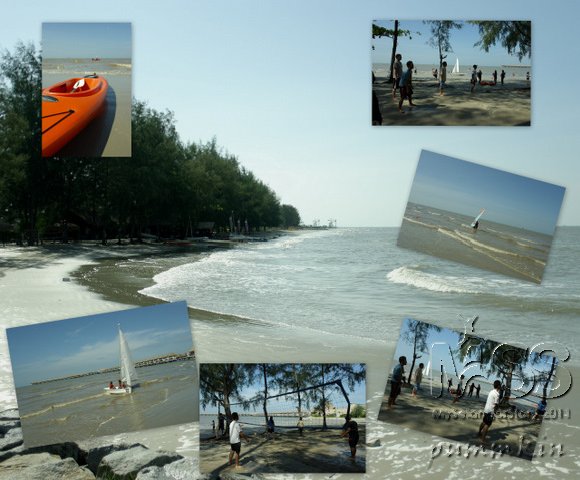 At Smiley Beach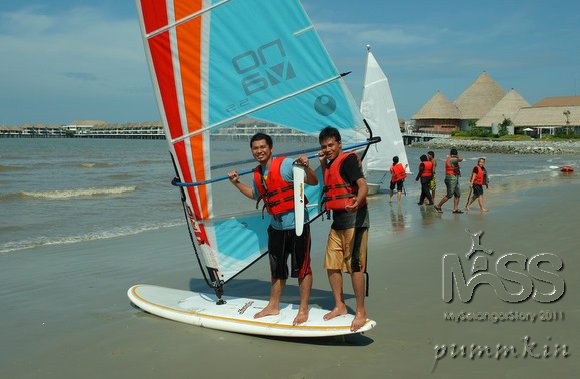 Dwi Andi & Ridha on the board posing for the camera!
So we set off on a journey around the village roads to satisfy the adventurous in us, hoping to see wildlife but the only thing that went wild was us. The cycling leader told us to stay in a single file but almost everyone defied that because it was more fun to group up & terrorise other road users! I was expecting to see cows & chickens but the route we took was purportedly "˜the beginner's track,' which lasted approximately half an hour. The squeaking of the bike as I cycled was such a funny noise to hear. Given so, having withstood the salty breeze & splashes, the bikes were fairly well maintained. I chose one with a front basket for me to place my bag & other gadgets in it. I kept hollering to Nigel who was in front of me to ask him if he can hear this funny squeak but he turned around & said, "Mine's squeaking too!" @_@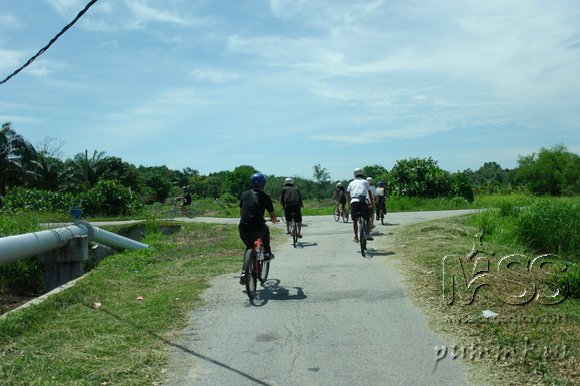 Bloggers cycling
It would have been more fun if we had a purpose or if there's a specific object to acquire like food! I know of a "˜keropok' (crackers) shop in the village that sells great tasting crackers & what a boon it would be to the economy if all 24 of us went there & bought 3 packets each to have something to boast about when we get back. I was expecting to see some cottage industries or maybe even farming methods in the remote of Bagan Lalang but I had to keep up with the group who was going too fast for the tour. I wish I had brought my umbrella then, even if I were to get lost, I would be identifiable by looking ridiculous on the road. Surely there were streams which we could explore? Perhaps get down to look for shrimps & such. I've made up my mind to bring MY BICYCLE & a troupe of likeminded friends with theirs to come back & look for that cow, chicken & keropok.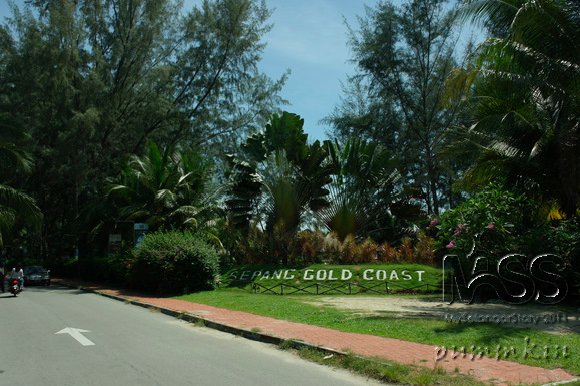 Returning to the watersports centre, we were greeted with ice-lollies & ice-cream, treated by Tourism Selangor! What a refreshing appetiser! Thank you, Tourism Selangor, for the little stuff that matters. We embarked straight away on the Low Tide Tour, an activity where you walk in the tidal flats to discover life within, very much like the exercises I do with my students at tidal zones too. So Rosie, our nature guide, gave us a run down on what we could expect to see. Going barefoot, we trotted to the mud flats where the sea was but had gone out with the tide, we found ourselves walking in to the underside of the resort! Rosie taught us how to find "˜pephahat,' (bamboo mussel), which are buried in the mud. Any attempt to take the animal out was forbidden as we were there to observe & conserve. A myriad of snails were seen actively crawling about & the army of Soldier Crabs were invading our territory. I was delighted to stalk them! What did they look like? Well, watch the video to find out!
I would have loved to do the other nature tours such as the Mangrove Tour but time was limited & we had prepare ourselves for dinner at the ballroom! More on food in my next blogpost!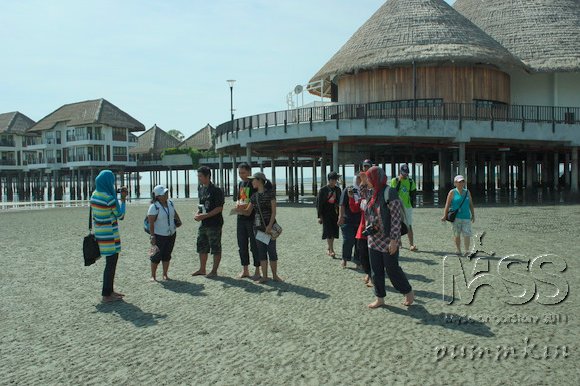 Please vote for me HERE! <= Just give me as many hearts as you think it's worth once you get in!
And whats special about wining & dining in this resort??? Read all about it here.