The anticipation didn't wear off on the day of the launch. It magnified the moment I managed to shut my luggage. Packing for a "˜blind trip' was a mixture of anxiety & angst with a dash of ingenuity generated by the fear of not being equipped for the journey. What the 5 days beheld, we weren't told but bringing a pair of sneakers was compulsory. So I brought everything. Setting my GPS for Holiday Inn Kuala Lumpur Glenmarie Resort, I arrived at the hotel at 3:30pm.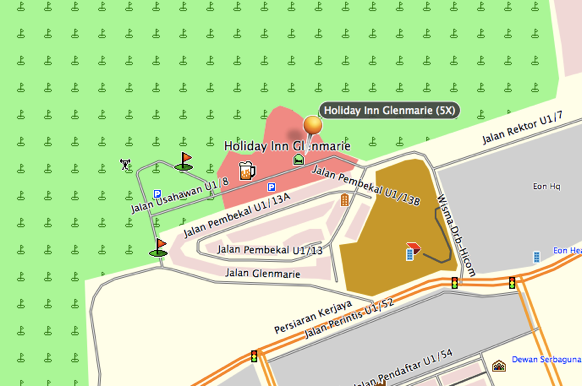 Map of Holiday Inn Glenmarie from my Garmin Roadtrip.
All thanks to our generous sponsors, the press conference to kick off the event was held at The Mix restaurant & bar, within the property of Holiday Inn Kuala Lumpur Glenmarie Resort. The chefs were on hand to ensure the layout of the trays of canapés would look as appetising as they were. The beautiful Marketing Communications Manager, Sagina Manandhar, greeted us with all smiles & welcome, making me feel that my holiday has just started from that point on! It's amazing how the hospitality of one person can set the mood for the rest of one's stay but we were not to stay there yet.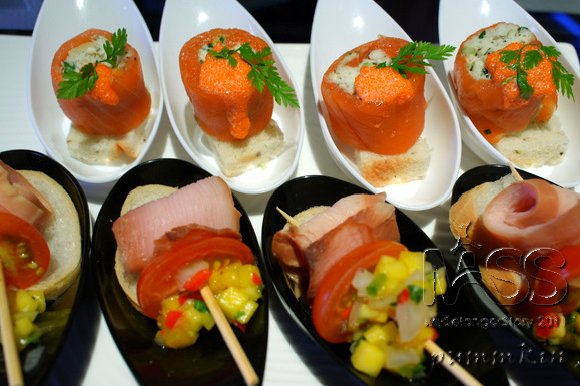 Raw Salmon with Caviar Canapés & Turkey with Tomato & Diced Mango Canapés!
The General Manager, Mr. Anil Pathak, arrived to usher in & welcome YB Elizabeth Wong, the EXCO for Tourism, Environment & Consumer Affairs for Selangor. An introduction speech was made by Amelia Tan, the Organiser of My Selangor Story 2011 from Horizon Communications, who was the brainchild behind the event since the first inception in 2010. She called on Dian Azura, who was last year's grand prize winner, to give her take on what My Selangor Story had been for her. Immediately after winning the title, she was offered the position of a Social Media Specialist for Tourism Selangor, a 1-year contract in which she tweets & updates the organisation's Facebook page with her resourcefulness in bringing events come to life. Her engagement with social media had proven to be successful by the number of followers Tourism Selangor had acquired. In a span of a few short months, the number had grown to 3,177 to date, inspired a lot more people to explore & experience Selangor no matter what time of year it is! She detailed how one's passion for travel should not be quenched & that everyone should follow their dream & attain to get somewhere, wherever that may be. She reiterated that winning last year's contest was just the start of her adventure.
And aptly so, when YB Elizabeth Wong took to the rostrum, she echoed the same sentiments telling us how she used to blog ever so often before taking office as an EXCO. Being extremely pleased to see a great number of our neighbours from Indonesia & Singapore flown in specially for this occasion with VIP treatment by Firefly, she extended a warm welcome to them & told them to make use of the 5 days to experience as much as they could. How I wished Firefly could fly me from the Sg Besi old airport to Subang Skypark just so that I can experience the VIP service from them! It's always a pleasure to fly a different class! Setting the event for the 2nd year running, she thanked Amelia for her team's monumental effort in bringing people together, Tourism Selangor, our tourism board, for extending logistic support & all the sponsors who had graciously given to the event.
The Golden Palm Tree Resort & Spa located in Sepang Gold Goast, Bagan Lalang, is our official resort & spa whilst Resorts World Genting is our official resort. Holiday Inn Kuala Lumpur Glenmarie Resort is our official hotel & The Mix is our official restaurant. Pentax is our prizes sponsor apart from being the official camera for the duration of the tour as they would be supplying us each with a camera to shoot with. The official airline is of course, Firefly, who will fly everyone home when the tour is over. We wouldn't be complete without phone & data coverage kindly sponsored by The Cube, who provided us with pre-registered SIM cards.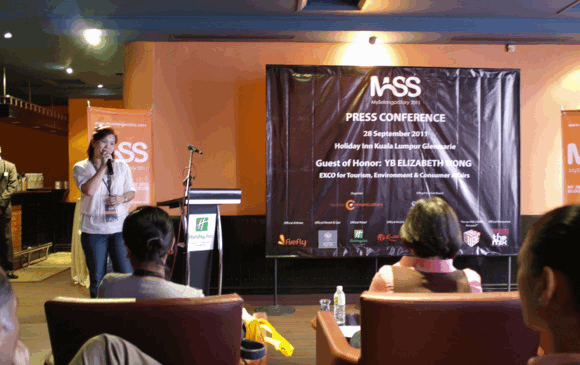 The officials, organisers & sponsors of the event.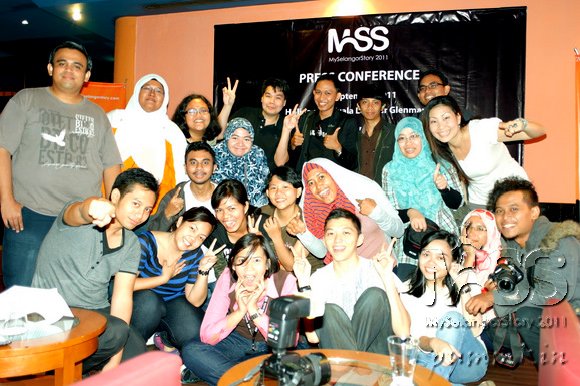 Travel bloggers roaring to go!
Soon after the YB Elizabeth launched the event, we had to board the coach for the journey to our first resort destination to begin our tour! What did I do in a 5 star resort? Find out in my next instalment, still on Day 1 – My Selangor Story 2011…..
Next, Â see how I lived it up at Golden Palm Tree Resort!
And please remember to vote for me HERE! <— THANK YOU!
Our sponsors:-