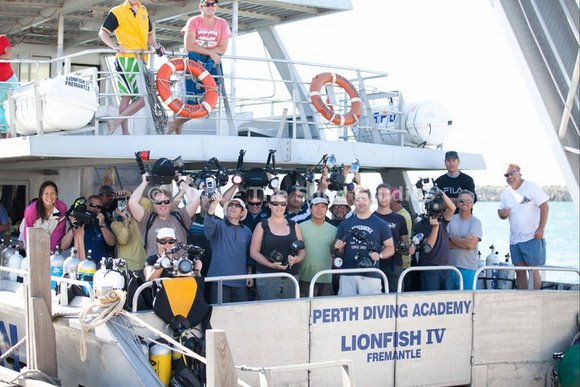 I am here in Perth, Western Australia, courtesy of Tourism Australia & Tourism Western Australia & the main event I was covering was called PUPS – Perth Underwater Photo Shootout, which was held at Rottnest Island on the 12 March 2011. This is the biggest underwater photo shootout in Western Australia with 35 divers contesting to get top spots for the prizes of a dive trip in exotic locations in Indonesia & Malaysia amongst the other sponsored goodies that attracted this large number of participants. Leaving in the morning on a fully equipped dive boat with Perth Diving Academy, everyone had assembled their photographic setup to be ready for the first dive the moment the boat stops.
Despite the perfect weather, the sea condition wasn't particularly good with 2 – 3m swells & 3 – 5m visibility but what we faced underwater on the first dive was even more daunting. Being thrown forward & backwards, wedged into crevices almost mounted on the ceiling before being thrusted by the next surge of motion only to crash into a mini mount. The sea was throwing a tantrum that day & as Humpty Dumpty was clad & layered in a 5mm Farmer Jane suit, having to offset my buoyancy with a 12kilo weight belt didn't help. I can't even begin to tell you how many mounts I have come to "˜know' & little caves that I find myself in. You get the drift???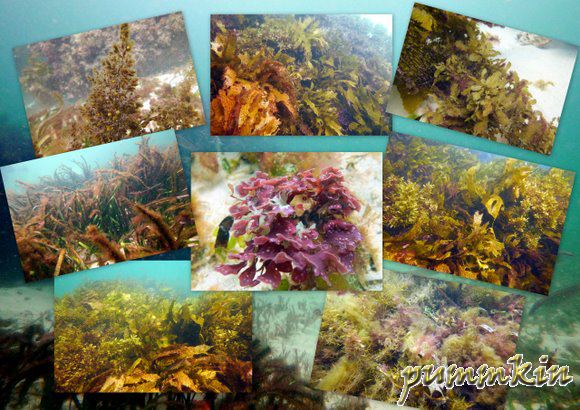 The varied types of seagrass & seaweeds in Rottnest Island.
Dave Baxter, the extraordinary underwater photographer who had put together this feat of an event, was my buddy for the day. I can imagine how much laugh he would have had watching Humpty Dumpty sauntering & gasping, having to turn back & see if I'm stuck somewhere beneath the mounts. I couldn't take a single decent shot on the first dive let alone nice pictures but after reviewing them on my Mac, I was able to show you what a wild time I had by these "˜super artistic' (fluke) shots generated by the motion of the ocean!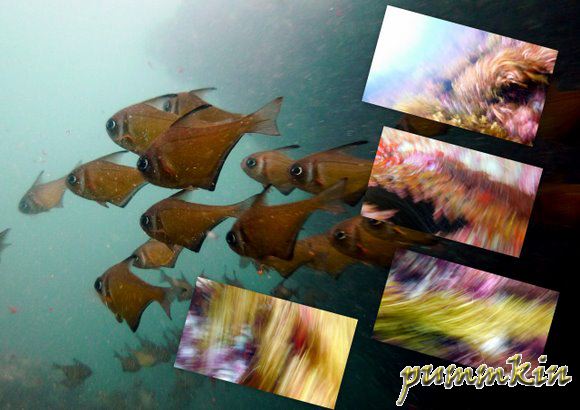 Put in a collage for fun…..
As one of the appointed judges, I was not running in the competition but I got one of my prized "˜catch' on the second dive. A friendly & curious wrasse followed me around, watching me up close & wondering why I was turned turtle (ahem…it was a balancing issue with the ultra-buoyant wetsuit & 12kg weights on my belt). The wrasse often came right up to my mask (Dave took pictures) & would even allow me to stroke its tail! It had no problems whatsoever with trusting (clumsy) giants in neoprene & has the curiosity of a cat! Here's one shot of it while it was staring at my mask:-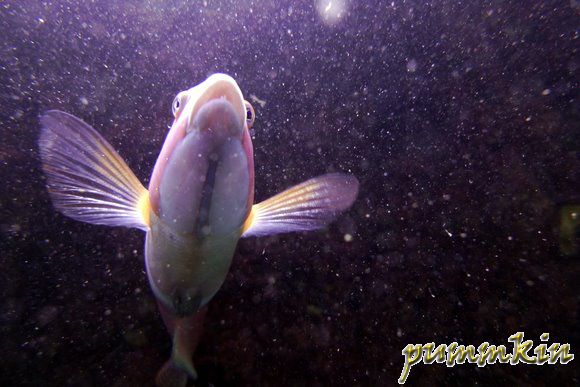 Presenting – Le Amigo D' Wrasse! Unedited, uncropped, unadulterated. Even speckles are left for posterity!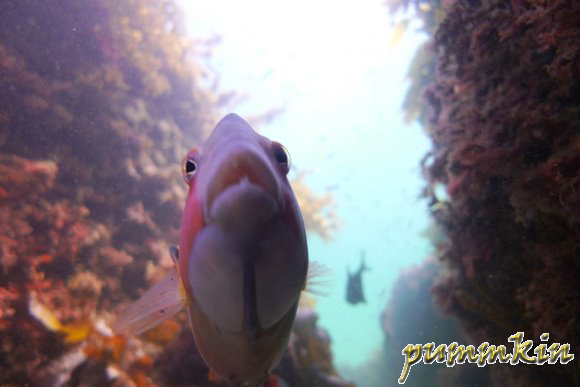 When it stared at my camera…..
Perth Diving Academy provided the diving services on their big boat & the day ended with a barbecue at the yacht club. Judging has been postponed to 29 March. Next on the itinerary would be my journey to Exmouth & Coral Bay!