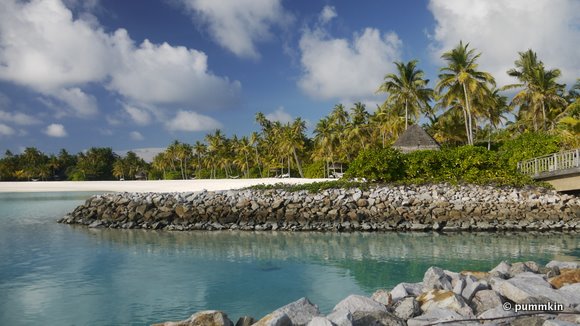 Whisking pass the city on the KLIA Express is one of the least stressful part of the travel……when you are not rushing. Realising too late that my 24" luggage handle was broken by the airport handlers on my trip back from Egypt, I had to physically push it on wheels, amongst the crowd & my other bags. I spent the last fortnight in the most expensive resort island in the Indian Ocean where rates start from US$1000 per night to US$6,700 per night. Celebrities, royalties & anyone with cash to burn deserve to have unprecedented privacy.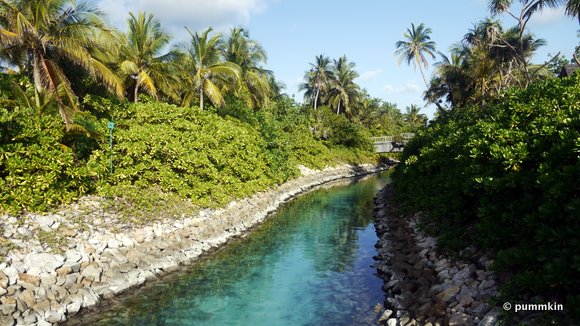 Managing the underwater work in a scientific project for the resort, we went out even in rough seas. The wind caused the boat to rock 45 degrees side to side. Internet connection here is via satellite transmission & with 600+ staff in the village, there was no way I could upload any videos of my previous work. I spent my time assisting the team of scientists in getting the job done on land as most of my work is in the ocean. Going out is a challenge & so is coming out of the water. There were moments where we decided not to climb back onto the ladder-less cruiser & swim 300m back to shore with the surf instead. By the time we return to base, I had become so exhausted. Imagine going out like this twice a day.
What's good though, is the people I get to work with on this island with 200 villas. I got to see plenty of what I don't normally see, such as the Manta Ray passing overhead while I was working at the bottom! I was too stunned to take a picture but I did shoot everything else in my line of sight though! Got a Honeycomb Moray while he was being cleaned. This picture was taken up close.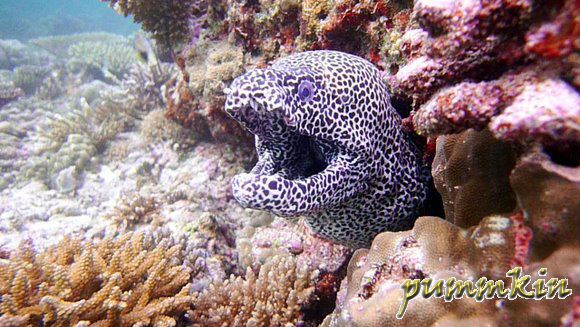 Sneaking in a leisure dive or two yielded pretty good results as I got my chance to come very close to the most fearsome Titan Triggerfish & filmed it! The coral reefs are teeming with life & pelagics will occasionally swim overhead.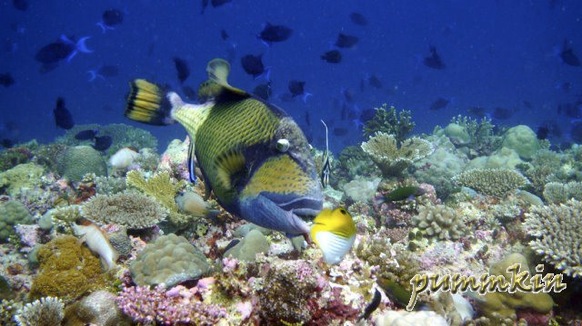 Look at his teeth!!!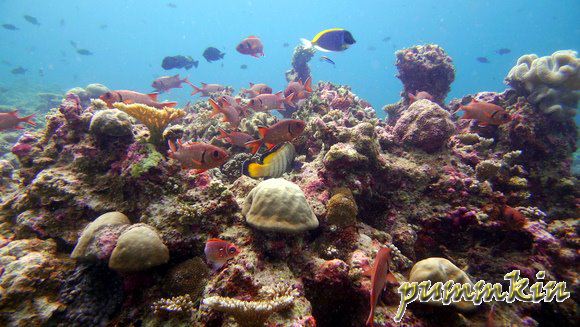 Chancing upon a Cleaning Station, all these fishes congregate here to have parasites removed from their bodies. It's like our car wash queue! God's design for the reef is so beautiful & marvelous!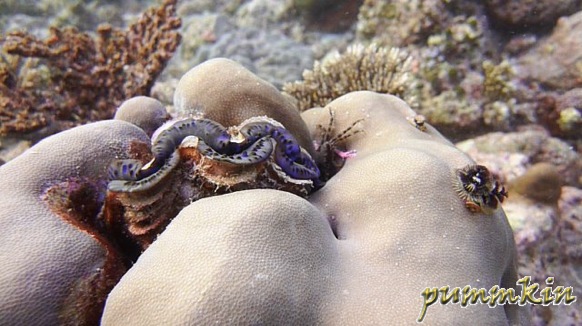 That brings me to this observation. A typical female's 5C's are Cash, Condo, Car, Carat & Credit Card but the picture above contains MY 5Cs……can you guess what they are??? Clam, Crab, Christmas Tree Worm, Coral & Crevices! These are stuff that I live for! Even if only one of you appreciates my work & pursuits in obtaining the most bizarre footages in what I call a NatGeo phenomenon/encounter, it would be worth my while to keep producing them for you. I have achieved all that I've set out to achieve & nothing makes me happier than to find these & discover new things in my oceanic adventures. If you have nothing to live for, you have lived for nothing.
As we were bound by the contract, I can't really say where I am but from my title, I'm sure you can guess where I've been for the last 2 weeks & pray that I get to return home for Chinese New Year! What a way to end January 2011!